Story Progress
Back to home
Virat Kohli Says T20Is Chance For Parvez Rasool to Prove Himself
India captain Virat Kohli said that the three Twenty20 Internationals against England are a chance for Parvez Rasool and Yuzvendra Chahal to establish themselves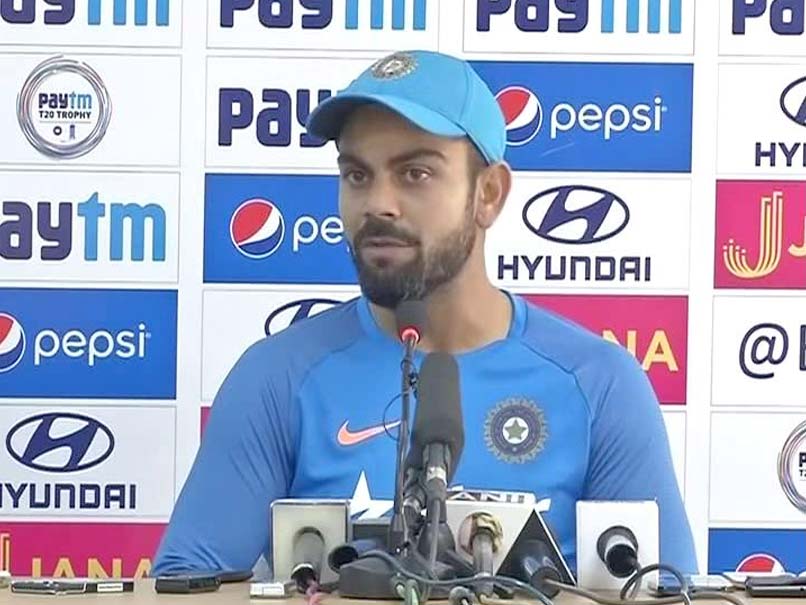 Virat Kohli will be leading the Indian cricket team in the three-match T20I series vs England.
© NDTV
Highlights
India and England will play 3 T20Is

The matches will be played Kanpur, Nagpur, Bengaluru

The first match will be played at Green Park on January 26
India captain Virat Kohli on Wednesday said that Yuzvendra Chahal and Parvez Rasool have a chance to prove themselves and establish their presence in the three Twenty20 Internationals to be played against England. He feels that the series will provide the perfect opportunity for the duo to establish themselves as "specialists" in the shortest format of the game. A good show by Rasool and Chahal may also lessen the workload on world's premier spinner Ravichandran Ashwin, who along with Ravindra Jadeja, has been rested for the T20Is.
"The guys who have come in have done pretty well in the IPL, in the domestic T20s. The areas they are bowling in are pretty good and are pretty economical. Yuzvendra, everyone has seen his performances, even Rasool played under me at RCB," Kohli said at the pre-match media conference.
"It is probably a breakthrough series for them. They haven't played a big series yet so this might be the perfect opportunity to seal their spots as T20 specialist spinners for the future," Kohli made it clear as to what is there in stake for youngsters.
About Rasool, the skipper said that he has an ability to bowl with the new ball.
"He (Rasool) is pretty confident, he can bowl with the new ball against the most attacking guys. These two guys are very smart about their bowling. I am sure they will able to replicate their domestic success at this level."
The series is also big break for the likes of Rishabh Pant, Mandeep Singh along with veterans Ashish Nehra and Suresh Raina.
Ask about Raina, who has not played a match for national time since World T20 in March.
"I think he (Raina) still has a lot to offer. He has not played in a while because there have not been too many limited overs series since the World T20. We played a lot of Test matches in between so it seems there is a bit of a gap. We still believe he has enough to contribute in shorter formats. I would say it is a series of opportunities for a lot of guys to seal their spots," the skipper said.
"Everyone is included in the squad is because we feel that they can contribute. At the end of the day, it is up to the individual (to perform). Hopefully he (Raina) gets back into the groove, he certainly has a lot to offer especially in shorter formats," he further added.
Team India have a clear vision for youngsters joining the T2OI team. Captain @imVkohli explains it here. #INDvENG pic.twitter.com/4dy4uFoPsc

— BCCI (@BCCI) January 25, 2017
The skipper made it clear that there is not much room for changing the team composition in the opening game before adding that he can also open the innings just like he has done it for the RCB in the IPL.
"It is quite easy as of now (the team combination). The problem always arises when you don't have consistency. Starting now we would be able to figure out the best combination after a few games. In the first game, you have a set line-up to start with but if there are consistency issues with a batting position then it becomes difficult , whether you want to replace the guy or stick with him for a few more games," explained Kohli.
Going forward, Kohli elaborated as to why he would like to open the innings.
"There are all kinds of possibilities. In the IPL, you don't have many Indian batsmen to choose from because they are spread across the franchisees. Here (in international cricket) you have a lot of options as far as Indian batsmen are concerned.
"We have a lot of options (in batting line-up), which is a very good thing. If need be I can open, it all depends on the balance of the side. I have only opened in one T20 International, may be two but I have experience of opening in the IPL. If need be, I could or I might not. It all depends on the balance of the side," he stressed.
India were the better team in both Tests and ODIs though the 50-over series was closely fought. Kohli said the team is capable of a lot more than what it has produced this season.
"We would definitely like to extend our run from Test and ODIs to T20s. We want to play more special cricket, play more positive than what we have in the past, not worry about the result too much. In this format we need to go out and show our true potential."
There is stiff competition for places among the seniors and juniors.
"The squad if you see has been selected like that. We have got quite a few youngsters who want to prove with senior guys in the team. Eventually the idea is groom them enough and then to give them more confidence and have a gradual progress graph for them. It is important to back them enough," he concluded.
(With PTI inputs)
Topics mentioned in this article