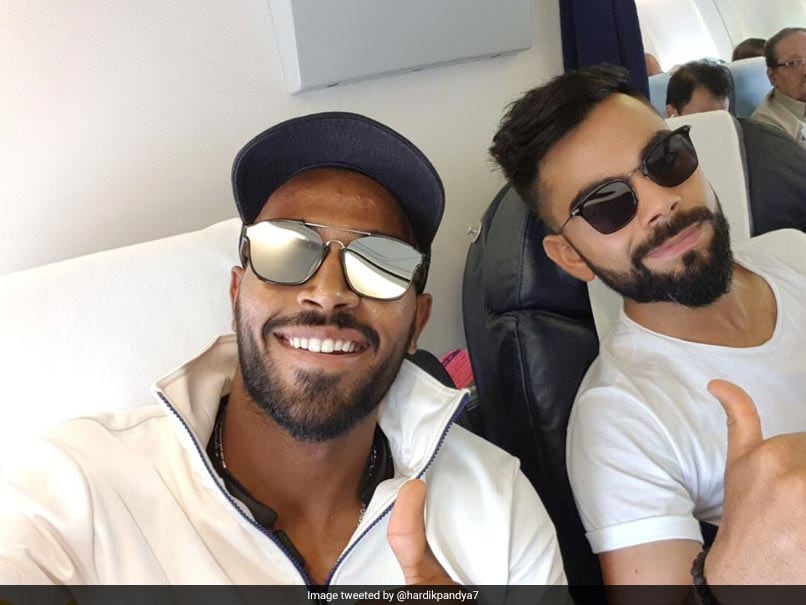 Continuing to troll Pandya, Kohli said he hasn't seen anyone as lost as the all-rounder.
© Twitter
Hardik Pandya has cemented his place in the Indian team in a short period of time. Apart from his hard-hitting batting style, Pandya is also famous for his cool persona. Be it inking tattoos or sporting different hair-styles, Pandya is always in the news. But there is one thing still unknown about the India all-rounder -- his choice of songs. Captain Virat Kohli, while speaking on a show 'Breakfast With Champions' with television host Gaurav Kapur, revealed some hilarious details about Pandya's all-English playlist.
"We play just Punjabi music in the dressing room. Most of the players do not carry their iPods. Hardik Pandya has an iPod. It has all English songs," Kohli said during the show.
"Pandya listens to English songs but he doesn't know five words of even a single song," Kohi said.
"He just grooves to the music beats. We all get irritated with his songs," the Indian skipper said.
"I have an iPod and it has all Punjabi songs. I do listen to romantic songs sometimes," he said.
Kohli also spoke about the 'Punjabis' in the team.
"There should be a couple of Punjabis in the team. Shikhar Dhawan is there. Me too. We have logistics manager who is Punjabi - Hrishikesh Upadhyay. He is a Gujarati but born in Jalandhar. He is very entertaining," the 28-year-old said.
Continuing to troll Pandya, Kohli said he hasn't seen anyone as lost as the all-rounder.
"Pandya is one of the entertaining members in the team. But, I haven't seen anyone as lost as Pandya in my life," he said.
The Indian skipper shared an incident when Pandya pronounced Ashwin's name wrong.
"Pandya doesn't think before speak. Once he wanted to take Ash's (Ravichandran Ashwin) name but he ended up saying - 'Ravikashyap Ashwin kya bowling karta hai yar'. He is very good at heart but he doesn't have any control over his tongue," Kohli said.