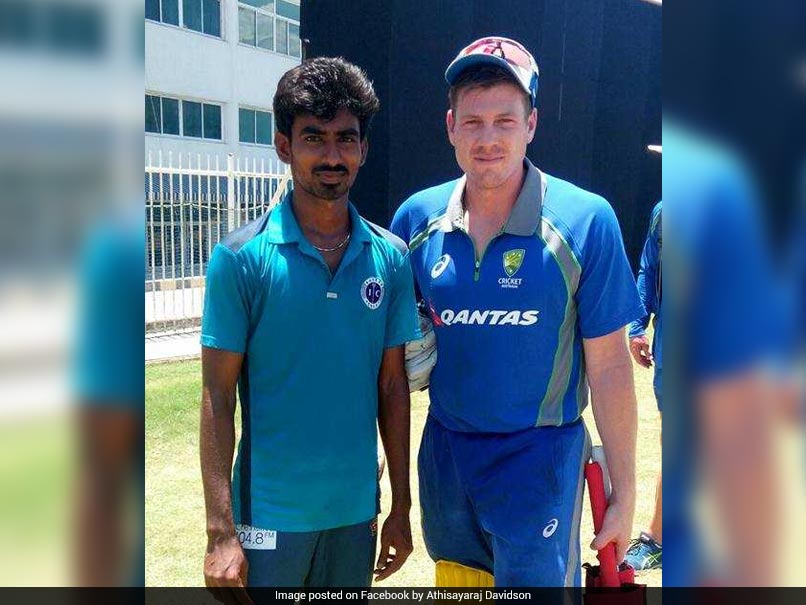 Davidson has represented Albert Tuti Patriots in the Tamil Nadu Premier League.
© Facebook
Very few bowlers have been able to make an impact in the game of cricket with their unconventional bowling actions. Different bowling action, when incorporated with magnificent line and length, becomes a deadly composition making it difficult for the batsman to play the bowler. One such bowler is Sri Lankan cricketer Lasith Malinga has made the toe-crushing yorker a phenomenon in the game. Now, India have its own Lasith Malinga, who has a similar slinger action. Former India cricketer-turned commentator Aakash Chopra took to his official Twitter handle to upload a video of Athiyasayaraj Davidson of Tamil Nadu bowling in the similar fashion and captioned: "Meet The Indian Lasith Malinga... #Davidson #DELvTN #SyedMushtaqAliTrophy #IPL."
Meet The Indian Lasith Malinga... #Davidson #DELvTN #SyedMushtaqAliTrophy #IPL pic.twitter.com/PHBdivBM9x

— Aakash Chopra (@cricketaakash) January 21, 2018
Davidson, who is playing in the Syed Mushtaq Ali Trophy, has already participated in the Tamil Nadu Premier League (TNPL) and shot to limelight with his maiden T20 season. Chopra was quick enough to notice his action and uploaded a video on social media. Davidson started his career with the Globe Trotters in 2015 but TNPL proved to be his launch pad.
Davidson had taken 15 wickets during the 2017 TNPL where he represented Albert Tuti Patriots.
The 25-year-old pacer has taken 10 wickets in five T20 League South Zone matches, including a five-for against Karnataka.
The youngster has played six T20s, wherein he bagged 10 wickets. He is one of the many players like T Natarajan and Murugan Ashwin who found recognition courtesy TNPL.
Monty Desai, who had played a vital role in scouting stars for the Rajasthan Royals, had said that Davidson has got the skills to make it big.