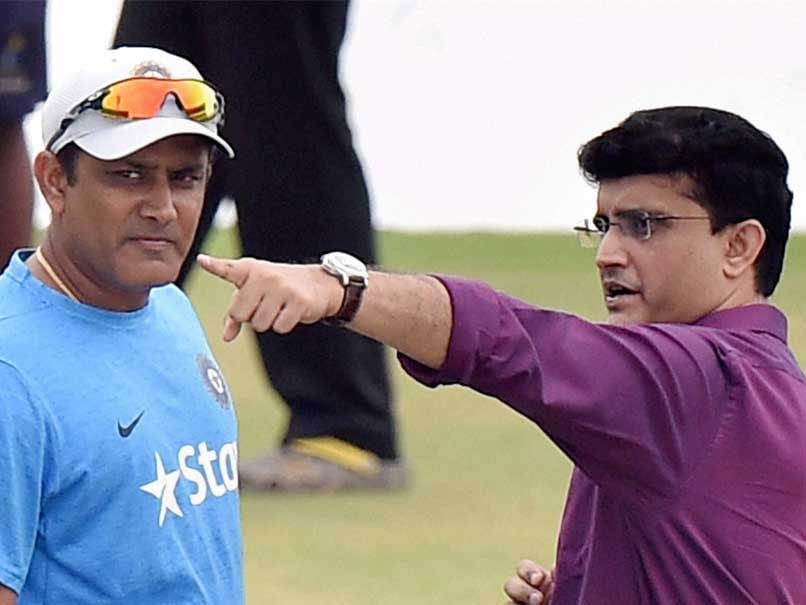 Sourav Ganguly was on Tuesday named in a seven-member committee.
© AFP
Former India captain Sourav Ganguly said on Tuesday that the Anil Kumble-Virat Kohli spat, which came to light ahead of the ICC Champions Trophy 2017, should have been handled in a mature way. Ganguly, one of the three members of the Indian cricket board's Cricket Advisory Committee (CAC) which has been given the task of deciding who the next Team India coach will be, said, "the matter between Kumble and Kohli should have been handled a lot better, by whoever in charge. It was not handled properly." The coaching saga took another turn on Tuesday as former team director, Ravi Shastri, applied for the top job and now appears to be the front-runner after Kumble stepped down from the post citing 'untenable' differences with the current team captain Virat Kohli.
Shastri had applied for the position last year too but Kumble was favoured over him.
Following that, Shastri had taken pot shots at Ganguly and claimed that the former India captain, as a member of the CAC, lobbied for Kumble to replace him and convinced the other panel members, Sachin Tendulkar and VVS Laxman.
"Everybody has got the right to apply. We will find out. I can also apply provided I'm not an administrator," Ganguly said.
The president of Cricket Association of Bengal (CAB) was on Tuesday named in a seven-member committee headed by IPL chairman Rajeev Shukla to identify the "few critical points" in the implementation of the Supreme Court order towards implementation of the Lodha Committee recommendations.
"We will have to listen to committee of administrators. I'm not exactly sure what will happen but I will find out," Ganguly, who is the only cricketer in the panel, said.
Meanwhile, the CAB will have an emergent meeting on July 1 to discuss the way forward with the Lodha reforms.
"We did not have SGM last year. Till the reforms are done it won't happen. We have informed the members of the meeting to discuss what's the way forward," Ganguly added.
(With PTI Inputs)