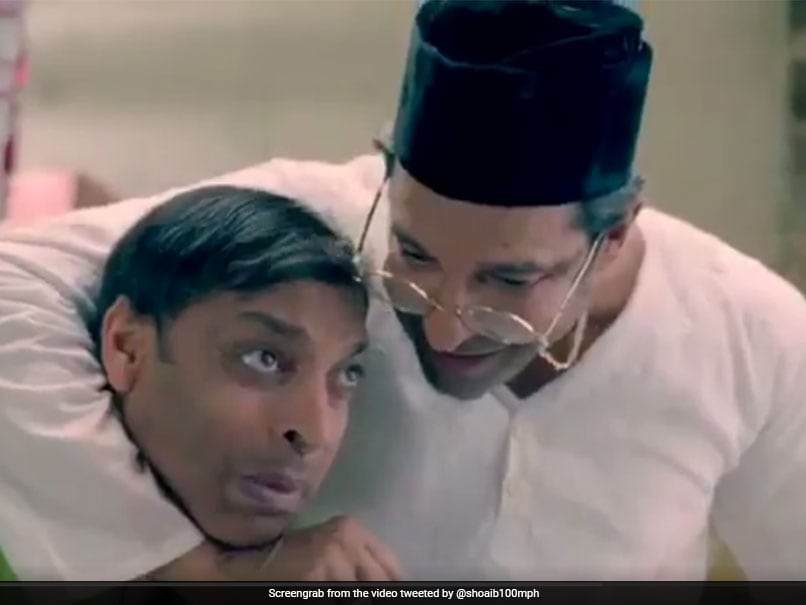 Akram and Shoaib were acting in a promotional video for a television game
© Shoaib Akhtar/Twitter
Fearsome Pakistan fast bowlers Shoaib Akhtar and Wasim Akram, who demolished many an opposition with their fierce pace, do have a funny side to them, as was evident from a television promo in Pakistan where the duo is engaged in some slapstick buffoonery. They have earlier shared the new ball on several occasions, but this new partnership surely is a new chapter altogether, with the fiery duo turning in bumbling comedians on the TV screen.
Akram and Shoaib were acting in a promotional video for a television game show 'Geo Khelo Pakistan' and Shoaib took to twitter to praise Akram's acting skills.
Our new prom shoot with Bhai saab ..
Love the act of Waz Bhai just simply brilliant ... pic.twitter.com/zcuMRthz7S

— Shoaib Akhtar (@shoaib100mph) May 23, 2017
The video shoes Shoaib's character, gifting a hen against Rs. 400,000 he had borrowed from Akram. He tells the money-lender that the hen was unique and laid golden eggs.
As it turns out, there are no golden eggs and Akram discovers one day, after a long wait, that the hen is actually a rooster!
Needless to say, an angry Akram catches hold of Shoaib and demands his money.
What he gets instead is a ticket to the game show, where he ends up winning a lot of prizes.
How the game show will do remains to be seen, but it seems that both the formidable fast bowlers have a promising career in store on the small screen.