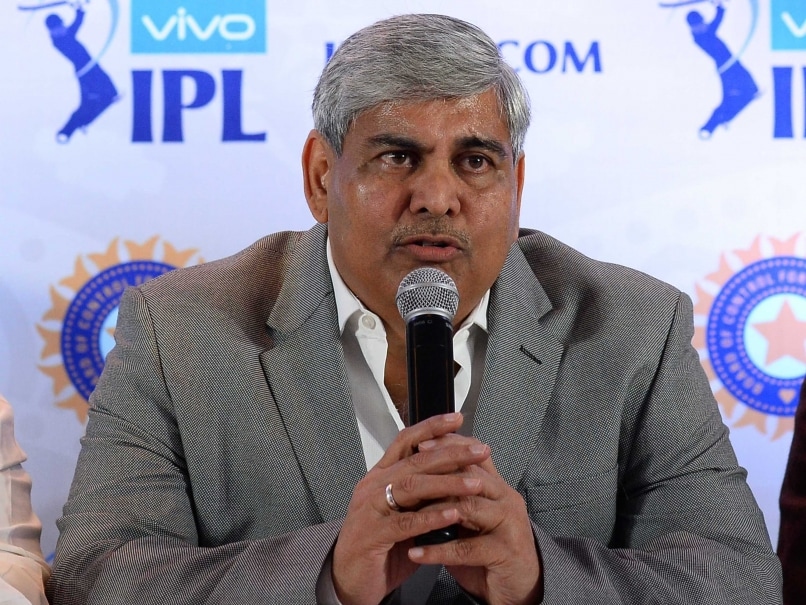 Manohar has quit as boss of world cricket's governing body citing personal reasons.
© AFP
Shashank Manohar has resigned as the chairman of the International Cricket Council (ICC). According to reports, Manohar has quit as boss of world cricket's governing body citing personal reasons.The surprise move comes shortly after the ICC was embroiled in a controversy when it refused to take any action against Australian captain Steve Smith in the 'brain fade' issue in the Bengaluru Test.That decision was criticised by several former and current players, including Sunil Gavaskar and South African Faf du Plessis.
However, according to highly-placed sources, Manohar has decided to quit as the Board of Control for Cricket in India (BCCI) seems to have gained enough ground to block the constitutional and financial reforms that were set to be passed by the ICC at its next board meeting.
Any reform to be passed needs 2/3rd majority but BCCI, in all likelihood, has managed to get Bangladesh, Sri Lanka and Zimbabwe on its side.
It is understood that Manohar, expecting a loss of face, has resigned with immediate effect.
"I was elected unopposed as the first independent Chairman of ICC last year. I have tried to do my best and have tried to be fair and impartial in deciding matters in the functioning of the Board and in matters related to Member Boards along with the able support of all Directors," Manohar has stated in an email he sent to the ICC.
"However, for personal reasons it is not possible for me to hold the august office of ICC Chairman and hence I am tendering my resignation as Chairman with immediate effect.
"I take this opportunity to thank all the Directors, the Management and staff of ICC for supporting me wholeheartedly. I wish ICC all the very best and hope it achieves greater heights," he concluded.
The ICC subsequently confirmed having received the email from Manohar.
"Te ICC has confirmed it has received an email from Chairman Shashank Manohar tendering his resignation," the body said in a short press statement. "The ICC Board will assess the situation and next steps before making a further announcement."
Shashank Manohar resigns as ICC chairman https://t.co/sVJgQtnnlU pic.twitter.com/xoDqwvsc2O

— cricket.com.au (@CricketAus) March 15, 2017
Manohar had last year resigned from the BCCI citing his inability to carry out Lodha Committee reforms in toto. His detractors in BCCI at that time had said he left a sinking ship for the safer confines of the ICC.
BCCI surprised at Manohar's decision
The Indian cricket board on Wednesday expressed its surprise at Shashank Manohar's sudden decision to tender his resignation from the ICC chairmanship citing personal reasons.
"The Board of Control for Cricket in India (BCCI) on Wednesday expressed its surprise at the sudden decision of Mr. Shashank Manohar to step down from the post of International Cricket Council (ICC) chairman," BCCI issued a media statement.
"Mr Manohar's contribution to Indian cricket is invaluable. He is a man of few words but excellent deeds. The BCCI Committee of Administrators (COA) was looking forward to a long-term cooperation between the ICC and BCCI with Mr. Manohar at the helm of affairs. The BCCI wishes him the very best for his future endeavours," it further stated.
There is a lot of speculation going around in the cricketing world. One of the main reasons for his resignation is believed to be the opposition that he will face with regards to proposed constitutional reforms including the two-tier World Test Championship and controversial revenue sharing model.
There has been a meeting in Colombo where a senior BCCI functionary met officials from Bangladesh, Zimbabwe and Sri Lanka. With 4 votes needed out of 10 Test playing nations to scuttle the reforms, India, game's financial powerhouse are back in the business.
Many are attributing India's new found strength to the trio of CEO Rahul Johri, Vikram Limaye and Vinod Rai, who have worked tirelessly to gain support of other nations.
Manohar's resignation and the possible rollback of the proposed revenue model will mean that the argument put forward by BCCI's old guard that richest cricket board is in mess after Supreme Court verdict on Lodha Reforms would not hold ground.
(With inputs from PTI)