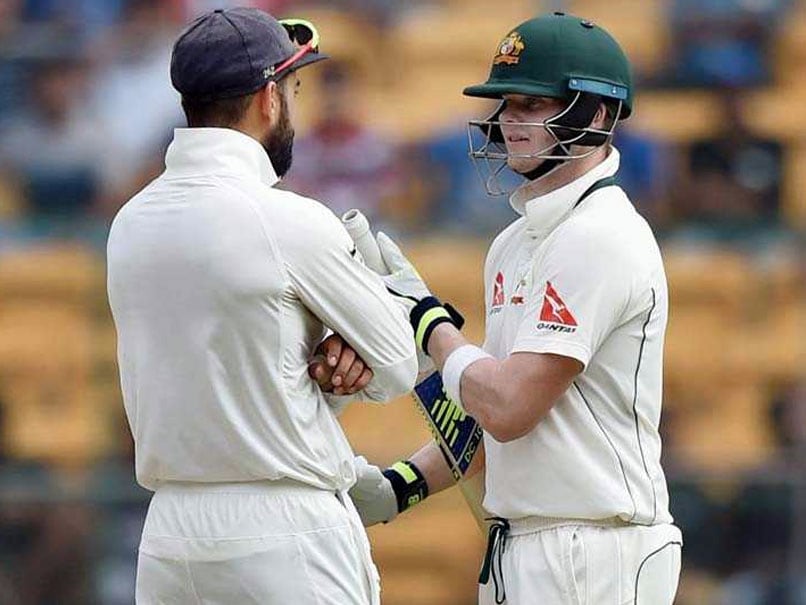 India had won the Bengaluru Test by 75 runs against Australia in Bengaluru
© AFP
India captain Virat Kohli and his Australian counterpart Steve Smith had quite a face-off during the Bengaluru Test earlier this year with the former stopping just short of calling his rival a 'cheat' in the press conference after the match. Smith has now reacted to that, saying that India captain's claim was nothing but 'rubbish'. India had won the second Test of the series by 75 runs to level the four match series 1-1 in a hard fought contest during Australia's tour of India.
After having taken on Smith on the field for trying to get opinions from the dressing room before going for the Decision Review System (DRS), Kohli continued with his tirade after the match. "I have seen it twice while batting. I have seen their players looking upstairs (dressing room). I told the umpires, this had to stop. I don't want to mention the word but it falls in that bracket. I would never do something like that on the cricket field," Kohli had said.
Speaking to ESPNcricinfo, the Australian skipper Smith explained in detail and said that he had only looked at the dressing-room for DRS assistance on that one occasion. "I am not entirely sure about what he was coming on about there. Because that was the only moment that it ever happened," he said.
"As far as I was concerned, we'd never tried to consult with the dressing room beforehand and although he said he'd brought those previous occasions to the notice of the umpires, I can say categorically that we were never spoken to by either those umpires or match referee Chris Broad about any such breaches in protocol," ESPNcricinfo quoted Smith as writing in his book, The Journey.
Smith also expressed disappointment with the BCCI over how the on-field spat between Ravindra Jadeja and Matthew Wade was handled by the Indian board.
"It was an example of the banter that took place on the field, but it gave a very one-sided view of what was happening. There would have been plenty of examples that could have been released of Indian players engaging with me and my team, such as when they were constantly in the ears of Matt Renshaw when he resumed his first innings in Pune having had to retire ill because of diarrhea. Ian Gould asked Matthew and Ravindra to cut it out in Dharamsala and that was where it ended. So to rake it up in the way that it was benefited no-one," Smith wrote in his book.