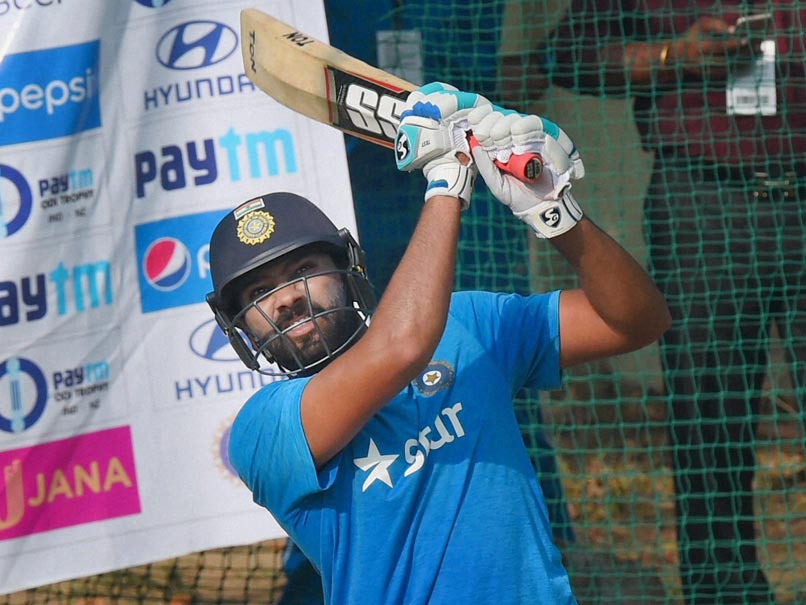 According to Rohit Sharma, MS Dhoni's reading of a player's ability is peerless.
© PTI
Star Indian batsman Rohit Sharma on Wednesday described in great detail how former skipper MS Dhoni helped change his limited-overs cricket career with one decision. It was Dhoni who first spotted Sharma's ability to succeed as an opener and promoted him to the top of the order in 2013 during the Champions Trophy. Rohit feels that move has not only helped him become a more improved batsman but also understand his game better.
"I believe the decision to open in ODIs changed my career and it was a decision taken by MS Dhoni. I became a better batsman after that. In fact it helped me understand my game better, react better according to situations," Rohit said.
He first opened in early 2013 against England during the home series, scoring 80 odd runs and followed that up with a steady show in the Champions Trophy.
A true leader @msdhoni he influenced so many cricketing careers including mine when he asked me to open in the ICC Champions Trophy

— Rohit Sharma (@ImRo45) January 4, 2017
Will miss you at the helm @msdhoni

— Rohit Sharma (@ImRo45) January 4, 2017
So does he remember how he was approached, Rohit recollects it was in customary MSD style -- in a very matter of fact manner.
"He (Dhoni) just came up to me and said 'I want you to open the innings as I am confident that you will do well. Since you can play both cut and pull shot well, you have the qualities to succeed as an opener'," the stylish right-hander
"He told me that I shouldn't be scared of failures or get upset by criticism. He was looking at the bigger picture as the Champions Trophy was scheduled in England that year," said Rohit, the only player in world cricket with two double hundreds in ODIs.
According to Mumbai batsman, Dhoni's reading of a player's ability is peerless.
"The Champions Trophy in England made me confident that I can open and ready to face challenges of playing white ball in English conditions in the morning.
"I got 65 against South Africa, who had Morne Morkel, Ryan McLaren, Lonwabo Tsotsobe and Rory Kleinveldt. Morne and McLaren were hitting three quarter length and Tsotsobe was swinging it. The skipper was confident that I could handle the situation and I did," the world record holder for highest individual score in ODIs, said.
"With no disrespect to other great Indian captains, I was blessed to play under MS all these years. His calmness in pressure situations helped us. He always led from the front. There won't be one like him."
Rohit, who is currently recovering from a thigh surgery, said he was disappointed to miss out on vital playing time.
(With inputs from PTI)
(Except for the headline, this story has not been edited by NDTV staff and is published from a syndicated feed.)