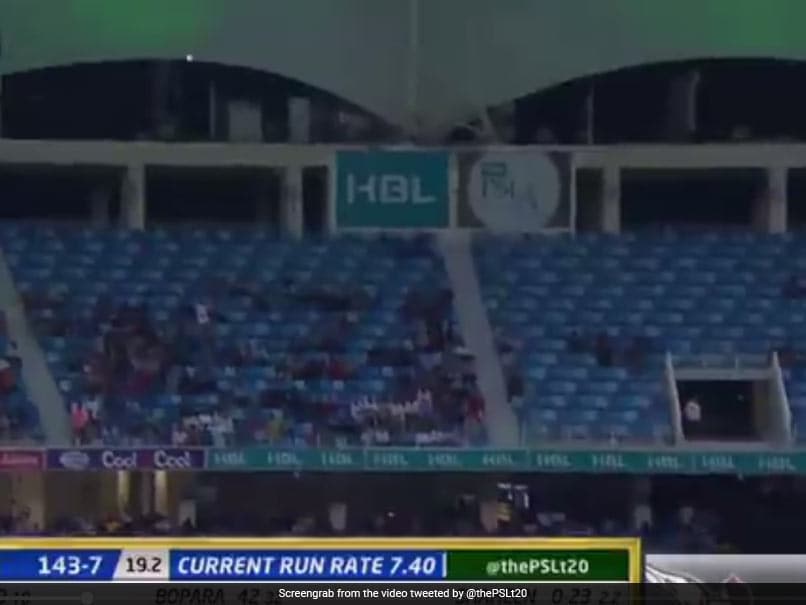 Pakistan Super League season 3 is being played in UAE
The third season of the Pakistan Super League (PSL) is being played in UAE but it has failed miserably to attract any crowds for the Twenty20 tournament. The organisers have tried to replicate India's cash-rich Indian Premier League (IPL) and might have succeeded in adding glitz and glamour but it seems no one is interested to go and watch the matches in the stadium. The empty stands have given a perfect opportunity to the Indian fans to compare it with the IPL and troll PSL with funny jokes. From stands to the cheerleaders, no one has been spared.
isse jyada log toh mumbai indians ke coach bane huye hain pic.twitter.com/r4kUiz59wn

— Sunil- The Cricketer (@1sInto2s) February 24, 2018
Places where you can hardly see any human being.#PSL pic.twitter.com/7ZPHnKnE3U

— PhD in Bakchodi (@Atheist_Krishna) February 26, 2018
*Pakistani PM gets kidnapped *

Kidnapper 1 : Koi sunsaan jagah le chalo

Kidnapper 2 : stadium le chal #PSL chal raha hai

— Freelance 007 (@James_Beyond) February 26, 2018
Cheerleaders in IPL Vs PSL pic.twitter.com/OELJoRFzyu

— sane_insane (@Aawara86) February 26, 2018
Man of the match reward in #IPL and #PSL.. pic.twitter.com/ssqQAXcMkT

— The-Lying-Lama (@KyaUkhaadLega) February 20, 2018
IPL vs PSL pic.twitter.com/DvQcSpqsTw

— Abhay (@Woh_ladka) February 26, 2018
#PSL
Domestic players:- pakistan
Foreign players:- Bangladesh ????

— Srish tea (@Thugni_kahiki) February 23, 2018
IPL vs #PSL pic.twitter.com/n69W96NISu

— Kuptaan???? (@Kuptaan) February 23, 2018
Today aslo same as yesterday empty stands in Dubai stadium.
Surely @OfficialPSL missing home effect badly.#PSL2018 #PSL #PSL3 #ISUvPSZ #PSZvISU pic.twitter.com/FtIU0WwPpT

— Ramratan Godara (@RamratanGodara) February 24, 2018
Season 3 of the PSL kicked off on February 22 with a star-studded opening ceremony at the Dubai International Cricket Stadium. The cricketing extravaganza had a number of renowned names and not only the current crop of cricketers, the former players were also part of the glitzy ceremony. Celebrities from the world of entertainment were also present for the opening ceremony.
PSL Season 3 came into the limelight after a stunner from Shahid Afridi. Karachi Kings star Afridi grabbed all the headlines against Quetta Gladiators as he pulled off a sensational catch.
Afridi picked up Umar Amin on 31, after the batsman hit a length delivery from Muhammad Irfan with fierce power towards the long-on boundary. When everyone thought the ball was sailing over the boundary rope, Afridi jumped and stuck his right hand up grabbing the ball with one hand and tossing it up in the air. He then ran back inside the playing field and completed the catch successfully.
Dunya age se burhi hoti he yeh banda jawan @SAfridiOfficial superb #psl2018 pic.twitter.com/5YmSr9hjy0

— Shaharyar Ejaz (@SharyOfficial) February 23, 2018
PSL now has six franchises from Karachi, Lahore, Peshawar, Quetta, Islamabad and Multan.