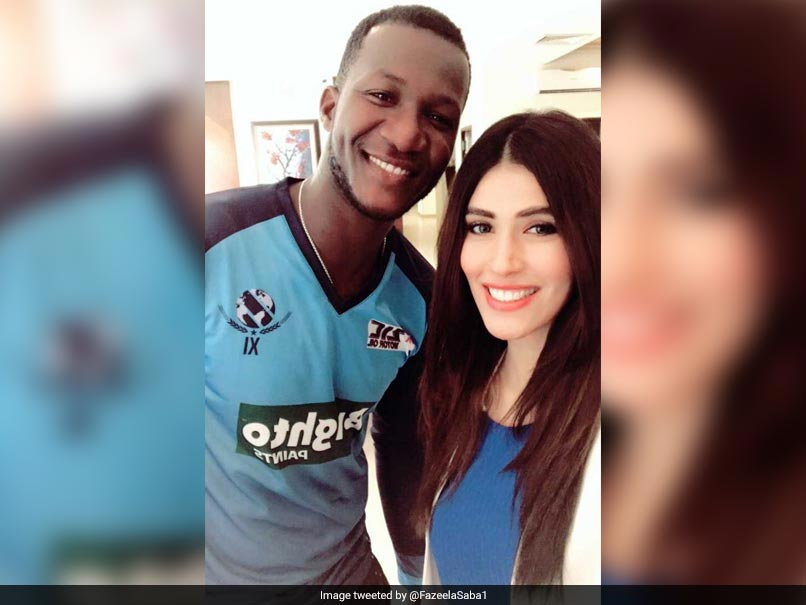 Fazeela Saba took Twitter by storm after posting a picture with Darren Sammy.
© Twitter
The date of September 12 will be etched in the minds of Pakistan cricket fans for a long time. On the glorious night in Lahore, international cricket, in earnest, returned to Pakistan soil. As the World XI stars descended at the Allama Iqbal International airport from Dubai, the city and the country were left buzzing with excitement. With two matches played and one to go, the winds of change have well and truly begin to blow in Pakistan. The Twenty20 matches have caught the imagination of fans, media and cricketers alike. So, it comes as no surprise when these world stars emerge in selfies clicked by fans or media persons. However, when one PTV anchor posted a picture with Darren Sammy, she got more than what she bargained for.
Fazeela Saba, an anchor for Pakistan news channel PTV Sports, shared a picture with the former the West Indies captain on her Twitter account on Thursday but what was to be maybe a fan moment for her, ended up making her a superstar.
Another Darren Sammy interview coming soon on PTV World pic.twitter.com/ipAP1y82Lt

— Fazeela Saba (@FazeelaSaba1) September 14, 2017
Twitterati were left agape at the sight of the anchor and most forgot that there was an international cricketer standing next to her.
I really like u u r so cute Mashallah Trust me i really mean it fazeela

— zunaira (@zunaira_zuni16) September 14, 2017
So gr8 2 c u,looking gorgeous as always.Luking forward fr da interview

— ZUHAIR (@ZUHAIRmehdi) September 14, 2017
Darren Sammy Teri qismat kitna khush naseeb hy

— Boss (@starqureshi75) September 14, 2017
Hw cute lady... @FazeelaSaba1

— Ali Kashmiri (@AliGhazali10) September 14, 2017
You should try your luck in #Movies !

— Gulail Wala (@khurram786khan1) September 14, 2017
Since March 2009, when terrorists attacked the Sri Lankan side near the Gaddafi Stadium in Lahore, no top Test side has come to Pakistan due to security concerns and the International Cricket Council (ICC) also refused to send any match referee and umpires for the limited-overs series played by Zimbabwe in May 2015 in Lahore.
But the World XI tour which is being seen by the Pakistan Cricket Board (PCB) as a game changer to bring back international cricket to the country is not only supported by the ICC but the world governing body has also funded the visit of security experts to Lahore for the security arrangements.
The short tour includes three T20 internationals scheduled for September 12, 13 and 15 at the Gaddafi Stadium.
In the first T20, the hosts outplayed the visitors to take a 1-0 lead. But Faf du Plessis' men came storming back in the second to level the series. The third and final T20 will be played on Friday and the home fans will be hoping for a positive result.