Story Progress
Back to home
World XI Visit Is Much More Than A Cricket Tour: Faf du Plessis
The World XI squad reached Lahore in the wee hours of Monday from Dubai.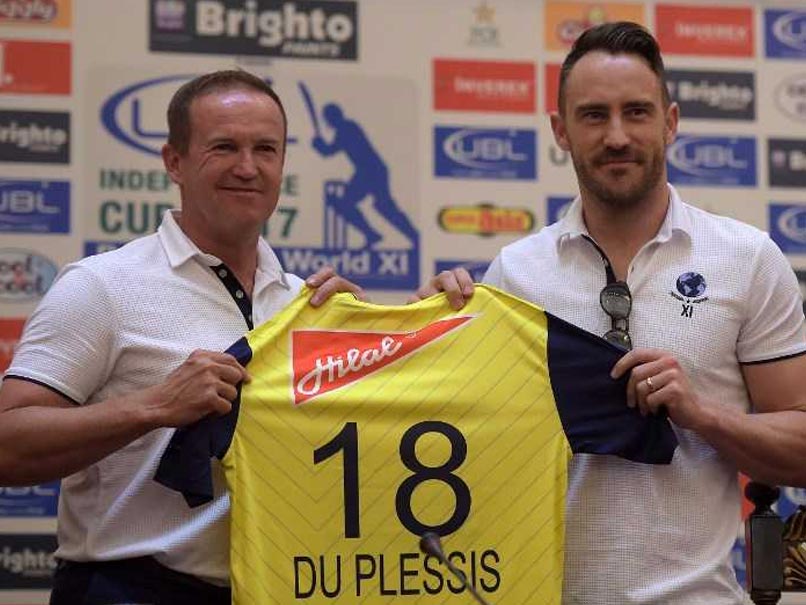 The importance of the tour was highlighted by Faf du Plessis and coach, Andy Flower at a media meet.
© AFP
Highlights
World XI squad arrive in Lahore

They were received by PCB chairman at the airport

World XI tour is being seen as a game-changer by the PCB
World XI captain Faf du Plessis on Monday said that their tour of Pakistan is not just about playing a series but way bigger than that where the crazy fans get a dose of top flight international cricket. "It is not just about cricket. This short tour is for something bigger. We are just happy that after a long time Pakistani cricket fans can watch international action at home," Du Plessis said at a press conference. The World XI squad reached Lahore in the wee hours of Monday from Dubai and were received at the Allama Iqbal International Airport by Pakistan Cricket Board (PCB) chairman, Najam Sethi and other high ranking officials.
The players and officials had heavy security cover via the Mall road to their hotel where all of their activities are planned for the duration of their stay in Lahore when they play three T20 internationals on September 12th, 13th and 15.
With six layers of security being set-up, all entry and exit points to the Mall road were closed for normal traffic as hundreds of police commandos and paramilitary rangers stood alert along the route.
Security layers have also been extremely tight at the five-star hotel where the World XI and Pakistan teams are staying with only accredited personal allowed access into the hotel lobby besides the guests staying there.
Since March 2009, when militants attacked the Sri Lankan side near the Gaddafi stadium, no top Test side has come to Pakistan due to security concerns and the ICC also refused to send any match referee and umpires for the limited overs series played by Zimbabwe in May 2015 in Lahore.
But the World XI tour, which is being seen as a game-changer by the PCB to bring back international cricket to Pakistan is not only supported by the ICC but the world governing body has also funded the visit of security experts to Lahore to okay the security arrangements for the short tour.
The importance of the tour was also highlighted by Plessis and coach, Andy Flower at their media meet.
"You always try to find things to help you leave your mark - and this seemed like the sort of opportunity to do just that," Du Plessis said.
"As a cricketer, in a few years' time, I will be able to look back and say that I played my part in bringing cricket back to Pakistan," he added.
Flower made it clear that the World XI side included some very well known players and they wanted to give a good account of themselves before the passionate cricket fans of Pakistan.
"At the end of this tour, we went to be part of the celebrations to signal the return of international cricket to Pakistan," Flower said.
At another press conference, the Chairman of ICC's Task Force on Pakistan Giles Clarke congratulated the Pakistani people over the revival of cricket in the country, saying:"It is not just cricket, but much much more than that."
Clarke and PCB chief, Najam Sethi expressed hope that more international teams would come to Pakistan after the World XI tour.
Promoted
Clarke appreciated the support and full involvement of the Pakistan government and its security agencies in pushing for the revival of international cricket in the country.
"It is a momentous tour and I must thank Andy Flower for playing a key role in talking and convincing the players to be part of this historic series," he added.
Topics mentioned in this article