Story Progress
Back to home
Pakistan Fans Overwhelmingly Choose Virat Kohli Over Their Own Batting Star
Virat Kohli's fan following comes to the forefront as even Pakistan fans vote for him.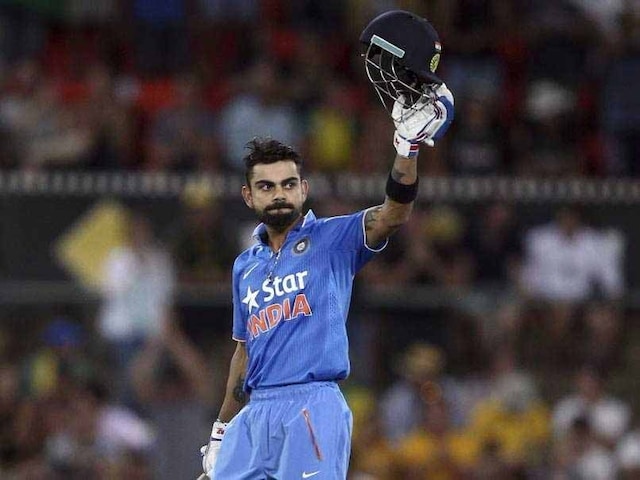 Virat Kohli's fan following extends beyond the border.
© AFP
Highlights
Pakistan fans choose Kohli over Shehzad

Pakistan fans were all praise for India captain Virat Kohli

Kohli has been in red hot form for India in ODIs
There is little doubt that Indian captain Virat Kohli is respected and admired for his batting prowess across the world -- but to what extent? Will fans from other countries choose Kohli over one of their own? The answer that came from Pakistan fans was an overwhelming 'yes'. A Twitter account by the name of 'All Pakistan Memes' conducted an experiment earlier where they asked fans to choose between Pakistan opener Ahmed Shehzad and the Team India skipper. Fans were asked to 'retweet' if they thought Shehzad was better and 'like' if they felt Kohli was their man.
What happened next just goes to show the love and admiration fans from other nations have for Kohli.
At the time of writing this article, there were 320 'retweets' for Shehzad while nearly 6,500 'likes' for the Indian run-machine.
Let's settle this

RT for ahmed shahzad
Like for Virat kohli

#PAKvsWorldXI pic.twitter.com/MyktPUWC3l

— All Pakistan Memes (@allPakistanMeme) September 12, 2017
There were also over 200 replies on the post with most Pakistan fans making it clear that Kohli was head and shoulders above any Pakistan batsman.
No comparison tbh! Kohli is a world class player!

— Fazila (@fazila_1996) September 12, 2017
It would've been better to compare Ahmad with Umar Akmal

— Irsa (@xxirsa) September 13, 2017
Shukar hai ham Pakistanio mai itni aqal hai. Everyone knows @imVkohli se @iamAhmadshahzad ka koi comparison nhi VK is already a Legend

— Aqib Siddiqui (@Aqibleo13) September 12, 2017
THIS IS SO DISRESPECTFUL TO VIRAT KOHLI

— Maryam (@BefourMaryam) September 12, 2017
Kohli is way better
We all in pakistan know that

— Master Oogway (@calculus_guy) September 12, 2017
Come on . Accept it , out of 100 times, 99.9% time one kohli is equal or above then 6 batsmen of Pakistan team frm past current & in future

— NABEEL ZAHID (@nabz84) September 12, 2017
Total disrespect to the legend of kohli
No comparison wat so ever

— Chaudhry (@Ahmad0316) September 13, 2017
Kholi all the way, coz he loves n lives for what he do, unlike shahzad.

— Abdul Basit (@ranabasit15) September 13, 2017
One might remember that when an Australian journalist tried to troll Kohli during the Independence Cup, played between the World XI and Pakistan, fans from across the border came out in support of the Indian captain and took the troll to task.
Sweepers clean the stadium in readiness for the World XI match pic.twitter.com/QWzzW13OFc

— Dennis (@DennisCricket_) September 12, 2017
Think this is very ill quoted, @imVkohli is legend and will remain one #WorldXI welcome to Pak

— Khürråm (@1_PAK) September 12, 2017
I reject this nonsense , respect for big names ,big players of cricket ,from Pakistan.

— Ahsan (@LovePak1stan) September 12, 2017
We love cricket, we love these legends. Respect from Pakistan.

— Naeem shah (@Naeemshah99) September 12, 2017
Kohli has been in red-hot form from India. Despite being dismissed for a duck in the first ODI against Australia, the 28-year-old came roaring back by smashing a brilliant 92 to help the hosts beat the Aussies by 50 runs and take a 2-0 lead.
Topics mentioned in this article