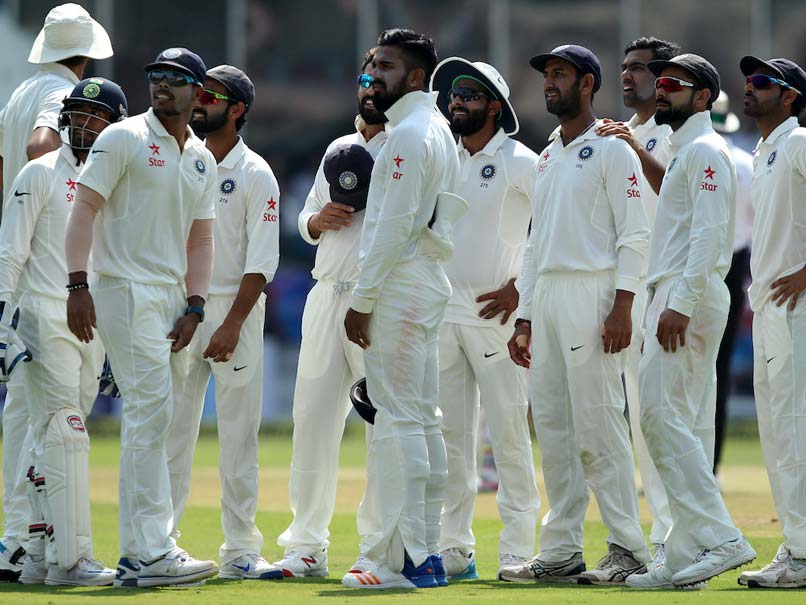 India vs Bangladesh: Mushfiqur Rahim and Mehedi Raza frustrated the hosts
© BCCI
Mushfiqur Rahim and Mehedi Hasan's rigid partnership helped Bangladesh to attain some glory in the late afternoon as the visitors finished the day with 322/6 in the one-off Test in Hyderabad. Earlier, the Indian bowlers dented Bangladesh's hopes of giving a tough fightback as they lost 6 wickets till the second session. Shakib Al Hasan played a gem of an innings before he was dismissed on 82. From India, Umesh Yadav was the pick of the bowlers who took 2 wickets while Ishant, Ashwin and Jadeja chipped in with one-wicket apiece. Bangladesh still have a lot of work to do to avoid follow-on and intriguing day will be on the cards on Sunday. (SCORECARD)
Get highlights of India vs Bangladesh Test here.
16:45 IST: That's it from us. Hope you enjoyed our coverage. Adios!!
16:40 IST: Both Mushfiqur Rahim and Mehedi Hasan have frustrated India but credit to both the batsman who have accumulated 87 runs so far. Tomorrow will an intriguing day and will be interesting to see how India fightback.
16:35 IST: Shakib Al Hasan after the match: It wasn't easy. The way Umesh was bowling, he was moving the ball both ways and it was obviously very difficult. Luckily I survived that. It was a good wicket and once a batsman is set it is very difficult for the bowlers to get wickets. Both Mushfiqur and Miraz played really well after that.
16:32 IST: End of day's play!!! Bangladesh 322/6 in 104 overs. Mushfiqur Rahim 81*, Mehedi Hasan 51*. They trail India by 365 runs 
16:30 IST: FOUR! Mushfiqur Rahim smashes it for a boundary. What a comeback after injury
16:29 IST: Short delivery by Ishant and it has hit Rahim on the bottom hand. He immediately takes his gloves off!!
16:28 IST: FOUR! Nice little tap on the off-side. Just a fraction of width by Ishant Sharma and Mushfiqur hits it for a boundary
16:23 IST: FIFTY! That's his maiden half-century. He becomes the youngest player to smash a fifty for Bangladesh vs India in Tests.
16:17 IST: Mehedi Hasan had played four matches before this Test and his highest score was only 10
16:16 IST: FOUR! Glorious shot by Mehedi Hasan again and he is on 46 now
15:59 IST: FOUR! Mehedi Hasan nicely cleared his front leg and hit that through mid-off
15:56 IST: FOUR!  Mehedi Hasan slightly opens the face of the bat and the ball beats the fielder 
15:55 IST: FOUR! Mushfiqur plays the sweep shot to good effect and brings up the 50-run partnership too with Mehedi Hasan
15:50 IST: Bangladesh still trail by 403 runs. They must be targetting 203 more runs first to avoid follow-on
15:48 IST: Ohh beautiful delivery by R Ashwin. Typical off-spinner's delivery
15:45 IST: Mushfiqur playing gem of an innings here. Bangladesh need him to bat for as long as possible
15:26 IST: Nice gutsy performance by young Mehedi Hasan too. His defence looks solid, good technique and temperament. Has not played any rash shot too 
15:25 IST: Bhuvneshwar Kumar has been impressive. Swinging the ball at will, not been rewarded though
15:24 IST: FOUR! Nicely clipped through the mid-wicket by Rahim. He gets a boundary
15:21 IST: Bangladesh are 263/6 in 86 overs. They trail India by 424 runs. Mushfiqur Rahim 51*, Mehedi Hasan 22*
15:05 IST: Pace from both the ends now as the new ball was taken in the last over
15:04 IST: FOUR! Mehedi Hasan slashes it hard and gets the outside half of the blade to get it over the cordon for a four
14:54 IST: FIFTY!! Rahim gets to his 16th Test half-century with a single. It has been a mature knock by him.
14:43 IST: Mehedi Hasan has so far given good support to his captain and Bangladesh will hope he hangs in there for sometime.
14:40 IST: Mushfiqur is just two runs away from his 16th Test half-century. He holds the key for Bangladesh.
14:13 IST: TEA!! 121 runs in the session for Bangladesh. They are 246/6, trail India by 441 runs. Mushfiqur Rahim 47*, Mehedi Hasan 9*
14:12 IST: FOUR! Full toss by Yadav and Mehedi Hasan glides it to the boundary
13:59 IST: OUT!! Jadeja gets the reward for bowling a straight line. Sabbir Rehman is out on 16 
13:54 IST: A leg-bye to Rahim. Mushfiqur reaches to 46, Bangladesh have scored 109 runs in the session!!
13:52 IST: Jadeja deceives Rehman and chance for a stumping!! Third says he is in!!
13:46 IST: FOUR! Good shot by Sabbir Rehman, uses the depth of the crease and hits it for a boundary
13:41 IST: Bangladesh 227/5 in 67 overs. Mushfiqur Rahim 46*, Sabbir Rehman 9*. They still trail India by 458 runs
13:38 IST: FOUR! That is not from the middle of the bat but still goes for a boundary. Slog by the new batsman Sabbir Rehman
13:28 IST: OUT!! Anddd Shakib Al Hasan goes. A terrible end to a fine innings by him. He goes on 82 off 103, Ashwin gets his first wicket. It's 206/5
13:20 IST: FOUR! Mushfiqur Rahim sweeps it for a boundary
13:15 IST: Jadeja appeals for a catch. The on-field umpire raised his finger but opts to go for the TV review after a discussion. Overturned
13:06 IST: Bangladesh have scored 71 runs in this session in 13 overs 
13:04 IST: Virat Kohli is not happy with Saha. His throw to the other end was very slow 
13:03 IST: Mix up! Mushfiqur was going for the third run but rightly sent back by Shakib. The captain didn't even see Shakib saying nooo
13:01 IST: FOUR! Wide delivery by Yadav and Shakib is dealing in boundaries now.
13:00 IST: FOUR! Glorious shot by Shakib. No lateral movement and he creams it through covers for a boundary off Umesh Yadav
12:56 IST: FOUR! Good use of the feet and Shakib dances down the track to smash the ball for a four
12:54 IST: 64 runs added by these two Bangladesh players 
12:52 IST: FOUR! Well timed by Mushfiqur Rahim and hits a fine cover-drive. These two batsmen look set now
12:42 IST: Direct hit again but Mushfiqur is well in. Bangladesh are taking the chances here
12:39 IST: Third umpire gives it a not-out. It was very close though
12:37 IST: Appeal for a run-out. I think Mushfiqur is in!!
12:35 IST: Bangladesh are 158/4 in 49 overs, trail India by 529 runs. Shakib Al Hasan 51*, Mushfiqur Rahim 17*
12:30 IST: FOUR! Shakib completes his fifty in fine fashion. 21st half-century for him 
12:27 IST: FOUR! Deliberately played towards the backward point and gets the same result
12:26 IST: FOUR! Glorious shot by Shakib towards the deep extra cover off Bhuvneshwar Kumar
12:21 IST: FOUR! Carrom ball by R Ashwin but Mushfiqur sweeps it well. Wrong line by the off spinner
12:20 IST: FOUR! Thick outside edge and Shakib gets the boundary again through the third-man area
12:17 IST: FOUR! Off-side is completely packed but Shakib still manages to find the gap 
12:15 IST: R Ashwin will resume for India. He has a slip and a silly-point in place
12:10 IST: We are back after the lunch session
11:30 IST: It's LUNCH!!! Bangladesh are 125/4 after 42 overs. Shakib Al Hasan 29*, Mushfiqur Rahim 6*. Trail India by 562 runs, 84 runs in the session.
11:25 IST: FOUR! Cheeky shot by the Bangladesh captain off Ishant Sharma. Gets a boundary towards third man area
11:19 IST: No bat but height is the factor, Third umpire stays with not-out decision. India lose both their reviews.
11:15 IST: REVIEW! Appeal for an LBW but umpire Marais Erasmus gives it not-out
11:05 IST: Bangladesh captain Mushfiqur Rahim comes into the middle now. He will have to act as a saviour 
11:03 IST: FOUR! Shakib continues to be aggressive and smashed it for a boundary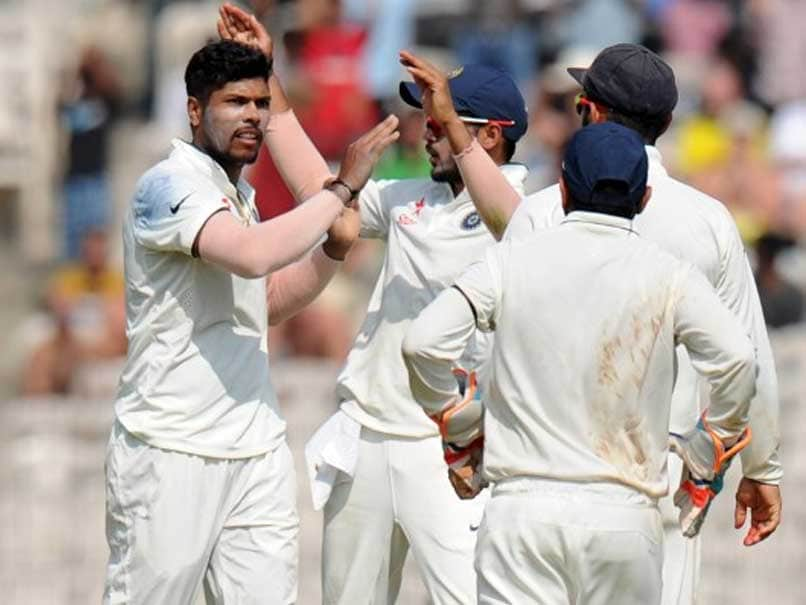 Live Cricket Score, India vs Bangladesh: Umesh Yadav showed a wonderful display of swing bowling. 
Photo Credit: BCCI
10:59 IST: OUT!! Third umpire stays with the decision and Mahmudullah goes for 28
10:58 IST: REVIEW !! Ishant Sharma comes into the attack and gets the LBW decision. Mahmudullah opts for a review
10:52 IST: FOUR! Bangladesh batsmen are looking to hit the boundaries now. Mahmudullah sweeps it fine and gets four runs for it
10:40 IST: Bangladesh are 94/3, trail India by 593 runs. Shakib 19*, Mahmudullah 18*
10:38 IST: FOUR!! Chance for Jadeja to catch that on his own bowling !! Shakib hit that very hard and gets a boundary
10:32 IST: FOUR! Ball is reversing and Mahmudullah gets a boundary with an outside edge
10:31 IST: FOUR! Counter-attack by Shakib and hits it for a boundary
10:30 IST: Just wow!! Excellent display of swing by Umesh Yadav. Making life difficult for Shakib 
10:23 IST: FOUR! No half measures for Shakib. Drives it for a boundary off Umesh Yadav
10:18 IST: FOUR! Full toss and sliced away for a boundary by the new batsman Shakib Al Hasan
10:14 IST: OUT!! Big appeal for an LBW by Umesh Yadav and the umpire raises his finger. Mominul Haque gone for 12
10:11 IST: Jadeja appeals for a caught behind. They discuss for a review and decides not to take it. Saha was not sure!!
10:10 IST: Bangladesh are 63/2 after 23 overs. Mahmudullah 11*, Mominul Haque 11*. They have scored 23 runs in 9 overs of the session so far. 
10:09 IST: FOUR! Outside edge and goes for a boundary. But, Umesh Yadav should not mind that
10:08 IST: Umesh Yadav comes to bowl from the other end. 
10:03 IST: Change in the attack. Ravindra Jadeja replaces Umesh Yadav
10:02 IST: REVIEW! Appeal for an LBW, umpire says not-out but Virat Kohli opts for the review. Third umpire stands by the original decision 
10:00 IST: Mahmudullah defended towards short cover and Umesh again with the throw, but this time Mominul is well in. They get two runs
Not quite the start Bangladesh wanted. Homework would have suggested that Umesh Yadav is quick and has an excellent throwing arm

— Harsha Bhogle (@bhogleharsha) February 11, 2017
09:54 IST: FOUR! First runs for Mahmuddullah off Umesh Yadav. Ishant Sharma slides and tries to field it at mid-on but the timing was excellent
09:50 IST: Bangladesh are 48/2 after 19 overs. Mominul Haque 7*, Mahmudullah 0*
09:48 IST: FOUR! Mominul pulls it but very close to the mid-wicket fielder. Excellent attempt by Pujara
16.4: WICKET! T Iqbal (24) is out, run out (Umesh Yadav/Bhuvneshwar Kumar), 44/2

— BCCI (@BCCI) February 11, 2017
09:40 IST: OUT!! What a big mix-up. It's Tamim Iqbal who has to sacrifice his wicket. Big blow for Bangladesh and India get their first wicket of the day
09:37 IST: Bangladesh's priority will be to get 488 first to avoid follow-on
09:36 IST: Maiden over by Bhuvi. Umesh Yadav to bowl from the other end
09:35 IST: A tinge of green is there on the pitch but that looks very deceptive. 
09:32 IST: Two slips and a gully for Bhuvi
09:31 IST: 'The pitch is still very flat. The cracks are getting wider. But it's bound together well and so shouldn't crumble,' Sunil Gavaskar says at the pitch report
09:30 IST: This pitch still looks good. Tamim Iqbal and Mominul Haque are at the ground and Bhuvneshwar Kumar to start the proceedings for India
09:11 IST: It's India who are ruling the roost in the off-Test against Bangladesh. They have posted a humongous total of 687/6 decl. Bangladesh still trail by 646 runs and they will have to really bat well to match the hosts up. 
09:10 IST: Good morning!!! Welcome to the live blog
Bangladesh negotiated the new ball well till the time Umesh Yadav got the better of Soumya Sarkar, who looked good just before getting an inside edge to the keeper. Tamim Iqbal and Mominul Haque held fort as Bangladesh reached 41 for 1 at the end of second day's play.
On Day 3, India will look to pick up early wickets with the new ball and bring the spinners, Ravichandran Ashwin and Jadeja, into play. Bangladesh, on the other hand, will try to defy India's bowling attack on surface that has favoured the batsmen so far. The visitors' first target would be to avoid the follow-on and thereafter reach as close to the Indian total as possible. An intriguing day's play is on the cards.
(Except for the headline, this story has not been edited by NDTV staff and is published from a syndicated feed.)