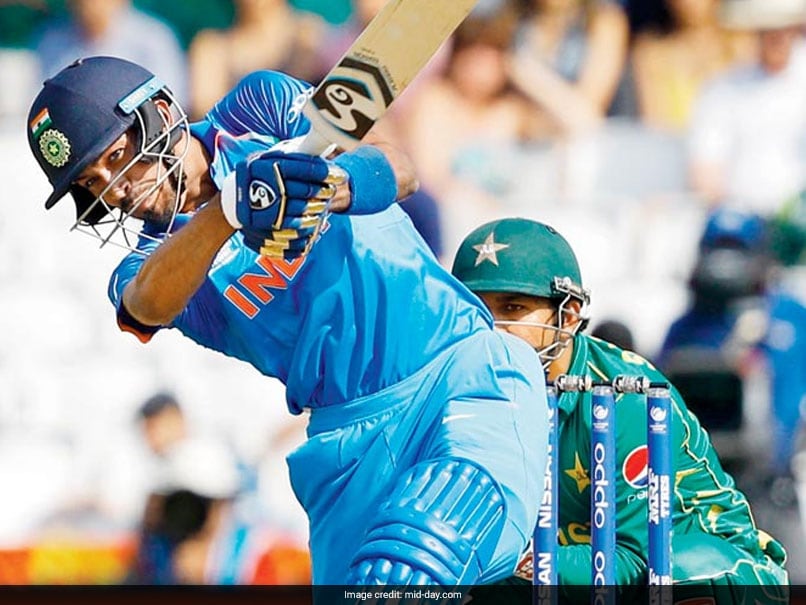 Hardik Pandya top scored for India in the Champions Trophy final vs Pakistan.
© Mid-Day
India found out that while winning the trophy is tough, retaining the crown is a lot tougher. Though India got lucky with the draw (India didn't play Australia, New Zealand and England), it did fall short in the final frontier. Before we discuss the lessons learnt from the campaign, it's important to acknowledge the way India played in crunch situations. The way they annihilated South Africa and Bangladesh after the loss to Sri Lanka was a good indicator of how good this team can be.
Virat Kohli has invested a lot of faith in Hardik Pandya and he justified it in the final. It was only the third time Pandya finished his quota of 10 overs in his young ODI career and the way he batted showed he's the team's cleanest hitter. He has hit more sixes than any other batsman in the tournament despite playing only a handful of deliveries. While his bowling still needs work (must bowl a lot fuller), his batting looks ready to take over the mantle of finishing from Yuvraj Singh and MS Dhoni.
Thriving grounds
Flat batting surfaces have made speed an overrated asset and the only way to thrive with the white ball is to make it swing in the air. Even when most Indian bowlers were taken for runs, Bhuvneshwar Kumar was exceptional, both with the new and old ball. Barring the game against Pakistan, his partner Jasprit Bumrah also showcased why he's been rated highly. It's time we thank the Indian Premier League for giving us two bowlers who can among the best death-over bowlers.
Looking at Pakistan's rise to the top, it was, perhaps, prudent to play either Mohammad Shami or Umesh Yadav throughout. As they say, batsmen win you matches, while bowlers win you tournaments.
Opening debate
The way both Shikhar Dhawan and Rohit Sharma combined to provide a solid and stable start almost every time, it's wise to put the opening combination debate to bed in the 50-over format. While there were no doubt about Rohit's place, there were enough skeptics about persisting with Dhawan at the top. The southpaw has showed that he's not just cracked the ODI code but has almost mastered it.
If there's one area that needs addressing in 50-over cricket it's India's ability to pick wickets and score briskly in the middle-overs. If it weren't for Kedar Jadhav's golden arm, Bangladesh would've scored over 320.
Out of the four wickets India took against Pakistan, one was a run-out and Jadhav took one. Ravichandran Ashwin and Ravindra Jadeja haven't been as effective as the team would've liked, allowing the opposition to pile on the pressure. Since most teams go slow in the first 10 overs, it's critical to look for wickets in the middle-overs and, unfortunately, it didn't happen for India.
Similarly, while batting, India's progress got somewhat halted between overs 31 to 40. Most teams look to accelerate after the 30th over and prepare for the final push, but India could only do it if two of the top three were around and seldom after being three-down around the 30- over mark.
(This story has not been edited by NDTV staff and is auto-generated from a syndicated feed.)