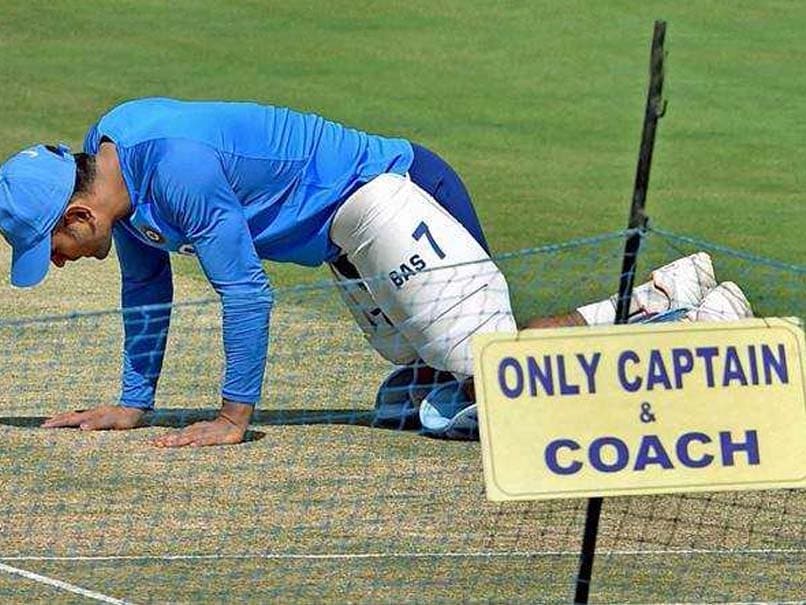 MS Dhoni had a close look at the Eden pitch before the first Test between India and Sri Lanka.
© PTI
Mahendra Singh Dhoni, former India captain, called time on his Test career in the year 2014 when India were touring Australia. Dhoni played 90 Test matches for India, scoring 4876 runs in a career that lasted little over nine years in the longer format. Dhoni's eye for detail is well documented and no wonder the former captain did have a look at the Eden Gardens strip for the first India vs Sri Lanka Test despite the fact that he no longer plays the five-day format.
Dhoni was in the city for a commercial shoot with another former skipper Kapil Dev.
In the morning session, the retired Test cricketer Dhoni was seen talking to curator Sujan Mukherjee, checking the Eden Gardens strip that will host the first Test between India and Sri Lanka from November 16-20.
"Dhoni really appreciated the pitch preparation and wished us for the Test match," Mukherjee later said.
'Dhoni and Kapil spent the whole day bowling and batting as per the shooting requirements and were joined by a host of kids.
First it was Kapil who was seen bowling to Dhoni as the film rolled it was role reversal with the Indian legendary wicketkeeper rolling his arms to the 1983 World Cup winning captain in the ad sequence of 33 seconds, directed by noted Bengali producer-director Arindam Sil.
Dhoni also interacted with a dozen of kids and offered them some invaluable tips of the sport.
"He told them on how to play aggressively about the stance and all of this in the midst of the busy work. It's brilliant," the director said.
He termed Dhoni as a natural actor.
"I didn't require a retake from Dhoni, he was natural in front of the camera."
Thanking the CAB president Sourav Ganguly, Sil said: "I am thankful to Sourav (Ganguly) for providing us the Eden. He said 'please go ahead'."
(With PTI Inputs)