Story Progress
Back to home
Ball-Tampering Scandal: Cricket Stars Blast ICC For Going Soft On Steve Smith
International cricket stars took a dim view of ICC's punishment for Steve Smith and blasted the world cricket body for being "weak" and "spineless".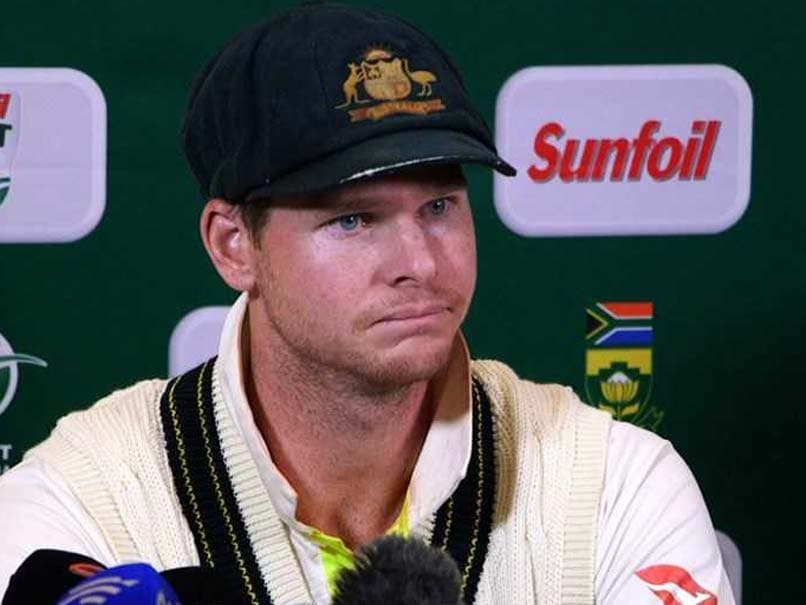 Steve Smith escaped with a one-match ban after admitting to planned ball-tampering.
© AFP
Highlights
Cricket stars slam ICC for being lenient towards Steve Smith

Smith was handed one-match ban and fined 100 percent of match fee

Smith admitted to planned ball-tampering during the 3rd Test
Steve Smith is in the eye of the storm after admitting that the ball-tampering during the third Test against South Africa had been orchestrated by himself and senior players. On Sunday, Smith and his deputy David Warner stood down from their respective positions in the Australian team. Later in the day, the International Cricket Council (ICC) handed a one-match suspension to Smith and fined 100 percent of his match fee. However, international stars took a dim view of ICC's punishment and blasted the world cricket body for being "weak" and "spineless".
The likes of Kevin Pietersen, Michael Vaughan and Harbhajan Singh all took to Twitter and slammed ICC for being lenient in their judgement for Smith.
A little birdie tells me that the weak ICC punishment isn't anywhere near what Cricket Australia is thinking....

— Kevin Pietersen (@KP24) March 25, 2018
In the world of cricket first degree cheating is the same as first degree murder. Smith cops 1game ban Bancroft none. ICC you are so spineless.

— Rodney Hogg (@RMHogg) March 25, 2018
ICC and Cricket Australia. Their discipline and credibility is more diluted than an homeopathy remedy.

— Graemefowler (@GFoxyFowler) March 25, 2018
One Test ban from @ICC for just the captain when they admitted a group came together and conspired to cheat the game?? Aussies must be giggling again! Assume @CricketAus will be far less lenient #sandpapergate

— Matt Prior (@MattPrior13) March 25, 2018
1 Match Ban & 100 % March fee Fine for Smith #ffs ... 75% match fee fine for Bancroft and some bloody De merit points for Bancroft ... Pathetic penalties for CHEATING ... Surely this moment was the time to set a precedent ... !!?? All the team should be penalised ..

— Michael Vaughan (@MichaelVaughan) March 25, 2018
If you only get a 1 Match ban and hit with a fine over admitting to cheating as an International Captain!! ... If the ICC are going by their list of sanctions against certain actions I think it's time they were updated ... #SAvAUS

— Michael Vaughan (@MichaelVaughan) March 25, 2018
wow @ICC wow. Great treatment nd FairPlay. No ban for Bancroft with all the evidences whereas 6 of us were banned for excessive appealing in South Africa 2001 without any evidence and Remember Sydney 2008? Not found guilty and banned for 3 matches.different people different rules

— Harbhajan Turbanator (@harbhajan_singh) March 25, 2018
Smith will miss the fourth and final Test in Johannesburg from Friday due to his ban.
However, Bancroft, the 25-year-old opening batsman, escaped an ICC suspension. He was instead fined 75 percent of his fee, warned, and hit by three demerit points.
"The decision made by the leadership group of the Australian team to act in this way is clearly contrary to the spirit of the game," said ICC chief executive David Richardson.
Promoted
Bancroft admitted that he breached Article 2.2.9 of the ICC Code of Conduct for Players and Player Support Personnel, which relates to "changing the condition of the ball in breach of clause 41.3." and accepted the sanction proposed by Andy Pycroft of the Emirates Elite Panel of ICC Match Referees, and as such there was no need for a formal hearing.
The incident that led to the charges being laid took place during South Africa's innings on Saturday afternoon when Bancroft was seen on television holding a foreign object while rubbing the ball, before hiding the object in his pocket, then inside his trousers.
Topics mentioned in this article