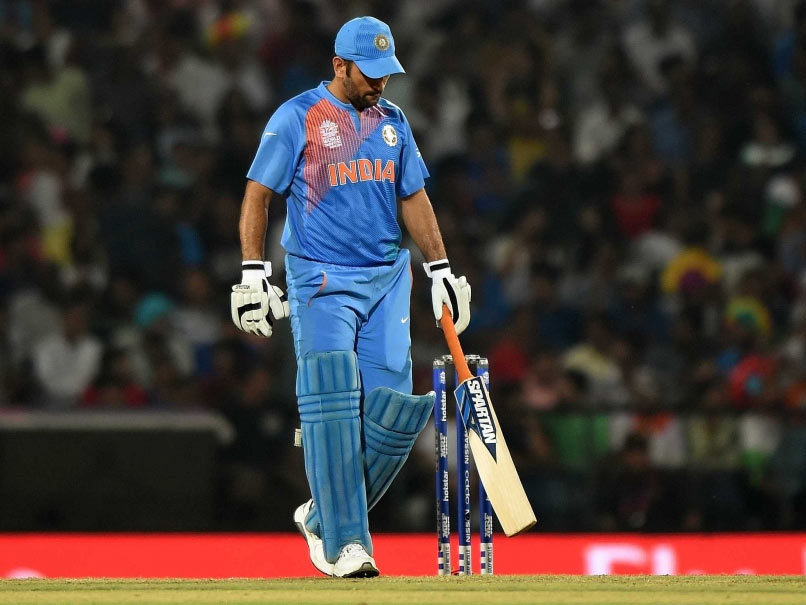 MS Dhoni's place in India's T20I side was questioned by Ajit Agarkar.
© AFP
Former India cricketer Ajit Agarkar's recent remarks on MS Dhoni's T20 career created quite a storm in cricketing circles. After India's 40-run loss in the 2nd T20I against New Zealand, Agarkar said India needed to look beyond Dhoni in the shortest format of the game. The former Mumbai pacer also went on to add that the Men in Blue were unlikely to miss the services of Dhoni in T20 cricket.
"I think India must now look at other options, at least in T20Is. In one-day cricket, they seem to be happy with the role that he is playing. When you were the captain of the side, it was different. But just as a batsman, will India miss him, I don't think so. In T20 cricket, it is lot easier to make that transition as there is lot of experience in that team apart from MS Dhoni now," Agarkar told ESPNcricinfo.
Considering Dhoni's cult status among Indian cricket fans, it hardly came as a surprise when Agarkar was trolled for his views. In fact, VVS Laxman and Aakash Chopra too had echoed Agarkar's sentiments on the matter.
@imAagarkar Mr. Just keep ur mouth shut u r nothing in front of Dhoni, and you r no1 to comment on his retirement, khud to team mei jgh bna nhi pae logo ke career pe comment krenge..

— ashwani chawla (@ashwanichawla03) November 10, 2017
@imAagarkar hello ms dhoni is best player and best caption , real me samjha jaye to pahle aap apana record dekho fir msd ki aalochana kero ok

— Vishnu Meena (@VishnuM21455198) November 10, 2017
@imAagarkar comments on @msdhoni truely tells your personality. He is always a master of limited cricket . I think you must respect him. And your comments on dhoni are like local MLA commenting on PM's job

— Shubham kawatra (@kawatra_shubham) November 10, 2017
Wen u don't have any work to do and u wnt to grab media attention, dat's wen some players pop in eg. @imAagarkar.Dare u comment on @msdhoni

— Pramod Singh (@itsme_pramod) November 10, 2017
@imAagarkar u are not eligible to comment one the best cricket of India has ever produce. U can't decide who will retired when. This is degrading ur image again and again

— GYANA RANJAN BHUYAN (@imgyana4u) November 10, 2017
People who are asking to drop #MSDhoni firstly ask them what they have done for India they were good for nothing like @imAagarkar #akashchopra

— karan (@karanohri1981) November 9, 2017
@imAagarkar dont try to be popular by trolling #msd for their retirement jitna aap 20 ki age mein khelte the usse kahi jada achaa #msd 36 ki age mein khel rahe haii so please stop trolling #MSD..????

— Sandesh singh (@Sandesh0977) November 9, 2017
Former India captain Sunil Gavaskar, however, disagreed with the analysis of the trio.
Commenting on Laxman and Agarkar's views, former Gavaskar told NDTV, "VVS and Ajit are completely entitled to their opinion. They have played a lot of cricket for India and it is their view. It might not necessarily be the selectors' nor the captains' view and we just have to wait and see."
Asked whether Dhoni should quit the shortest format of the game to concentrate on the 50-over format, Gavaskar remarked, "For a cricketer, it helps if he plays continuously. Because you are in rhythm and in the groove most of the time even if you might not be taking wickets as a bowler or scoring runs as a batsman. Having actual games and match practice is very important. Match practice is fantastic not only for the physical aspect but also for the mental aspect. So, clearly the more cricket anybody plays it is better for him."