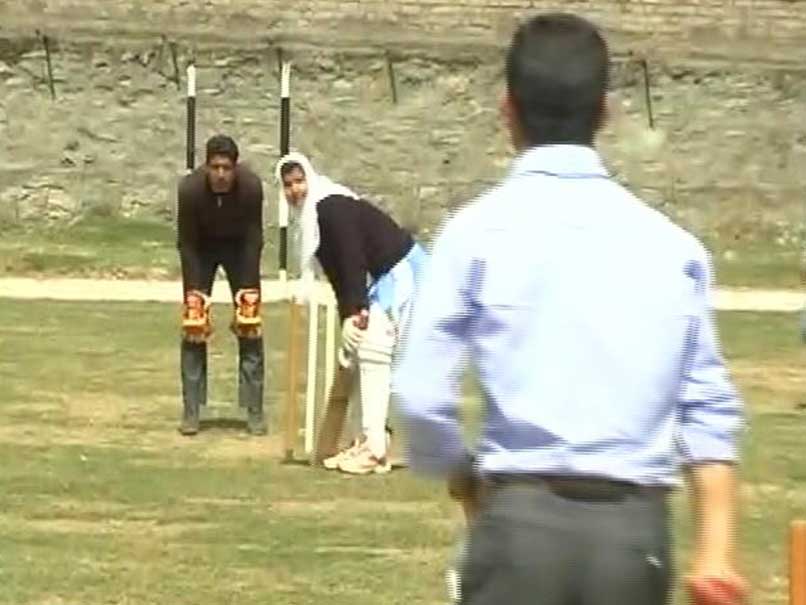 Iqra was taunted and faced opposition from her own family.
© NDTV
If Dangal was a movie on cricket, it could well have been based on 17-year-old Iqra Rasool's life. The super girl from Kashmir is a cricketing sensation.
A true all-rounder
Iqra who is from the remote Dangivacha area of neighbouring militancy prone Sopore in north Kashmir learnt how to bat by just watching Indian cricket captain Virat Kohli. She has written many letters to Virat, which were never delivered, asking him to guide her.
"I wanted to play cricket from my childhood, but now I am more into it, why? It will give me respect and name, what do you want to do? I want to play for the Indian cricket team", said Iqra Rasool.
She is the star cricketer of government high school Dangivacha and it is not just the girls but even the boys who want to be in her team.
"When we play with her, we also learn a lot, she has such great talent, we can't compete with her", said Aaqib class 12 Student of Dangivacha higher secondary school.
"She has got huge talent, if she gets some party which lifts her up and provides her facilities, she will do very well", said Manoj Singh, coach of Iqra.
But life so far hasn't really been a cake-walk. The youngest of six siblings, Iqra was taunted and faced opposition from her own family. So much so that she had to hide her cricket gear.
The constant threat of militancy didn't help. First selected in the girls team of her school, Iqra went on to represent her district and finally the state.
"I go to practise by hiding my bat under my phiran- where do you go to practise? Here only in the school in the evenings- every day? Yes almost every day- why do you hide your bat? I am asked not to play- who tells you- the villagers- but you don't agree, you go ahead- yes", said Iqra Rasool.
Iqra has dreams in her eyes, she wants to represent the county at the international arena, but despite the huge talent that she has, the road ahead may not be easy for her, all she needs is help support and encouragement.
Topics mentioned in this article
Cricket