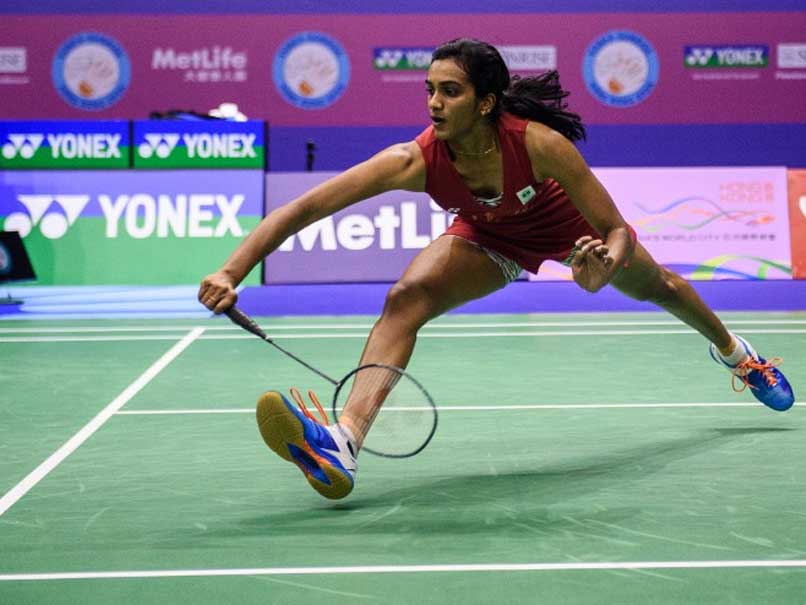 PV Sindhu helped Chennai Smashers win and enter the PBL semis.
© AFP
Chennai Smashers displayed yet another stellar performance to beat Mumbai Rockets 4-3 and qualify for the knock-outs of the Premier Badminton League at the Koramangala Indoor Stadium on Tuesday. Before the start of the match all eyes were on PV Sindhu of Smashers who was expected to deliver the goods against Sung Ji Hyun of Rockets.
Mumbai, who have been one of the teams to beat and are going through a great phase, started with a win. But Chennai won the next two matches including their trump match to go 3-1 in the tie.
With a 3-1 advantage in the Smashers' favour, Sindhu took on Sung Ji Hyun in a crucial match. Lot was at stake for Sindhu as a win would have sealed the tie in Chennai's favour with a match in hand.
Sindhu started well and after an intense encounter won the game 11-8. In the second game, she started dominated from the onset. The game had a nail-biting end as both players wouldn't let the other gain a big lead. With the game tied at 10-10 it could've gone either way but Sindhu held on and an unforced error by Sung Ji saw Sindhu win the match 12-10.
In the last match of the day, Rockets pulled one back through their men's doubles pair of Lee Yong Dae and Nipitphon Puangpuapech.
Earlier in the day HS Prannoy of Rockets continued his stellar form as he beat his compatriot P Kashyap of Smashers in the first match of the tie to give his team an early advantage. The win not only helped Mumbai seize the initial momentum but also saw Prannoy end the league stages unbeaten, winning five out of five matches.
Excellent victory for the @ChennaiSmashers as they showed great skills to beat the in-form @Mumbai_Rockets_! #MUMvCHE #BaddiesAreBack pic.twitter.com/3j9jvPX7G3

— PBL India (@PBLIndiaLive) January 10, 2017
The second match of the day was the mixed doubles encounter between Chris and Gabrielle Adcock of Chennai Smashers and Chirag Shetty and Nadiezda Zeiba of Mumbai Rockets. Playing in their trump match, the Chennai pair went down in the first game but they made a strong comeback to dominate the second game 11-2. Smashers dominated the decider and won the game 11-7 to win the match.
In the third match, Tommy Sugiarto of Smashers made it 3-1 for his team as he overcame a strong challenge from Ajay Jayaram of Mumbai Rockets to win 8-11, 11-2, 11-5.
With the win, Chennai now have moved to third position in the points table and will face Awadhe Warriors on Wednesday with a high profile clash between Sindhu and Saina Nehwal likely on the cards.