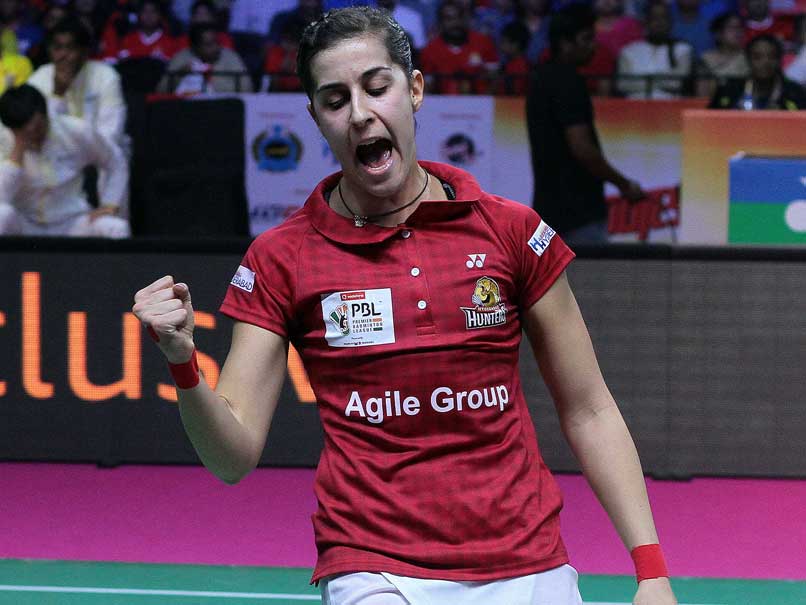 PBL 2017: Carolina Marin suffered a shock defeat at the hands of Sung Ji Hyun.
© PBL
Mumbai Rockets defeated Hyderabad Hunters 2-1 in a PBL 2017 clash in Mumbai on Wednesday, with Sung Ji Hyun's stunning win over Carolina Marin proving crucial for the Mumbai outfit. Catch highlights of the PBL 2017 match here.
22:15 IST: HS Prannoy wins the singes tie, which was Hyderabad's trump match, to hand Mumbai Rockets a 2-1 win.
21:30 IST: Mumbai Rockets lose the trump match and Hyderabad Hunters take a 2-1 lead.
20:41 IST: The mixed doubles tie will be up next.
20:38 IST: Ouseph converts his first match point to win 11-7, 11-8. Mumbai Rockets continue to lead 2-1.
20:37 IST: Ouseph bounces back with five straight points to take a 10-8 lead.
20:34 IST: Jayaram takes an 8-5 lead in the second game.
20:30 IST: It's been close in the second game so far. Jayaram makes it 3-3 in the sixth point.
20:27 IST: Ouseph wins the first game 11-7.
20:24 IST: Ouseph bounces back to take an 8-6 lead in the first game.
20:20 IST: Ajay Jayaram takes a 6-5 lead in the men's singles tie vs Hyderabad Hunters' Rajiv Ouseph.
20:08 IST: That's it! Sung Ji Hyun stuns Carolina Marin 11-7, 7-11, 14-12 to give Mumbai Rockets a 2-0 lead in the match.
20:06 IST: It's 13-12 to Sung in the final game.
20:05 IST: Marin saves a game point with a brilliant smash. She then takes a 12-11 lead.
20:04 IST: Incredible badminton going on in Mumbai. It's 10-10 in the decider.
20:01 IST: It's 9-9 in the final game. This is going the distance!
19:59 IST: What a contest this is turning out to be! Marin takes an 8-7 lead with a huge smash, Sung responds with an equally good return to level it up at 8-8.
19:58 IST: Brilliant court coverage from Sing as she levels the third game 7-7.
19:57 IST: Another error from Marin. It's 6-6 in the deciding game.
19:54 IST: It's getting very close in the final game. Marin comes up with a big smash to lead 6-4.
19:51 IST: A brilliant smash from Marin hands her a 3-2 lead in the final game.
19:50 IST: Marin makes two consecutive errors on her returns, but manages to win the next point to level the deciding game 2-2.
19:47 IST: Marin wins three back-to-back points to win the second game 11-7.
19:46 IST: Sung bounces back with four straight points. Marin still leads 8-7.
19:44 IST: Marin fails to return from near the net after winning seven straight point. However, she wins the next point to lead 8-3.
19:41 IST: Two more points for the world and Olympic champion. She leads Sung 6-2 in the second game.
19:40 IST: Marin shows some aggression and wins the next four points to lead 4-2.
19:38 IST: Sung opens up a 2-0 lead at the start of the second game.
19:35 IST: Sung Ji Hyun converts her second game point to win the first game 11-7.
19:35 IST: With a magnificent smash, Sung Ji Hyun extends her lead to 10-6. She has four game points.
19:34 IST: Two more points for Ji Hyun. She now leads 9-5.
19:33 IST: Sung Ji Hyun once again opens up a two-point lead with a brilliant drop shot. She leads 7-5.
19:31 hrs IST: However, Marin is not one to give in so easily and the World No.1 has made it 5-5. The sheer grit of the Spaniard is just unparallaled in the circuit. 
19:27 hrs IST: Sung is in currently ahead. She leads the Spaniard 4-2.
19:24 hrs IST: Sung Ji Hyun and Carolina Marin are stepping on to the court.
19:18 IST: Mumbai win the second game 11-5 to win the men's doubles tie. They lead Hyderabad 1-0 in the match.
19:15 IST: The Mumbai Rockets duo race to an early 6-1 lead in the second game.
19:08 IST: Mumbai Rockets take the first game 11-9.
19:00 IST: The match will commence with the men's doubles match. Carolina Marin will take on Sung Ji Hyun in the evening's second match.
18:55 IST: Hello and welcome to our live coverage of the Hyderabad Hunters vs Mumbai Rockets match in PBL 2017.
On the other hand, Mumbai Rockets' Sung Ji-Hyun will hope to stop Marin in her tracks during their match.
B Sai Praneeth and Rajiv Ouseph both showed touches of brilliance in Hyderabad's 5-0 loss in the last match, and will aim to get back to the winning track on Wednesday.
Both teams boast of strong teams in the doubles categories, and the match promises to be an enticing one for the neutrals.