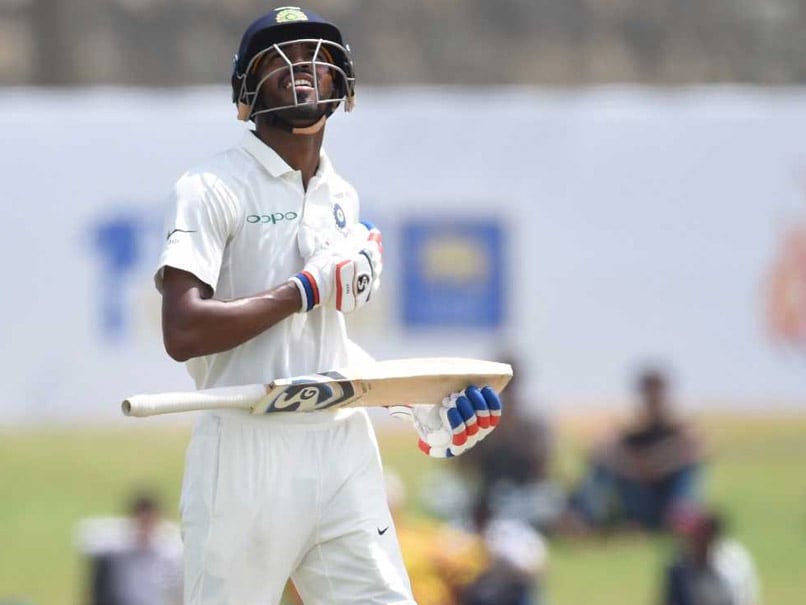 Hardik Pandya scored 50 off 49 balls in the first Test match against Sri Lanka.
© AFP
He had a successful stint in the Indian Premier League (IPL) and ICC Champions Trophy 2017, but when Hardik Pandya was handed over the Test cap, the all-rounder grabbed the opportunity with both hands. Making his Test debut in the first match of three-match series against Sri Lanka at Galle, Pandya smashed a quickfire half-century. It was Pandya's 50 off 49 balls that took India to a mammoth total of 600 in their first innings and helped India outclass Sri Lanka by 304 runs and take a 1-0 lead in the series. Pandya's senior Cheteshwar Pujara feels that the all-rounder can be the second Indian in international cricket, after Yuvraj Singh, to hit six sixes in an over.
Have you ever given it a thought, Pujara asked Pandya while conducting an interview for bcci.tv.
Pandya said that he had not given any thought to the matter but if the opportunity came, he would definitely try to emulate Yuvraj's six sixes in a single over.
"I don't think about hitting six sixes in an over. I have hit three sixes off three balls but never went for the fourth one as the situation never demanded. If some day, we have a situation where I can go after all six balls, I might go for it," said Pandya.
After a memorable debut, an unfazed Pandya felt as if he was "playing an ODI".
"Even when I was batting, it felt like batting in one-dayers. The scenario was perfect for me. As an international cricketer, you need to be smart as in terms of preparation. While switching formats, there is a switch in mindset but skill sets generally don't change," Pandya said after the match.
Captain Kohli wants him to do what Ben Stokes does for England, but Pandya's favourite all-rounder is South African legend Jacques Kallis.
"My favourite has always been Jacques Kallis for his amazing record across all formats -- scoring those big runs batting at No 3, all those wickets."