Story Progress
Back to home
Year-Ender 2017, Indian Sports: Kidambi Srikanth Leads A Pack Of Achievers
Kidambi Srikanth notched up a formidable 2017, which also saw landmarks for Virat Kohli, Rohit Sharma and a slew of others.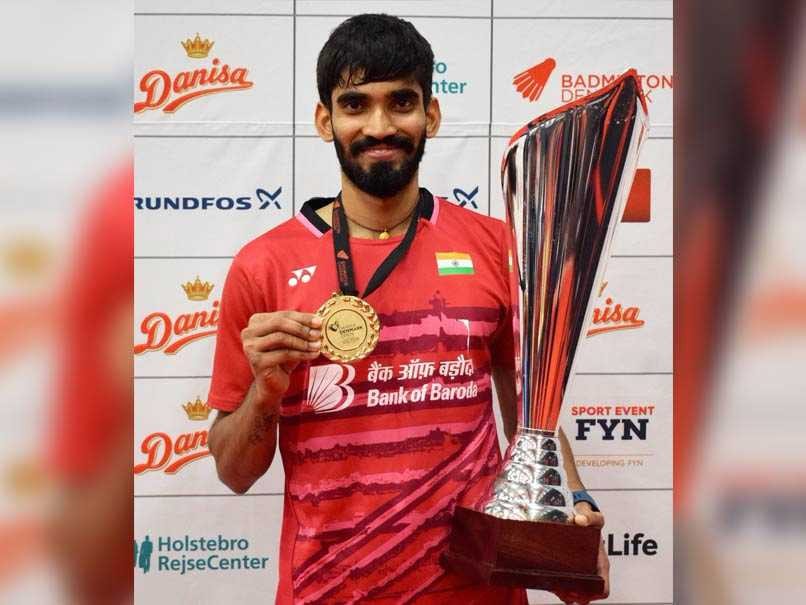 Kidambi Srikanth announced himself to the world in style.
© AFP
Highlights
Srikanth a revelation for Indian badminton

Kohli, Rohit broke several batting records in 2017

India hosted the FIFA U-17 World Cup this year
The year 2017 has been one of the most eventful years in the world of sports. Be they Indian or international, certain moments have found their way into the heart of sport-loving audience. From new records being made, the emergence of young and new talent, to veterans signing off from their respective fields, it has been exciting and most illuminating. As 2017 gets ready to bid goodbye and 2018 knocks at our doors, let us take a quick look at the top ten Indian sporting moments, which will remain etched in the mind of the fans for a long time now.
1. Rohit Sharma's record double-century
Rohit Sharma has time and again proved why he can be counted on the list of one of the most destructive openers in the game. While he leans a bit more towards the erratic side, he does not shy away from standing tall in moments where he is needed most by his team. In the second One-day international (ODI) against Sri Lanka in December, Rohit played a gem of an innings as he became the first-ever batsman to score a double-hundred on three different occasions.
His first double-century came against Australia in 2013, where he scored 209. The second and third came against the Sri Lankans in 2014 and 2017 respectively, where he scored a record 264 and 208*.
The magnitude of his achievement can be judged by the fact there have been only seven double-centuries scored in ODIs till now, three of them coming from Rohit's willow.
2. Virat Kohli's record of most test double-centuries as captain
India captain Virat Kohli has been on fire all year, breaking batting records and team records at will. With his stylish batting and aggressive approach towards the game, his consistency and aura of prominence across formats is unmatched. In February, Kohli surpassed Sir Donald Bradman and Indian legend Rahul Dravid as he scored the fourth Test double-century on consecutive series.
Apart from this, in November, Kohli (6) went past former West Indies captain Brian Lara's record (5) of the maximum number of double-hundreds as captain in Tests.
3. Anil Kumble's quits as Team India head coach
Termed as one of the most successful coaches for India, Anil Kumble's resignation came as a major shock to Indian fans. After having an almost flawless record with the team, including nine consecutive series victories, it was thought that the Kohli-Kumble combination would take India to new heights. However, internal issues made the legendary spinner step down from the top post.
Rumours of conflict between Kohli and Kumble came to the fore and Kumble even mentioned Kohli's name in his letter, made public post resigning.
The Cricket Advisory Committee (CAC), comprising Sourav Ganguly, VVS Laxman and Sachin Tendulkar, got together and Ravi Shastri was given the reins while India continued with their stupendous performance.
4. India's shocking loss to Pakistan in Champions Trophy 2017
The Virat Kohli-led team was looking to repeat Mahendra Singh Dhoni's extravagant ICC Champions Trophy 2013 victory over England but Sarfraz Ahmed's Pakistan crushed the hopes of millions as they beat the formidable Men in Blue by a massive 180-run margin to lift the 2017 title. What was one of the most embarrassing and appalling defeat for India that will surely be unforgettable for the fans, at least until India manage to thrash Pakistan by an even bigger margin.
India had a mixed run in the Champions Trophy group stage as they lost to not-so-famed Sri Lankan side by seven wickets but managed to pull off impeccable victories against Pakistan, in their opening match, and South Africa later in the series. India, in the final, were however caught off-guard by the brilliant all-round display by their arch-rivals.
5. Kidambi Srikanth defines the year for Indian badminton
The year 2017 has been one of recognition for Indian badminton -- Kidambi Srikanth topping that. Becoming the only Indian to win four Super Series events in a calendar year and only the fourth male shuttler to achieve the feat, Srikanth announced himself to the world in some style. After the runners-up position in the Singapore Open, Srikanth won Indonesia Open and Australian Open back-to-back and won two consecutive Super Series titles in a similar manner later in the year at Denmark and France.
Despite PV Sindhu's two Super Series titles and a silver at World Championships, Srikanth made the year completely his own.
6. India hosts FIFA U-17 World Cup, Jeakson Singh scores historic goal
Indian football came of age when the FIFA U-17 World Cup stepped into the nation. With much fanfare and frenzy around the tournament, India, for the first time, hosted and played in a FIFA tournament -- an achievement in its own right. None expected India to beat their much more accomplished opponents. The only expectation people had from India's U-17 team was that they give it their all on the pitch and the young boys did not disappoint.
Despite losing all their matches, Jeakson Singh created history becoming the only Indian to score in a FIFA tournament when he headed in against Colombia and goalkeeper Dheeraj Singh became the apple of everyone's eye. A stepping stone indeed but football in India surely got a kick.
7. India's performance in the ICC Women's World Cup
The Indian women's team put up a show of great spirit and wonderful skill in the ICC Women's World Cup 2017, which was held in England. After a scintillating start to their campaign with four consecutive wins, the women's team faced two defeats at the hands of South Africa and Australia. However, India hit right back at Australia and in the most important time -- the semi-finals.
However, they fell short of nine runs and failed to lift the World Cup against the host nation, England.
This was Team India's third appearance in the final but Mithali Raj-led team failed to get over the line. Apart from the team display, skipper Mithali Raj became the leading ODI run-getter and also recorded seven consecutive ODI fifties, most by any women.
One of team India's best performances ever in the World Cup, Harmanpreet Kaur, Jhulan Goswami, Mithali Raj shone for the Women in Blue.
8. India become undisputed hockey champions of Asia
Indian hockey began to shine with the Junior World Cup win in the end of 2016 and the movement continued in 2017. In fact this year gave Indian hockey achieved a momentous feat when both the men's and the women's teams won the Asia Cup, making India the undisputed hockey champion of Asia.
The men's team edged out Malaysia 2-1 in the final while the women's team won the title in an even more tense finish - a 5-4 victory over China in the penalty shootout.
While hockey continues to develop in India with the Hockey World League and other big events being organised in the country, it was the grand moment when both the men and women claimed the Asian crown, which made the year memorable.
9. MS Dhoni records 100th ODI stumping
Arguably the most successful wicket-keeper batsman in the world, Mahendra Singh Dhoni is a phenomenon on his own. From thinking out of the box to taking daredevil-like decisions, Dhoni has a special place in the Indian team. During his tenure as a captain of India, Dhoni achieved everything that a captain could. But he did not stop there.
During the Sri Lanka tour, Dhoni overtook Kumar Sangakkara and became the only gloveman to effect 100 ODI stumpings. Quick, flashy and in a jiffy movement behind the stumps, the moment will be a one glorious folklore for the generations to come.
10. India blanked Sri Lanka 9-0 across all formats
For the first time in the India's cricketing history, an Indian team blanked their opponent away from home. In October 2017, India toured Sri Lanka for three Tests, three ODIs and three T20Is and the rest is history. India wrought havoc in the island nation, blanking Sri Lanka 9-0 across all formats.
Promoted
Ravi Shastri's first assignment as head coach proved to be fruitful for the team on the whole. During that tour, India's search for a seam-bowling all-rounder also found face in Hardik Pandya as the youngster put up brilliant performances to cement his place in the team.
India signed off with another sweep of all three series against Sri Lanka at home, though they were not able to win all the matches this time around.
Topics mentioned in this article