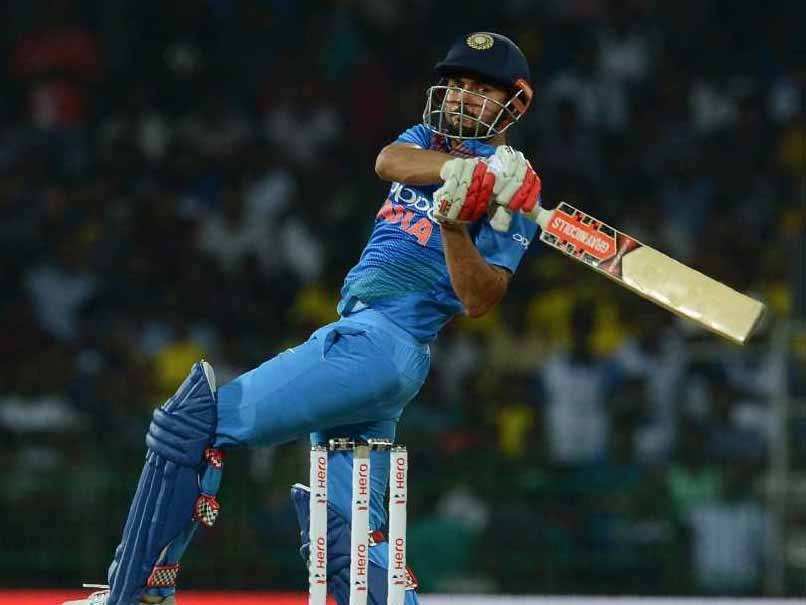 Highlights, India vs Sri Lanka, 4th T20I: India beat Sri Lanka by 6 wickets
© AFP
Indian middle-order batsmen came to the fore on Monday as the duo of Manish Pandey and Dinesh Karthik helped India beat Sri Lanka by 6 wickets in the fourth T20I of the ongoing Nidahas Trophy. India skipper Rohit Sharma failed to score runs yet again as he was dismissed for 11 runs by Akila Dananjaya in the second over. His partner Shikhar Dhawan soon followed suit and failed to continue his fine form as he as dismissed for 8 runs in the 4th over by Dananjaya. Lokesh Rahul and Suresh Raina were on course in reaching the 153-run target with some clever stroke plays in the middle.(SCORECARD)
Earlier, Shardul Thakur took four wickets to restrict Sri Lanka to 152/9 in 19 overs. Kusal Mendis (55) hit a fine half-century to help the hosts reach a modest total. He hit three fours and an equal number of sixes in his innings. Upul Tharanga (22) and Dasun Shanaka (19) also chipped in with their respective contributions. For India, Thakur finished with impressive figures of 4/27 while Washington Sundar (2/21) was also economical in the middle overs ensuring the hosts didn't reach a bigger total. Jaydev Unadkat, Yuzvendra Chahal and Vijay Shankar took a wicket each. Sri Lanka kept losing wickets at regular intervals which hampered their run-rate.
Live Updates Between India and Sri Lanka, 4th T20I, straight from R Premadasa Stadium, Colombo
23:41 IST: India win by 6 wickets with 9 balls remaining.
23:41 IST: FOUR! Back-to-back boundaries for Karthik. A full toss and batsman sends it out of the park.
23:40 IST: Short and one bounce for a four by Dinesh Karthik. Nobody on the mid-wicket boundary. India now need 5 runs only.
23:37 IST: FOUR! Pitched up on the leg stump. Superb shot by Karthik on the leg side for a boundary.
23:38 IST: WIDE! Sri Lanka cannot afford to give away extras now. India need only 17 runs now to win this match.
23:35 IST: India are cruising to a win now.
23:30 IST: FOUR! Perfect timing by Karthik. He plays it fine at deep point for a boundary. India 128/4
23:27 IST: SIX! Pulled away by Manish Pandey for a maximum. Delivery pitched short and Pandey hammers it for a six on the leg side. India 121/4
23:26 IST: Sri Lanka needs wickets while India require another 38 more runs off 29 balls.
23:23 IST: Akila Dananjaya has been the star bowler for the Lankans. He returns to the action.
23:20 IST: Kusal Mendis seems to have hurt himself in the field. He is hobbling off the field.
23:18 IST: FOUR! Nice shot by Manish Pandey. A proper cricketing shot. Punches the ball to the mid off boundary. Showed the full face of the bat and timed it to perfection. India 106/4
23:15 IST: FOUR! Width outside the off stump. A wonderful shot by Karthik on the off side boundary. India 98/4 in 11.3 overs
23:11 IST: 23,302 fans inside the stadium cheering for both set of teams.
23:08 IST: Lokesh Rahul becomes the first Indian batsman to be dismissed hit wicket in T20Is
23:07 IST: Dinesh Karthik is the new man in.
23:05 IST: HIT-WICKET! Well, how did KL Rahul manage to do that. He didn't realise it but his leg ended up hitting the leg stump. India 85/4 in 9.5 overs
23:02 IST: Run-out chance. Decision reviewed. Not out. Rahul survives. India 85/3
22:58 IST: FOUR! Short and wide. Punched off the back foot by Manish Pandey. Lovely timing by the batsman.
22:48 IST: OUT! Raina departs as he fails to read the pace and he falls for 27 runs. India in trouble now. India 62/3 in 6.5 overs
22:48 IST: SIX! Poor delivery. Bowling down the leg side and Raina takes Pradeep for a maximum. Raina has got a range of shots in his kitty and he is making the most of it.
22:46 IST: FOUR! A brilliant shot by KL Rahul. Just guides the ball on the leg side boundary. India 55/2
22:39 IST: SIX! What a shot by Raina. The ball goes sweetly off the bat. 15 runs already from this over. India 45/2. India need 108 more runs to win
22:37 IST: FOUR! Down the leg side. Easy shot. Raina just helps the ball and guides the ball towards the boundary. India 35/2
Come on boys @BCCI
Ps- safe to say sports is always on atleast one tv in this house at all times pic.twitter.com/0T5c0X0GG0

— Sania Mirza (@MirzaSania) March 12, 2018
22:32 IST: Run-out chance. Review taken. Suresh Raina awaits his fate. And he survives. His dive saved him. Lucky escape for the left-hander.
22:28 IST: OUT! Dhawan departs as Akila Dananjaya gets his second wicket. A big wicket of the man in form in this series. India in trouble as both their openers are back to the pavilion. India 22/2 in 3.1 overs
22:26 IST: FOUR! A good shot by Dhawan. Poor bowling by Lakmal. Short ball and it gets the necessary treatment by Dhawan. Nine runs of the over. India 22/1 in 3 overs
22:21 IST: OUT! India lose their first wicket as Rohit Sharma departs for 11 runs. Sharma's struggle in this series continues. Akila Dananjaya gets his first wicket of the tournament. India 13/1 in 2 overs
22:17 IST: A good first over for India. 11 runs off the over. India 11/0 in 1 over
22:15 IST: FOUR! Back-to-back boundaries for the Indian captain.
22:14 IST: SIX! Rohit starts off with a six. A short delivery and right on the slog for the batsman. India 6/0
22:12 IST: Rohit Sharma and Shikhar Dhawan are out in the middle for India.
Innings break
22:03 IST: And its over. Sri Lanka post 152/9 in their 19 overs.
22:01 IST: OUT! Unadkat takes an easy catch. Chameera falls for a duck. Shardul Thakur gets his fourth wicket. Sri Lanka 151/9
22:00 IST: OUT! Shanaka departs for 19 runs. Sri Lanka 151/8
21:55 IST: Last over bowled by Shardul Thakur. Boundary for Lakmal off the first delivery. Sri Lanka 150/7
21:53 IST: OUT! Akila departs for 5 runs. A simple catch for KL Rahul at long off. Sri Lanka 146/7 in 18 overs
21:48 IST: Two overs to go, Sri Lanka 136/6.
21:45 IST: FOUR! Dasun Shanaka waited for the short-length delivery as he waited and opened the face of the bat at the last moment to guide the ball down to the third-man area for a boundary.
21:36 IST: Akila Dananjaya is the new man in.
21:35 IST: OUT! Chahal gets his first as he sends Kusal Mendis back after a fine half-century. Sri Lanka 120/6 in 14.1 overs.
21:31 IST: BOWLED! Jeevan Mendis going for the big one, misses and the stumps are rattled. Washington gets his second.
21:26 IST: Jeevan Mendis is the new man in.
21:25 IST: OUT! Thisara Perera goes for the big shot, miscues and Chahal takes a comfortable catch. The stand-in captain departs for 15.
21:24 IST: 50! Kusal Mendis brings up his fourth T20I fifty.
21:18 IST: SIX! Back-to-back maximums for Thisara Perera off Vijay Shankar. Lovely counter-attack from the stand-in captain.
21:17 IST: Thisara Perera is the new man in.
21:16 IST: BOWLED! Slower ball from Vijay Shankar, Upul Tharanga going for the big one, misses as the ball hits the top of the middle stump. Vijay Shankar gets his first.
21:14 IST: Sri Lanka 94/2 after 10 overs.
SL 94/2 (10.0 Ovs) CRR: 9.4 #HeroNidahasTrophy #SLvIND

— Sri Lanka Cricket (@OfficialSLC) March 12, 2018
21:13 IST: Six! Short delivery from Unadkat, Mendis rocks back and pulls the bowler handsomely for a huge maximum.
21:07 IST: Four! Low full toss outside off and Tharanga puts it away with ease. 50-stand comes up between the two.
20:59 IST: SIX! Sweet!! Short delivery from Chahal and Mendis rocks backs and dispatches it over deep mid-wicket for a mammoth maximum. Poor bowling from the Indian spinner.
20:57 IST: SIX! Chahal bowls a slower delivery right in Tharanga's slot, who says thank you and blasts the ball straight from the middle of the bat for a huge maximum.
20:55 IST: Beautifully bowled, Vijay Shankar concedes just five in his first over.
20:50 IST: Vijay Shankar is introduced in the bowling.
20:47 IST: FOUR! Mendis, down on one knee, sweeps Sundar fine for a boundary. 50 comes up for the hosts.
20:45 IST: Sri Lanka 46/2 after 5 overs.
SL 46/2 (5.0 Ovs) CRR: 9.2 #HeroNidahasTrophy #SLvIND

— Sri Lanka Cricket (@OfficialSLC) March 12, 2018
20:44 IST: No-ball from Chahal. Upul Tharanga gets a free-hit. Short delivery from Chahal, Tharanga charges down the wicket and pulls but the ball is collected easily by Vijay Shankar at deep mid-wicket. Just a single off the free-hit.
20:43 IST: FOUR! Short delivery from Chahal, Mendis gets into position early and pulls the bowler over mid-wicket for a boundary.
20:40 IST: Yuzvendra Chahal is the new man in.
20:38 IST: Upul Tharanga is the new man in.
20:37 IST: BOWLED! Kusal Perera goes for the reverse sweep and drags the ball onto the stumps and the wickets are rattled. The danger man is removed. India have struck twice in quick succession.
20:35 IST: Four! Short and wide from Shardul, Kusal Mendis frees his arms and slashes the ball towards the third-man region for a one-bounce boundary.
20:32 IST: Kusal Perera is the new man in.
20:31 IST: OUT! What a stunning catch from Suresh Raina at mid-wicket. Shardul Thakur, the new bowler, bowls a short delivery, Gunathilaka pulls and pulls hard only for Raina to time his jump and take a blinder.
20:27 IST: SIX! Washington Sundar is welcomed to the crease with a towering maximum straight down the ground. Gunathilaka is on the charge.
20:25 IST: Sri Lanka 15/0 after the end of the first over
20:21 IST: SIX! Back of a length delivery outside off, Kusal Mendis goes forward with the drive as he lifts the ball over the ropes for the first maximum of the innings. What a start to the innings by the hosts.
20:20 IST: First ball -- Unadkat bowls a length delivery on off, Gunathilaka guides the ball towards covers. KL Rahul rushes forward, collects the ball and fires a throw at the stumps. The throw deflects off Mendis' bat and runs away to the fence. Bonus runs for Sri Lanka.
20:19 IST: Jaydev Unadkat is opening the bowling for India.
20:18 IST: Danushka Gunathilaka and Kusal Mendis are opening.
20:15 IST: Playing XI for both the teams:
IND XI: RG Sharma, S Dhawan, L Rahul, S Raina, D Karthik, W Sundar, V Shankar, J Unadkat, Y Chahal, S Thakur, M Pandey

— BCCI (@BCCI) March 12, 2018
SL XI: D Gunathilaka, K Mendis, MDKJ Perera, WU Tharanga, D Shanaka, NTLC Perera, J Mendis, A Dananjaya, N Pradeep, S Lakmal, D Chameera

— BCCI (@BCCI) March 12, 2018
20:10 IST: The match has been reduced to 19 overs-a-side.
Toss time - #TeamIndia have won the toss and will field first. Game has been reduced to 19overs. One change for India - @klrahul11 in place of @RishabPant777 pic.twitter.com/llpmajWEhn

— BCCI (@BCCI) March 12, 2018
20:05 IST: India captain Rohit Sharma wins toss, elects to field vs Sri Lanka.
19:57 IST: Toss to take place at 20:05 IST. Start of play at 8:20 IST.
It's all clear now and we will have a game. Toss to take place at 8:05PM and start of play at 8:20PM #TeamIndia pic.twitter.com/6fv2wosqNj

— BCCI (@BCCI) March 12, 2018
19:50 IST: "The main cover goes off, ground preparations started," Tweets Sri Lanka cricket.
The main cover goes off, ground preparations started.. #HeroNidahasTrophy #SLvIND

— Sri Lanka Cricket (@OfficialSLC) March 12, 2018
19:38 IST: It is persistently raining. We've started losing overs. The cut-off time for the match is 21:35 IST.
19:25 IST: It is still raining and the covers are on.
18:40 IST: The drizzling is back and the covers are back. Stay tuned for further updates.
The drizzle has got slightly heavy. And the covers are coming back on. Toss and start of play delayed. Stay tuned for further updates #TeamIndia pic.twitter.com/FjA1YjR1yw

— BCCI (@BCCI) March 12, 2018
18:36 IST: Tentative toss time - 6:45 PM and start of play by 7:15 PM
The players are out on the field with the Umpires inspecting the field of play. Tentative toss time - 6:45PM and start of play by 7:15PM #TeamIndia pic.twitter.com/0Iv5EDAPdM

— BCCI (@BCCI) March 12, 2018
18:30 IST: The toss is delayed due to weather conditions.
18:20 IST: Good news! The covers are coming off now.
18:10 IST: Players wait outside the waiting room as the drizzle is getting heavier.
Everybody looking skywards at the moment. It's become slightly gloomy here with the drizzle getting a tinge heavier #TeamIndia pic.twitter.com/TekXfpZ2d6

— BCCI (@BCCI) March 12, 2018
17:50 IST: It looks like we might get a delayed start due to rain.
Under a slight cloud cover and under wraps at the moment the R Premadasa stadium. Stay tuned for further updates as we await a weather check #TeamIndia pic.twitter.com/8TQrCJhAjB

— BCCI (@BCCI) March 12, 2018
17:45 IST: Hello and welcome to the live blog of the 4th T20I match of the Nidahas Trophy match between India and Sri Lanka.
Touted as MS Dhoni's successor, Rishabh Pant is yet to do justice to his immense potential till now. With someone like KL Rahul waiting for his chance, time is running out for the youngster from Rourkee. It was not a perfect start for India's second string squad in the tournament as they lost by five wickets to the hosts in the opening match. Monday's match will provide India with a chance to make amends for the mistakes they committed against the Islanders in the opener.