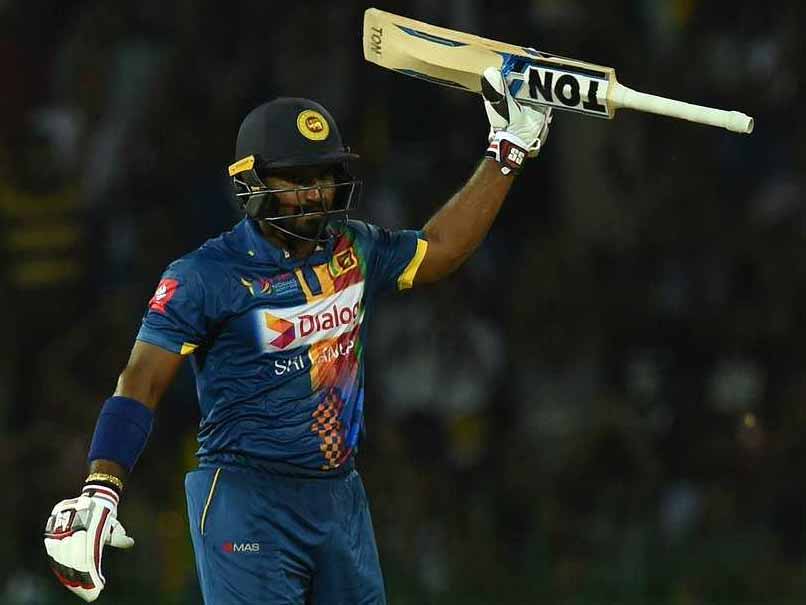 Highlights, Nidahas Trophy: Sri Lanka beat India by 5 wickets in the 1st T20I
© AFP
Sri Lanka comfortably won the first T20I match against India by 5 wickets on Tuesday in Colombo. Kusal Perera was the star for the hosts as his 66 runs coupled with crucial contributions by Thisara Perera and Upul Tharanga helped Sri Lanka cross the finishing line. Kusal hit four sixes and six fours in reaching his match-winning knock of 66 runs. It was a convincing run-chase for Sri Lanka as they reached the target on 18.3 overs itself. Yuzvendra Chahal and Washington Sundar picked a couple of wickets each but were expensive. Jaydev Unadkat took one wicket but gave away 35 runs in 3 overs. 
Earlier, India rode on Shikhar Dhawan's blistering 90 and Manish Pandey's calculated 37 to score 174/5 vs Sri Lanka in the first match of the T20I Nidahas Trophy 2018 on Tuesday. Dinesh Chandimal won the toss and put India to bat. The hosts struck early by dismissing the Indian captain for a duck in the very first over and then by removing Suresh Raina for just one run in the next over. Two quick wickets rattled India's momentum. However, Dhawan and Pandey batted cautiously and hit boundaries at regular intervals as they kept the scoreboard ticking. The Indian pair was looking dangerous but Jeevan Mendis broke the 95-run partnership to stem the flow of runs. After Pandey's dismissal, Dhawan kept scoring from one end but gave away his wicket in search of quick runs. Dinesh Karthik and Rishabh Pant provided the final flourish with a 21-run partnership. For the youngsters chosen in the side, the aim would be to stay on the selectors' radar for next year's World Cup. For a bunch of youngsters, who will get to wear the India blues with as many as six top players being rested, would consider this a god-sent opportunity. (Scorecard)
Highlights of the 1st T20I match between India and Sri Lanka straight from Colombo
22:26 IST: Thank you for staying with us for the live updates. We will return with the live updates of the second T20I match between India and Bangladesh on Thursday.
22:23 IST: Sri Lanka win the match in style. What a way to bring their winning runs. Four on the offside. Sri Lanka beat India by 5 wickets to win the first T20I of the tri-series.
22:22 IST: WIDE! Sri Lanka within touching distance of a win. Poor bowling by Shardul Thakur.
22:21 IST: FOUR! 16 runs off the over. A boundary to end the 17th over. Sri Lanka need 8 runs off 12 balls
22:20 IST: SIX! What a shot. Crowd goes berserk. He goes down the ground on the mid wicket region for a maximum. Poor delivery.
22:19 IST: WIDE! Extras for India are a strick no-no. Sri Lanka are already on the verge of a win in this opener.
22:17 IST: FOUR! A welcome boundary. A good shot by Shanaka. Hit over the extra cover off Unadkat's delivery. Sri Lanka need 20 more runs to win off 15 balls. 
22:16 IST: Unadkat bowls the third last over.
22:13 IST: Runs keep coming through for Sri Lanka. These are precious runs in their chase. The hosts still need 27 more runs from 20 balls.
22:12 IST: That certainly was a no ball. Wrong call by the on-field umpires. 
22:10 IST: Luck for Thisara Perera. Ball falls right in middle of two India fielders.
22:07 IST: A good over by Thakur. Only 3 runs off it. Sri Lanka need 35 runs in 24 balls.
22:03 IST: Last 5 overs of the Sri Lankan innings.
22:00 IST: OUT! What a delivery to clean bowl Upul Tharanga for 17 runs. India fightback with this wicket. SL need another 39 runs in 32 balls.
21:58 IST: Chahal hoping to get a breakthrough for India. The visitors needs wickets now if they want to win this match. Good cricket by the Sri Lankan batsmen, taking singles. SL need 39 more runs to win off 33 balls
21:55 IST: DROPPED! Rishabh Pant drops a catch. Tough one. Upul Tharanga dropped on 13. 
21:55 IST: Shardul Thakur returns to action and hopes he can get another wicket.
21:50 IST: OUT! Danger man Kusal Perera departs for 66 runs. Washington Sundar bowled a good delivery which outfoxed the batsman giving an easy stumping to the wicket keeper. Sri Lanka 127/4
21:48 IST: Washington Sundar returns to the action
21:45 IST: SIX! Perera switch hits Raina for a huge maximum. The Sri Lankan is truly entertaining the crowds and frustrating the Indian side.
21:43 IST: SIX! Tharanga, down on one knee, slams Chahal for a huge maximum. This encounter is turning into a lop-sided affair.
21:41 IST: Four! Chahal strays down the leg side and gets punished as Perera top edges the ball for yet another boundary.
21:38 IST: 100 comes up for Sri Lanka in the 10th over.
21:34 IST: Upul Tharanga is the new man in.
21:33 IST: BOWLED! Flighted delivery from Chahal castles Chandimal as the stumps are all over the place. 
21:32 IST: Four! Chandimal shimmies down the ground and slaps Chahal straight down the ground.
21:28 IST: FIFTY! Kusal Perera scores his 8th half-century in T20Is. What an innings this has been by the left-handed batsman.
21:22 IST: SIX! Couple of steps down the wicket and Kusal Perera dispatches him powerfully straight down the ground.
21:21 IST: Yuzvendra Chahal is introduced in the attack.
21:20 IST: Brilliant over from Sundar, concedes just five runs.
21:15 IST: OUT! Jaydev Unadkat brings an end to the onslaught. Gunathilaka departs for 19. Sri Lanka 70/2 in 5 overs, need 105 runs in 90 balls.
21:06 IST: Four! Four! Four! Perera follows the boundaries with more boundaries. 27 runs from the Shardul Thakur over!
Shardul Thakur to Kusal Perera:
2.1 - Four
2.2 - Four
2.3 - Four
2.4 - Six
2.5 - No ball, Four
2.5 - Four
2.6 - No Run
SL 46/1 (3.0 Ovs)#HeroNidahasTrophy #SLvIND

— Sri Lanka Cricket (@OfficialSLC) March 6, 2018
21:05 IST: SIX! Slower ball from Thakur and Perera smokes him with utmost ease. Nothing is going right for the Indian bowler.
21:02 IST: FOUR! Oh, what a shot! Full delivery and Perera lifts the ball over covers for a boundary. Hat-tricks of boundaries for the Lankan.
21:01 IST: FOUR! Kusal Perera welcomes Shardul Thakur, the new bowler, with back-to-back boundaries. What a player. Perera is taking the attack to the opposition.
20:57 IST: SIX! Kusal Perera, the new man in, waits and watches the ball and clobbers Sundar for a huge maximum.
20:55 IST: OUT! Washington Sundar gets his first. One too many shot from Mendis and he miscues his hit as Dhawan runs back and completes a good catch.
20:50 IST: Four! Full delivery from Washington and Mendis lifts the ball over mid-off for a boundary as it just misses Dhawan at the edge.
20:47 IST: Four! Kusal Mendis looking to steer the ball down to the third-man, but manages to edge the ball past the slip for a boundary.
20:45 IST: Welcome back. Gunathilaka and Kusal Mendis are at the crease. Gunathilaka is on strike. Unadkat will open the attack.
20:38 IST: India, 174/5, scored 14 runs in the last over. Sri Lanka need 175 to win. Shikhar Dhawan and Manish Pandey starred with the bat for the visitors. 
20:37 IST: Four! Full and outside off, Pant carves it through extra cover for a boundary.
20:36 IST: Four! Back-to-back boundaries for Karthik off Chameera. Wonderful cricketing from the Indian keeper.
20:34 IST: Four! Full and outside off, Karthik looking for the big shot, edges the ball past the keeper for a boundary.
20:32 IST: Last over to go! Can India go all the way and score big in an over?
20:27 IST: Dinesh Karthik is the new man in.
20:26 IST: WICKET! Dhawan looking to go big, mistimes and Thisara Perera at long-off gobbles up the ball. He is also the first Indian batsmen to be dismissed in the 90's in T20Is.
20:24 IST: Trivia -- Highest individual score for India in SL (T20Is)
89* S DHAWAN this match
82 V Kohli v SL, RPS, 2017
78*V Kohli v Pak, RPS, 2012
68 V Kohli v SL, Pallekele, 2012
20:21 IST: SIX! Couple of steps down the wicket and Dhawan smokes Chameera for a huge maximum. There is no stopping him.
20:20 IST: Dropped! Full and outside off, Dhawan looking to run the ball down to the third man, edges and Chandimal, behind the stumps, fails to collect the catch.
20:18 IST: Six!! Short delivery from Chameera and Dhawan top edges the ball over fine-leg for a huge maximum. The Indian opener is turning on the heat in Colombo.
20:16 IST: SIX! Dhawan clears his front leg and sweeps Gunathilaka for a huge maximum. What a beautiful shot from the India. Connects and crunched!
20:14 IST: India 124/3 after 15 overs. Can India put on board a competitive total?
20:13 IST: SIX! Flighted delivery outside in and around off-stump, Pant gives himself some room and lifts it over mid-off for a maximum.
20:11 IST: SIX! Short delivery from Akila, Dhawan reads it early, gets into position and pulls the ball for a handsome maximum.
20:04 IST: Rishabh Pant is the new man in.
20:03 IST: WICKET! Jeevan Mendis gets his first, Manish Pandey looks to go big, fails to connect and gives away his wicket. The 94-run partnership has been broken.
19:59 IST: 100 comes up for India in the 12th over.
19:57 IST: Four! Low full toss and on the pads from Thisara and Pandey slams the ball for a boundary at the backward square leg region.
19:54 IST: Shikhar Dhawan scores his 5th T20I fifty, India 89/2 in 10.5 overs vs Sri Lanka.
19:50 IST: India 80/2 (Dhawan 45*, Pandey 25*) after 10 overs vs Sri Lanka.
19:45 IST: SIX! Dhawan smokes Pradeep for two maximums in a row. What a comeback from the visiting team. 50-run partnership comes up between Dhawan and Manish Pandey.
19:41 IST: SIX! Half-volley from Jeevan Mendis, Manish says thank you and dispatches the ball rows back in the crowd for a huge maximum. The six was mammoth!
19:38 IST: Huge appeal for Shikhar Dhawan LBW, the on-field turns down the appeal and the hosts opt for the review. Replay shows the ball pitching outside leg stump and the Lankans lose a review.
19:32 IST: Four! Short and on the pads, Pandey, on one leg, works the ball around the corner to bisect the fine leg and square leg fielders beautifully. India have got their momentum back.
19:27 IST: Four! Right in the slot from Pradeep, Manish Pandey frees his arm and clobbers the ball down the ground for a one-bounce four. 17 runs scored off the Pradeep over.
19:22 IST: FOUR! Back-to-back boundaries from Dhawan off Pradeep. India are getting their momentum back. Short delivery from Pradeep, Dhawan looking it work it around the square region, mistimes and top edges the ball over short fine-leg.
19:20 IST: FOUR! Dhawan, down on one knee, sweeps Akila beautifully for a boundary.
19:19 IST: Huge shout for an LBW by Akile Dhananjaya, the new bowler, but the umpire is not interested.
19:18 IST: India 10/2 after three overs. Sri Lanka are on top and have left the Indian camp stunned with two big wickets.
19:13 IST: Manish Pandey is the new man in.
19:12 IST: BOWLED! Sri Lanka are on fire. Raina looking to hit the ball over the covers, misses and the ball crashes in the stumps. Poor, poor shot selection from the comeback man.
19:10 IST: Trivia: This is the first limited overs international played by India in Sri Lanka without MS Dhoni since his debut in 2004.
19:09 IST: Four! Cross seam delivery from Nuwan Pradeep, Dhawan goes for the drives, mistimes, but clears the man at mid-off as the ball rolls away to the boundary. First boundary of the innings.
19:06 IST: Suresh Raina is the new man in.
19:05 IST: WICKET! Chameera bowls a good length delivery, Rohit looking for the lofty drive, mistimes and the ball goes high up in the air. Jeevan Mendis ran back from mid-off and held on to the ball. What a catch from the Sri Lankan. India 1/1 in 0.4 overs.
19:00 IST: First ball -- Chameera bowls full and Rohit defends it cautiously as he guides the ball to the fielder at cover.
18:59 IST: Dushmantha Chameera is opening the bowling attack for Sri Lanka.
18:58 IST: Alright then. Game time! Rohit Sharma and Shikhar Dhawan are opening the batting for India.
18:55 IST: Both the teams are on the ground for their respective national anthems.
18:50 IST: Trivia: India have beaten Sri Lanka in the last seven T20Is.
18:45 IST: Team Sri Lanka playing XI:
SL XI: Upul Tharanga, Danushka Gunathilaka, Kusal Mendis, Dinesh Chandimal(w/c), Kusal Perera, Dasun Shanaka, Thisara Perera, Jeevan Mendis, Akila Dananjaya, Dushmantha Chameera, Nuwan Pradeep. #HeroNidahasTrophy #SLvIND

— Sri Lanka Cricket (@OfficialSLC) March 6, 2018
18:38 IST: Team India playing XI:
#TeamIndia Playing XI for first T20I at Colombo #SLvIND pic.twitter.com/H4AjEgn8hB

— BCCI (@BCCI) March 6, 2018
18:30 IST: Sri Lanka captain Dinesh Chandimal wins toss, elects to bowl vs India at Colombo.
Sri Lanka wins the toss and elects to bowl in the first T20I against India #NidahasTrophy pic.twitter.com/mgjjnzxhbL

— BCCI (@BCCI) March 6, 2018
18:25 IST: We are minutes away from the toss. Stay tuned.
18:15 IST: As India prepare for the match, head coach Ravi Shastri presents the debut T20I cap to Vijay Shankar.
A familiar huddle and some new faces. Time to get The Nidahas Trophy underway. In other news - @vijayshankar260 is all set to make his T20I debut #TeamIndia pic.twitter.com/yhjYR6YZlj

— BCCI (@BCCI) March 6, 2018
18:10 IST: The opening ceremony is in the process. Musicians performing before the start of the match.
18:00 IST: Hello and welcome to the first match of the T20I Tri-series straight from Colombo. 
The Lankan pitches and the pace trio of Suranga Lakmal, Dushmantha Chameera and Dasun Shanaka are not expected to pose too many problems to the stylish left-hander, who was out of the side for a year owing to fitness and form-related issues.