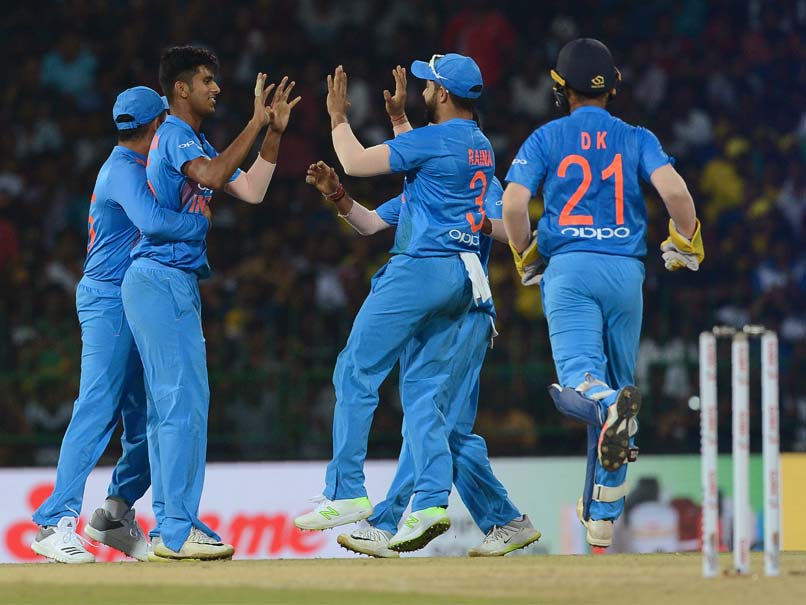 Highlights, India vs Bangladesh: India beat Bangladesh by 17 runs
© AFP
India entered the final of the Nidahas Trophy T20 cricket tournament on Wednesday after a 17-run win over Bangladesh. Chasing 177 runs, Bangladesh fell short by 17 runs after they finished their 20 overs with 159/6. Mushfiqur Rahim remained unbeaten on 72 as he missed out guiding his team to a win. Washington Sundar was the star bowler for the Indians as he struck thrice in quick succession sending back Tamim Iqbal (27), Liton Das (7) and Soumya Sarkar (1) to the pavilion in the first six overs. Mushfiqur and Sabbir Rahman tried their best to reach the target set by India but some better bowling by the Indians in the latter stages saw their efforts go in vain. Mohammed Siraj, Shardul Thakur and Yuzvendra Chahal took a wicket each for India. (Scorecard)
Earlier, Skipper Rohit Sharma (89) led from the front and helped India post 176/3 against Bangladesh in the fifth match of the tri-series. Indian openers Rohit and Shikhar Dhawan (35) clicked at the right time and gave the crucial start when needed the most. Skipper Rohit, who was out of form for quite a long time, returned to the form and slammed his 13th fifty (off 42 balls). Suresh Raina (47) also contributed handsomely to the cause. On the other hand, Bangladesh bowlers struggled right from the start. The fielders failed to restrict the Indian batsmen, thanks to some sloppy work on the outfield. 
Put in to bat, India started off on a perfect note as the openers forged a 70-run partnership before Dhawan was clean bowled by Rubel Hossain. His 27-ball knock was laced with five boundaries and one six. Experienced left-arm batsman Raina then joined Rohit and the duo played sensibly. In the process, Rohit completed his half-century and helped India to cross 100-run mark in 14th over. Raina also played as expected from him. The Uttar Pradesh batsman dispatched the bad balls perfectly while rotating the strike.
Catch the highlights of the match between India vs Bangladesh 5th T20I, Nidahas Trophy, straight from Colombo
22:20 IST: And its over. India beat Bangladesh by 17 runs to enter the final of the Nidahas Trophy Tri-Series.
22:20 IST: OUT! Mehedi departs for  runs. Easy catch for Suresh Raina. Knuckle ball by Siraj gets the better off the batsman. Bangladesh need 27 runs in 4 balls
22:17 IST: Mohammed Siraj bowls the last over. 
22:14 IST: This is good bowling by Shardul Thakur. Bangladesh need boundaries now. Outstanding bowling display by Thakur. Terrific over, 5 runs from the over. Bangladesh need 28 runs from 6 balls.
22:08 IST: No-Ball! Umpires checking waist height no-ball. Mushfiqur Rahim survives. Free Hit for Bangladesh. 16 runs off the over. Bangladesh need 33 more runs from 12 balls.
22:03 IST: Mushfiqur Rahim gets his fifty. Back-to-back fifties for him. His 4th T20I fifty. Superb innings by him. Bangladesh need 41 runs off 16 balls.
22:01 IST: OUT! Sabbir Rahman departs for 27 runs off 23 balls. Shardul Thakur gives India a much-needed breakthrough. Bangladesh need 51 more runs from 20 balls
22:01 IST: FOUR! One bounce to the boundary. 65-run partnership between these two. They have steadied the innings after losing four quick wickets.
22:00 IST: Washington Sundar is brought back into the attack. India need to break this partnership.
21:51 IST: Great effort by the fielder. 50-run partnership up between these two batsmen. Bangladesh 113/4
21:48 IST: Bangladesh need 69 more runs to win from 37 balls.
21:42 IST: SIX! Rahman smashes Chahal for a maximum.
21:37 IST: FOUR! A fantastic pull shot by Sabbir for a boundary
21:35 IST: FOUR! Inside out for a boundary. Rahim steps it up and cracks it up over the cover region. Bangladesh 84/4
21:33 IST: FOUR! That's a great shot. Rahim sees the fielder in the circle and reads the ball well. Loops it over the fielder for a boundary. 16 runs already scored in the over.
21:32 IST: FOUR! A much-needed boundary for Bangladesh. Runs onto the track and Rahim hits a boundary. Bangladesh 72/4
21:32 IST: Mohammed Siraj bowls a peach of a delivery. Shouts of a nick but India have no review left.
21:28 IST: Mushfiqur Rahim and Sabbir Rahman have to play until the end if Bangladesh want to win.
21:22 IST: OUT! A soft dismissal. Chahal gets his man. Skipper Mahmudullah departs. KL Rahul takes an easy catch. Bangladesh are now in deep trouble. India should wrap this up quickly. Bangladesh 61/4 
21:18 IST: Mushfiqur Rahim and Mahmudullah need to rebuild after losing three quick wickets. Bangladesh 55/3, need 122 more runs from 75 balls
21:16 IST: Vijay Shankar is the new bowler for India.
21:13 IST: Second good over by Chahal. Only 5 runs from the over. 
21:11 IST: FOUR! Mahmudullah opens his account with a boundary. Back-to-back boundaries for the Bangladesh captain.
21:10 IST: OUT! Washington is on fire. His third wicket. Clean bowled. Danger man Tamim departs for 27 runs. Bangladesh 40/3 in 5.4 overs 
21:05 IST: Yuzvendra Chahal bowls an impressive first over. Doesn't give any room to the batsmen. Only 3 runs off it. Bangladesh 39/2 in 5 overs
21:03 IST: Mushfiqur Rahim is the new man in for Bangladesh.
21:01 IST: OUT! Another one for Washington. Clean bowled. Soumya Sarkar departs for 1. Superb stuff by Sundar. He is having a brilliant tournament. Bangladesh 35/2 in 3.4 overs 
20:57 IST: Three fours and a six this over. Shardul Thakur is getting hammered. Tamim Iqbal on fire. Bangladesh 30/1 in 3 overs
20:56 IST: FOUR! Good shot by Tamim Iqbal drives through the extra cover region.
20:54 IST: Karthik now has 50 stumpings in T20Is.
20:52 IST: OUT! What a delivery. Sundar deliberately bowls it outside the off stump and Dinesh Karthik takes off the bails for an easy stumping. Bangladesh 12/1 in 1.5 overs
20:54 IST: FOUR! Good shot by Das. Fielder inside the circle. Takes it over the mid-wicket region for a boundary. Bangladesh 12/0
20:49 IST: Washington Sundar bowls the second over for India. Review taken by India for an LBW decision. India lose review. Liton Das survives.
20:46 IST: FOUR! Tamim hits a superb shot to open his account. Bangladesh 4/0
20:45 IST: Tamim Iqbal and Liton Das begin Bangladesh's chase. 
Innings Break
20:34 IST: It seems Rohit won't be able to get to his century. Rubel Hossain has bowled well. Smartly bowled by the Bangladesh pacer. Rohit Sharma departs in the last ball after getting run-out. India post 176/3 in 20 overs
How good were these two? Brilliant innings from the duo that takes #TeamIndia to 176/3 in 20 overs. The chase in just a bit. pic.twitter.com/iSnGy0A951

— BCCI (@BCCI) March 14, 2018
20:29 IST: Dinesh Karthik is the new batsman.
20:28 IST: OUT! Raina departs for a well-made 47 runs. Looking to play the big shot. He gives it straight to the fielder at the long on boundary. India 172/2
20:25 IST: FOUR! 100-run partnership between these two. What a beautiful-looking shot by Rohit.
20:24 IST: FOUR! Rohit carves it over point. Another boundary. He now reaches 83.
20:22 IST: SIX! India dealing in sixes now. Rohit, Raina getting into the mood now. India 161/1 in 18 overs
20:21 IST: SIX! Now its Raina's turn to hit the big shots.
20:21 IST: SIX! What a pull shot by Rohit. This is ridiculously easy for Rohit. Bangladesh have bowled well but Rohit today has stole the show with the bat. India 148/1
20:17 IST: SIX! That's a big one. Onto the crowds and one fan takes the catch. Rohit connects it well and its a maximum. 14 runs off the 17th over. India 138/1 in 16.5 overs
21:15 IST: FOUR! Over the short third man fielder for a four by Raina. He moves away from the stumps and gets his boundary. India 131/1
20:13 IST: FOUR! Raina drives the ball towards the mid off region. 50-run partnership up for Raina and Rohit.
20:10 IST: Final five overs left. Sixth bowler used by Bangladesh.
20:06 IST: FOUR! No fielder on the long on region. Low full toss for Raina. Raina thumps it down the ground. Easy pickings for the left-hander. 13 runs off the over. India 117/1 in 15 overs
20:02 IST: 100 up for India in 13.3 overs. SIX by Raina to bring up the 100 runs for India. 
19:59 IST: 13th T20I  FIFTY up for Rohit. What a way to return to form. Reached his half-century in 42 deliveries. India 91/1   
19:54 IST: FOUR! A brillliant sweep shot by Rohit for a boundary. Rohit is finally getting back into form.  
19:47 IST: SIX! Perfectly executed shot by Rohit. Gets to the pitch of the ball and hammers it over the bowler's head. A much-needed boundary for India. India 80/1 in 11 overs
19:45 IST: Suresh Raina is the next batman in after Dhawan's departure.
19:42 IST: OUT! Bangladesh finally get the breakthrough. Dhawan has to depart for 35 runs. Full length delivery. The middle stump is uprooted by Rubel Hossain. India 70/1 in 9.5 overs
19:36 IST: India openers Rohit and Dhawan taking a measured kind of approach. A big partnership is due from both these and they are slowly building upon it. 
19:33 IST: FOUR! Poor bowling by Mehidy Hasan. Dhawan loops it over the mid on fielder for a boundary. Short ball gets punished by Dhawan. India 60/0
19:30 IST: Liton Das drops Dhawan on 22. A tough one to take it but well tried. India 54/0 in 6.4 overs
19:30 IST: 50 up for India in 6.1 overs. Rohit Sharma (27*) and Shikhar Dhawan (22*) have given the Indian a decent start.
19:28 IST: SIX! 13 runs from the over. A good shot over the bowler's head for a maximum by Dhawan. These two openers look set on the middle. India 49/0 in 6 overs
19:24 IST: FOUR! Poor line maintained by Hider. A clever shot by Rohit. This is is his highest score in this tri-series with 24 runs.
19:22 IST: SIX! What a shot. There's no stopping that. Rohit hammers it towards the on side boundary. Right in the slog for the Indian opener. India 36/0
19:18 IST: SIX! Mustafizur Rahman had a good over until Dhawan lobbed it over the bowler's head. India 27/0 in 4 overs
19:13 IST: FOUR! Dhawan continues his fine form with the bat. Drives it towards the sweeper cover. India 18/0 in 3 overs
19:12 IST: Rohit survives. The ball was there for a long time. Catch dropped. India 14/0
19:10 IST: FOUR! Short ball and gets the necessary treatment by Dhawan. Couple of fours in the over. India 11/0 in 2.2 overs
19:07 IST: FOUR! Rohit punches the ball towards the deep mid wicket. A good drive towards the boundary. India 6/0 in 1.3 overs 
19:06 IST: Nazmul Islam bowls the second over for Bangladesh.
19:05 IST: First runs off the bat for Rohit. A good over by Bangladesh. A very good first over for the youngster Abu Hider Rony.
19:03 IST: WIDE! First extra of the Indian innings. Wide outside off stump. Easy call for the umpire. India 1/0
19:02 IST: Rony has been impressive with his first two deliveries.
19:00 IST: Rohit Sharma and Shikhar Dhawan open the innings for India. Abu Hider Rony takes the new ball for Bangladesh.
18:55 IST: National Anthems of both teams being played. Supporters turning up in the stadium every passing minute.
18:39 IST: India (Playing XI): Rohit Sharma(c), Shikhar Dhawan, Lokesh Rahul, Suresh Raina, Manish Pandey, Dinesh Karthik(w), Vijay Shankar, Washington Sundar, Shardul Thakur, Mohammed Siraj, Yuzvendra Chahal
18:39 IST: Bangladesh (Playing XI): Tamim Iqbal, Soumya Sarkar, Liton Das, Mushfiqur Rahim(w), Mahmudullah(c), Sabbir Rahman, Mehidy Hasan, Rubel Hossain, Abu Hider Rony, Mustafizur Rahman, Nazmul Islam
18:33 IST: India skipper Rohit Sharma says he has to set an example for the rest. He adds that he wants to bat as long as possible. Mohammed Siraj comes in place of Jaydev Unadkat.
18:33 IST: Taskin Ahmed rested for Bangladesh.
5th T20I

Bangladesh win the toss and decide to bowl first. One change for #TeamIndia as Mohammed Siraj replaces Jaydev Unadkat. For Bangladesh, Abu Hider comes in for Taskin Ahmed.#BANvIND #NidahasTrophy

— KolkataKnightRiders (@KKRiders) March 14, 2018
18:31 IST: Bangladesh win the toss and they decide to bowl first.
18:28 IST: Former Australian cricketer Brett Lee says 170-180 should be comfortable on this track.
18:21 IST: A win today for India should see them through to the finals of the Nidahas Trophy on Sunday. Bangladesh will have to win this match to stay in contention for a spot in the finals.
18:17 IST: We are moments away from the toss.
18:16 IST: Both teams practicing ahead of the crucial match.
17:51 IST: Hello and welcome to the live updates of the match between India vs Bangladesh 5th T20I.
Both #TeamIndia openers taking a close look at the pitch before the start of the T20I against Bangladesh #TeamIndia pic.twitter.com/Y0LIpYWXQS

— BCCI (@BCCI) March 14, 2018
India's biggest worry is skipper Rohit Sharma's form. One of India's most successful white ball-players in recent times, the talented Mumbaikar is waiting for that one big knock that will propel him back to form. India have not got good starts in the tournament despite Shikhar Dhawan's blazing form as Rohit has been dismissed cheaply in all the matches.
Topics mentioned in this article
India Cricket Team
Bangladesh Cricket Team
Rohit Sharma
Mahmudullah
Nidahas T20 Tri-Series
Cricket
Live Score
Live Cricket Score
Live Blogs