Story Progress
Back to home
Lucknow Super Giants vs Gujarat Titans Live Score Ball by Ball, IPL 2022 Live Cricket Score Of Today's Match on NDTV Sports
Live Updates of Today Match between Lucknow Super Giants vs Gujarat Titans from Maharashtra Cricket Association Stadium, Pune. Check commentary and full scoreboard of the match.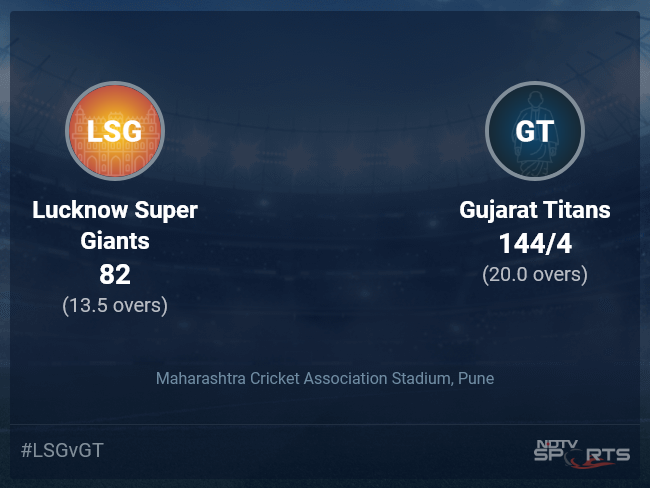 GT vs LSG Latest Score
Follow the Indian Premier League 2022 live cricket score on Sports.NDTV.com. After 13.5 overs, Lucknow Super Giants, chasing a target of 145, are 82. Get live score, ball by ball commentary and much more. Keep track of Indian Premier League 2022 today match between Lucknow Super Giants and Gujarat Titans. Everything related to Lucknow Super Giants and Gujarat Titans match will be available on Sports.NDTV.com. Stay updated with Lucknow Super Giants vs Gujarat Titans live score. Do check for Lucknow Super Giants vs Gujarat Titans scorecard. You can get scorecard updates, match related facts. Get quick live updates with ads, Sports.NDTV.com, which is the perfect destination for live cricket score.
That concludes the proceedings of this lopsided match. On Wednesday, Rajasthan will be facing Delhi at 7.30 pm IST (2 pm GMT). You can join us in advance for the build-up. Until then, it's goodbye and cheers!
Shubman Gill collects the Player of the Match award for his knock of 63 on this tricky surface. The Gujarat opener says that playing such a knock is quite pleasing. Tells that he didn't expect the ball to seam so much at the start. Feels that Lucknow didn't pitch it up much otherwise it would have been tougher. He is delighted to qualify and says that not a lot of people gave them a chance at the start. Shares that he has had a few back issues and hopes that he stays fit.
Hardik Pandya, the winning captain of Gujarat, says that he is very proud of his boys. Tells that they believed in themselves and it's a great effort to qualify for the playoffs even before playing the 14 games. Adds that even in the last game they never thought the game was over till it was over. Hardik shares that he wanted to make sure that they stay ruthless even when Lucknow were 8 down. He rates Ravisrinivasan Sai Kishore quite highly who gets some extra bounce from the surface due to his height. He praises Shubman Gill for his knock and tells that 144 is something he would have taken at the toss. He is delighted with the show of his bowlers and says that they ticked all the boxes. Mentions that it becomes important to believe that you win or lose as a team, and not as an individual. Credits his boys as they stood for each other and feels that it's important to stay close as a group.
Rashid Khan (3.5-0-24-4) comes up for a chat. The Afghan says that the couple of games which didn't go his way was due to his line and length. Shares that the wicket was helping in this match and he was bowling in the right areas. Mentions that the fast bowlers set the platform in the Powerplay, which helped the spinners to add more pressure. States that this is the crucial part of the competition, they have won, but it's all about the process and they have to still keep learning. Tells that he enjoyed the wicket of Jason Holder the most as the West Indian could have taken the game away, so he had planned to bowl that leggie.
KL Rahul, the captain of Lucknow, starts by saying that they knew it was a tricky wicket as that is how it has played here in the last couple of games. Praises his bowling group for restricting Gujarat to under 150 and feels that they should have batted a lot better. He opines that there were some poor shot selections. Hopes that they will learn from their mistakes. Feels that losses like these keep reminding you to turn up with your best performance and keep doing the best. Mentions that starting well in the Powerplay was the key as the pitch was offering good grip and scoring runs after the first six overs would have been tough. KL doesn't want to overanalyze a game like this. States that they want energy and intensity in the field and he is content with what they achieved in the field this evening.
Stay tuned for the interviews...
Earlier, it was a struggling batting show from Gujarat against a very disciplined bowling from Lucknow. Only Shubman Gill managed to come to terms with the nature of the surface as otherwise, it was a lacklustre performance from others. Rahul Tewatia's knock was the booster to take them over 140 and eventually, 144 turned out to be more than enough.
The chase never got going for Lucknow! It was a tricky wicket but the application was also lacking from their batters. Once the mainstay of Lucknow's batting, KL Rahul was dismissed, the rest of the batting line-up didn't show enough confidence. Gujarat bowled with great energy and the planning from Hardik Pandya was right on the money. The ploy to give one extra over to Mohammad Shami in his first spell led to the dismissal of KL Rahul and from thereon, Gujarat ruled the roost. Rashid Khan was too hot to handle, claiming a 4-wicket haul and Ravisrinivasan Sai Kishore was very impressive as well.
Wow, the last six wickets went down in the blink of an eye and it's a thumping win for Gujarat! They now have the letter 'Q' next to their name as they become the first team to book its ticket to the playoffs. Great way to storm into the next half of the tournament.
13.5 overs (0 Run) OUT! CAUGHT BEHIND! That's it! Rashid Khan grabs his fourth wicket and finishes things off! What a spell this has been from the magician! A googly this time, fuller ball, around middle and leg. Avesh Khan looks to heave this away but he misses. There is a loud shout for caught behind but the umpire says no. Wriddhiman Saha thinks he has heard a noise there and he convinces Hardik Pandya to opt for a review. The UltraEdge confirms there is some spike. The on-field decision has to be reversed. Gujarat win by 62 runs and seal a spot in the playoffs!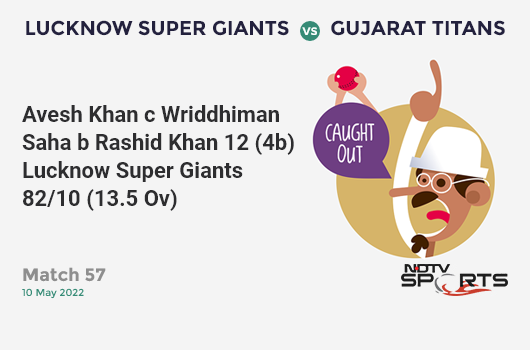 13.4 overs (0 Run) Swing and a miss! A fuller ball, outside off, spinning away. Avesh Khan swings his bat once again but he misses.
13.3 overs (6 Runs) SIX! Was that a double bat? Oh yes! That's very rare, Hardik Pandya has spotted that and is smiling. Short and on middle, Avesh Khan goes back to pull. It takes the shoulder of the bat first before he smashes it over deep square leg.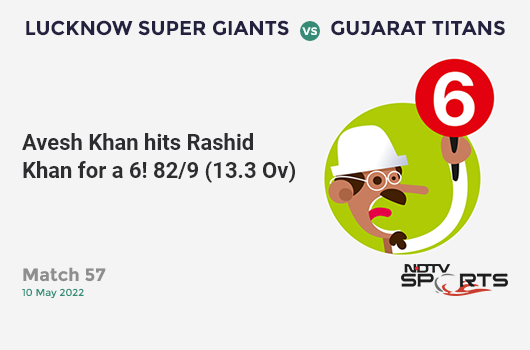 13.2 overs (6 Runs) SIX! BANG! Avesh Khan walks out and smashes the hat-trick ball! A loopy ball, around middle, fuller in length. Avesh Khan tonks this one over long on for a biggie.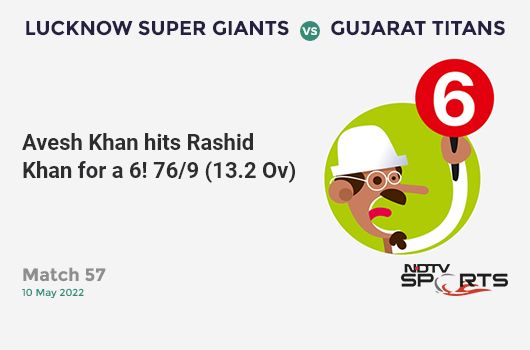 Avesh Khan is the last man in.
13.1 overs (0 Run) OUT! CAUGHT! Rashid Khan strikes for the third time and this time it is Mohammad Shami with a sharp running catch. It is looped up, full, on middle and leg. Deepak Hooda goes on one knee and tries to sweep it away. It takes the top edge and flies behind the keeper's head. Mohammad Shami runs in from short fine leg, to his right, to gather the catch.
Strategic break! Gujarat are all over Lucknow at the moment. Deepak Hooda is stuck at one end watching wickets tumble at the other end. The spinners are doing the magic for Gujarat. Lucknow still need 75 runs, but they just have 2 wickets in hand. Dushmantha Chameera walks out to bat now.
12.6 overs (0 Run) OUT! What a great running catch by Rashid Khan! Gujarat continue to roar! Fuller in length, floated and around off but skidded away after landing. Mohsin Khan skips down the track and aims for a massive heave-ho over the leg side but gets a big top edge. It balloons towards point, Rashid reacts to his left from short third man and completes a great running catch, albeit in the second attempt.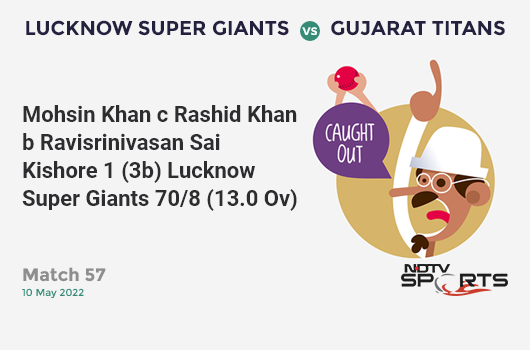 12.5 overs (1 Run) Fires it flat and short around off, Hooda forces it through covers for a run.
12.4 overs (1 Run) Short and outside off, eased towards short third man for one.
12.3 overs (0 Run) Around off, Khan flicks it with the spin to mid-wicket.
12.2 overs (1 Run) Uppish but safe! Floated and around off, stopping a bit off the surface, Hooda checks his shot and plays it aerially. It's just wide of Hardik at short cover and they cross.
12.1 overs (0 Run) Flatter and shorter, around off, punched to covers.
Mohsin Khan walks out to bat.
11.6 overs (0 Run) OUT! PLUMB IN FRONT! Rashid Khan mixes his variations superbly. He lets out a traditional leggie. Lands it a bit short and around leg, Jason Holder goes on the back foot to work it around but misses. He is thudded on the back leg, the appeal is made and the umpire has no hesitation in raising his finger. Gujarat are roaring!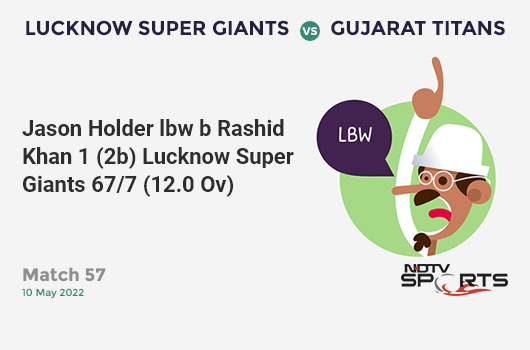 11.5 overs (1 Run) Goes down and sweeps it to deep mid-wicket for a single.
11.4 overs (0 Run) Flatter and on off, defended off the back foot.
11.3 overs (1 Run) Eases a full ball down to long off for a run.
Jason Holder is the new man in.
11.2 overs (1 Run) OUT! STOINIS IS RUN OUT! A body blow to Lucknow's chances of making any comeback. Floated delivery, full and around leg, this time Deepak Hooda sweeps it in front of square on the leg side and takes the first run quickly. He wants the second and Stoinis responds. The Aussie keeps on running with one eye on the fielder and doesn't realise that Hooda has stopped after taking off. Marcus has reached a point of no return. David Miller's throw from the deep is accurate and Wriddhiman Saha once again does the rest.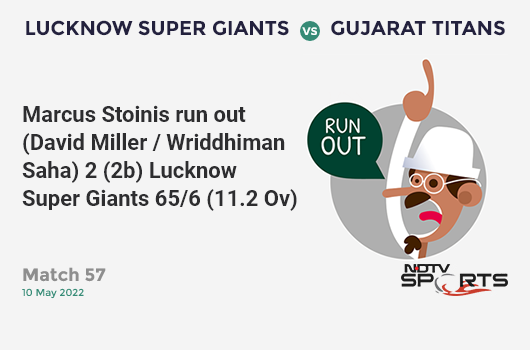 11.2 overs (1 Run) Wide! Turning down the leg side, Hooda tries to sweep but misses.
11.1 overs (1 Run) Quicker and fuller on off, it's swept through square leg for arun.
10.6 overs (1 Run) Slightly shorter and around off, Stoinis goes back and forces it through cover-point for one. A top over from Ravisrinivasan Sai Kishore!
Marcus Stoinis walks out to bat.
10.5 overs (0 Run) OUT! STUMPED! Wriddhiman Saha and his swift hands are in action again. Ravisrinivasan Sai Kishore tosses this one up, lands it full and around off, Ayush Badoni steps down the track for a big shot but it spins past his bat. Saha does the rest in no time. The third umpire is referred who first checks for the outside edge. Nothing there. The rest is quite obvious. Lucknow have lost their fifth wicket and are staring down the barrel.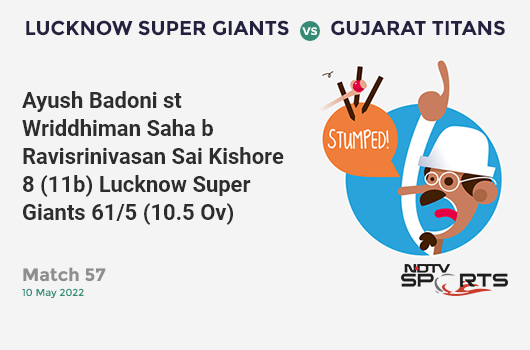 10.4 overs (1 Run) Short and on off, punched down to long off for a run.
10.3 overs (1 Run) Quicker and on middle, helped through mid-wicket for a single.
10.2 overs (1 Run) Eases a full ball to mid off for a run.
10.1 overs (0 Run) Flatter and on middle, defended back.
Match Reports
Topics mentioned in this article