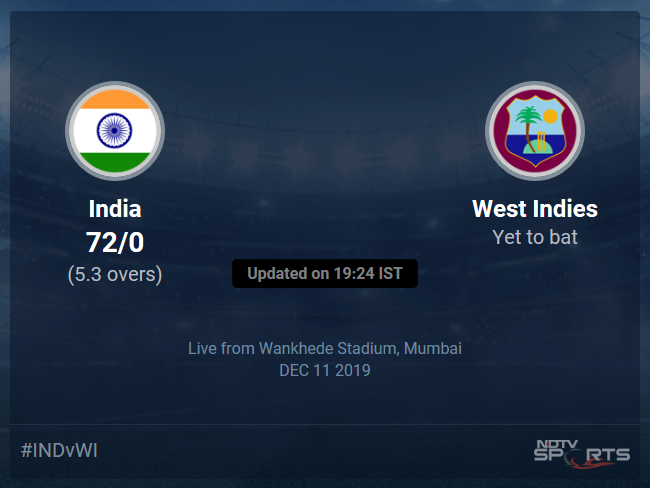 A dedicated team of experts bring you live score, live cricket score, live match update on Sports.NDTV.com. After 5.3 overs, India are 72/0. The live updates of India vs West Indies scorecard is also available. It is the perfect platform to follow your favourite teams in India vs West Indies 2019/20. Keep a track on your favourite batsmen and bowlers through India vs West Indies 2019/20 today match, ball by ball commentary, India vs West Indies, India vs West Indies live score, India vs West Indies scorecard. Follow the excitement of the India vs West Indies 2019/20 on Sports.NDTV.com as you can follow live match updates and live cricket score through our platform.
4.6 overs (0 Run) Short and wide again, Rohit cuts but finds the fielder.
4.5 overs (1 Run) Pierre this time shortens his length seeing Rahul coming forward and bowls it around off, Rahul adjusts and pushes it towards long off for a single.
4.4 overs (1 Run) Fuller and around off, RS eases a single through mid off.
4.3 overs (4 Runs) FOUR! Cut away! Poor from the spinner! Short and wide outside off, Rohit goes on the back foot and cuts it through point for another boundary.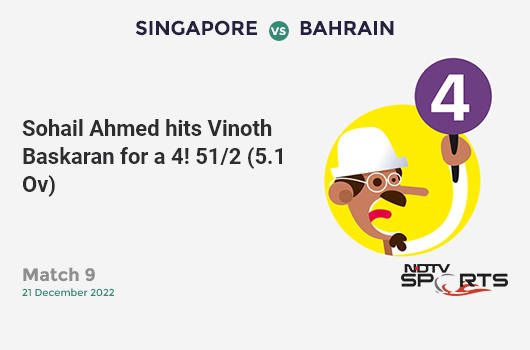 The umpires were checking about the last delivery and Evin Lewis has done brilliantly. In the meantime, the physio has come out as Rohit Sharma has maybe hurt himself while diving. Some treatment and he is good to go.
4.2 overs (2 Runs) Dropped! But what an effort from Lewis. Unbelievable! It is shortish length ball on middle, Rohit this time pulls it towards deep mid-wicket. Lewis there leaps high in the air, grabs the ball but the momentum takes him towards the fence. He then throws the ball into the play. Returns and then looks to run the batsman out too. He throws the ball at the striker's end, Pooran collects the ball and then looks to hit the stumps with an underarm throw but he misses. Rohit though dives to reach in the crease. A couple of runs for him.
4.1 overs (6 Runs) SIX! Welcome to the attack, Mr. Pierre! 50 up for the hosts. A flighted ball around off, just in front of Rohit's eyes. He gets in position and deposits it over the long on fence. 50-up for the hosts in just 25 balls.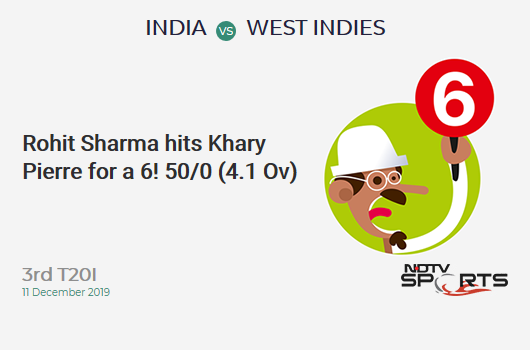 Khary Pierre is into the attack now.
3.6 overs (6 Runs) SIX! Over the point and into the stands. What timing! Shortish length from Holder and outside off. Rahul goes back and then smashes it over the point fence. Top start for the Indians.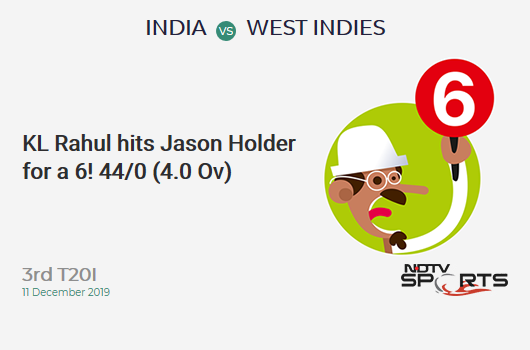 3.5 overs (4 Runs) FOUR! Kohlisque! A full ball on middle, KL uses his bottom hand nicely and whips it towards deep mid-wicket fence.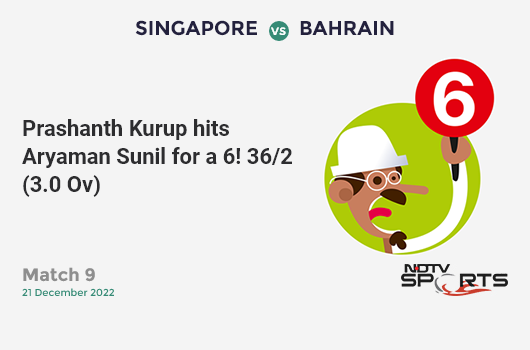 3.4 overs (0 Run) Left alone! Yes, in the T20Is. Good length ball outside off, Rahul makes a leave.
3.3 overs (2 Runs) On middle and leg this time, Rahul works it towards the on side and picks a couple this time.
3.2 overs (0 Run) Shortish one, Rahul keeps it out.
3.1 overs (2 Runs) Good length ball around off, Rahul pushes it toward the off side and takes off for a single. Lewis rushes to the ball and has a shy at the non-striker's end. He misses and then the backup fielder mis-fields and allows a single. A direct hit there could've made things interesting.
2.6 overs (4 Runs) FOUR! Deft touch! Rohit Sharma is in the zone now! A good length ball outside off, Rohit waits for the ball and then guides it past the short third man fielder. The ball races to the third man fence in a jiffy. 16 runs from the over.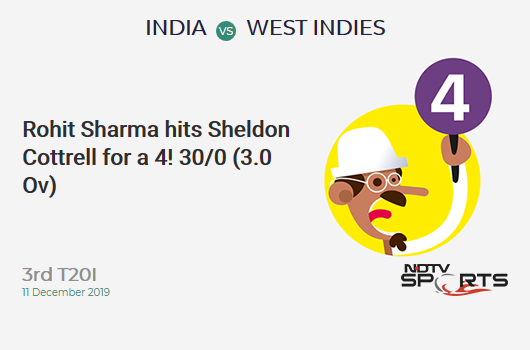 2.5 overs (0 Run) Drilled nicely but cannot go past the big man. A full ball outside off. Rohit hammers it towards cover but straight to Pollard.
2.4 overs (1 Run) On the stumps line, KL tucks it towards deep square leg for an easy single. Wanted a couple there but Hetmyer was quick in getting to the ball.
2.3 overs (1 Run) On middle this time, Rohit tucks it towards the on side to change ends.
2.2 overs (4 Runs) FOUR! Classy this time! All timing and placement. Cottrell bowls full again and just outside off, Sharma drills it past the mid off fielder and into the fence.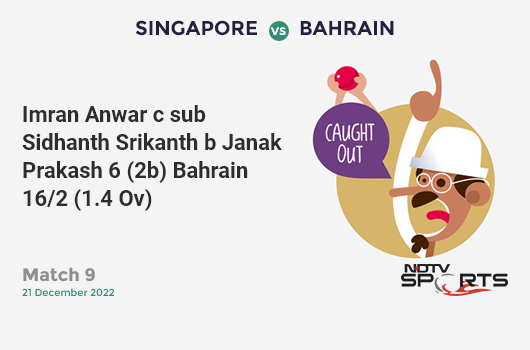 2.1 overs (6 Runs) SIX! Hits the rope on the full. First one of the match. And it is Rohit Sharma, the Mumbai lad who smashes it. Fuller ball just around off, Rohit clears his front leg and hammers it over the deep mid-wicket fence. What a shot that one. 400th six across all formats for Rohit.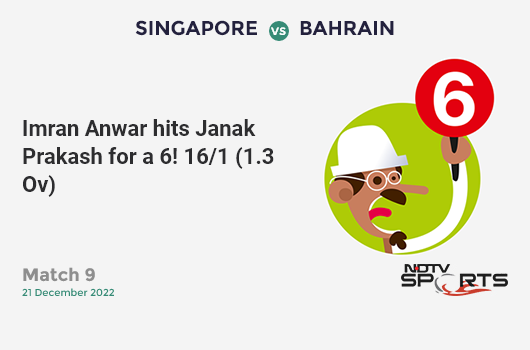 1.6 overs (0 Run) Back of a length ball outside off, Rahul initially looks to have a poke at it but misses the ball. It whizzes past his outside edge.
1.5 overs (0 Run) Beaten! Beauty from Holder. Loud appeal too but nothing from the umpire. Back of a length ball, just outside off. Rahul pokes at it but is beaten. Holder and the keeper appeal but the umpire is not interested. Thoughts of taking the review initially but eventually, not taken.
1.4 overs (4 Runs) FOUR! Another edge but this seems more like an intentional one. Another fuller length ball around off, Rahul this time guides it towards the third man fence. The third man fielder there was wide so he cannot cut it off.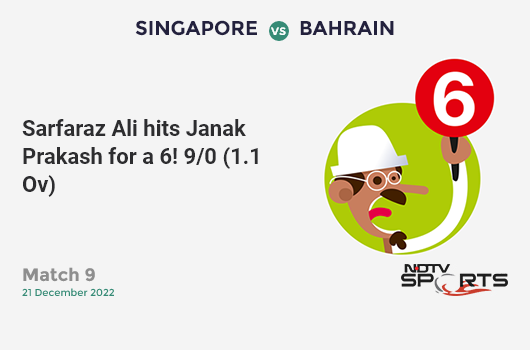 1.3 overs (4 Runs) EDGY FOUR! Rahul is off the mark but not in the most convincing fashion. A driveable fuller ball outside off, Rahul goes for it but gets a thick outside edge which goes past first slip and into the third man fence.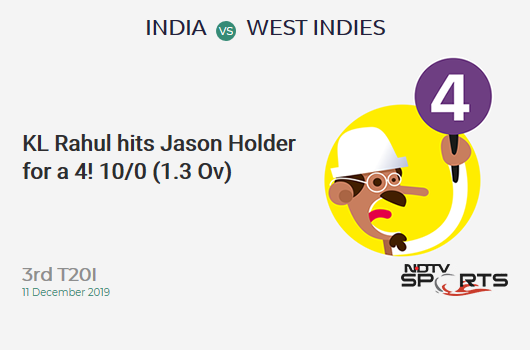 1.2 overs (1 Run) Nicely done! Off the hips but there is protection in the deep square leg region. Rohit looks to make room but Holder follows him. Sharma does well to work it around for a single.
1.1 overs (0 Run) Holder starts with a full ball outside off, Rohit drives it nicely but straight to the cover fielder.
Jason Holder to bowl from the other end.
0.6 over (0 Run) Good length ball just outside off, KL guides it towards gully with an angled bat. Rohit wanted a single there but KL shows no interest. A good start from both the sides.
0.5 over (1 Run) Another beauty from Cottrell but Sharma works around it nicely. Full ball, looking for the timber with the yorker. Rohit pushes it towards deep square leg for a single.
0.4 over (0 Run) Good length ball again, this time around off. Rohit looks to defend but gets an inside edge onto the pads.
0.3 over (0 Run) Length ball on middle this time, Rohit tucks it towards square leg.
0.2 over (4 Runs) FOUR! Powerful from Rohit this time. A fullish ball and outside off, Sharma slams it through the covers. No chance for anyone to move.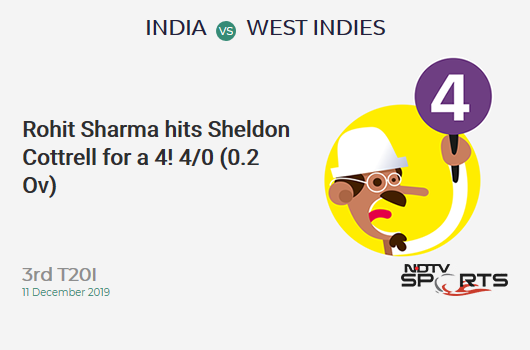 0.1 over (0 Run) Starts with a brilliant ball, does Cottrell. On the money first up. A yorker on the off pole. Rohit does really well to dig it out.
The West Indies players come out of the huddle and are taking their positions in the field. Rohit Sharma and KL Rahul, the Indian openers walk out to the middle as well. Sheldon Cottrell will start the proceedings for the visitors with Rohit Sharma on strike. Here we go...
Laxman Sivaramakrishnan has got Shivam Dube down for an interview. The all-rounder says that getting the first half century feels good and says that he is proud. On his position at no. 3, Dube says that he was informed beforehand by the coach and captain that he will bat at that position. Tells that he tries to keep the same mindset in all the games. Says that he has been working hard on both bowling and batting. Feels that he needs to work hard on the bowling front. Mentions that he is very happy to be playing in front of the home crowd.
India (Playing XI) - Rohit Sharma, KL Rahul, Virat Kohli(C), Rishabh Pant(WK), Shreyas Iyer, Shivam Dube, Washington Sundar, Bhuvneshwar Kumar, Kuldeep Yadav (IN FOR YUZVENDRA CHAHAL), Deepak Chahar, Mohammed Shami (IN FOR RAVINDRA JADEJA).
West Indies (UNCHANGED Playing XI) - Lendl Simmons, Evin Lewis, Brandon King, Shimron Hetmyer, Nicholas Pooran(WK), Kieron Pollard(C), Jason Holder, Khary Pierre, Hayden Walsh, Sheldon Cottrell, Kesrick Williams.
Indian skipper, Virat Kohli, says that the pitch is great and tells that it is a great chance for them to put on a huge total. Tells that they want to take this challenge themselves so it's not a bad thing. Talking about the last game, the Indian skipper says that they had a decent total on the board. Mentions that poor fielding there didn't help. Feels that they need to do better in the field. Talking about the total they want to target, Kohli says that the batters first need to get in the zone and then they can score runs quickly. Reveals that there are two changes in the side. Mohammed Shami comes in for Ravindra Jadeja and Kuldeep Yadav replaces Yuzvendra Chahal in the XI.
West Indies skipper, Kieron Pollard, says that dew always plays a big factor at Wankhede and hence that decision. Mentions that they will look to use the first half of the innings to good effect. Tells that they will try to improve in all three departments. Informs that there are no changes to the playing XI.
Toss - Up goes the coin and it lands in the favour of the visitors. Like it has been said, West Indies opt to bowl first.
Pitch report - Murali Kartik has got Sunil Gavaskar for the pitch report. Gavaskar says that looking at the pitch, one can say why the batters love this surface. Says that the ball will come on the bat nicely. Tells that the surface is a bit damp and the new ball bowlers might get some assistance early on. Mentions that a lot of maximums will be hit in this game. Gavaskar says that dew is going to play an important role in this game too. Feels that the captain winning the toss will opt to chase.
A Kohli special in the first T20I was followed by West Indies' power-hitting in the second. The T20 caravan now moves to Wankhede for the series decider. India, who have been sloppy in the field will look to perform better in this game. The Indian skipper would also hope to see a better outing from the bowling unit of the side. Coming to the visitors, they'd remember their win against the Indians during the ICC T20 World Cup semifinal encounter in 2016 at the same venue. They knocked the hosts out and went on to win the tournament. They would want to put on a similar show tonight and clinch the series which looked highly unlikely before the series started. The toss is going to play an important factor as it always does on Indian pitches. Will the hosts be able to trump the 'power-full' Windies hitters to clinch the series or will the visitors be able to go full throttle once again and win their first T20I series in 2019? Stay tuned for the pitch report and toss.
Topics mentioned in this article
India Cricket Team
West Indies Cricket Team
Wankhede
India vs West Indies 2019/20
India vs West Indies, 3rd T20I