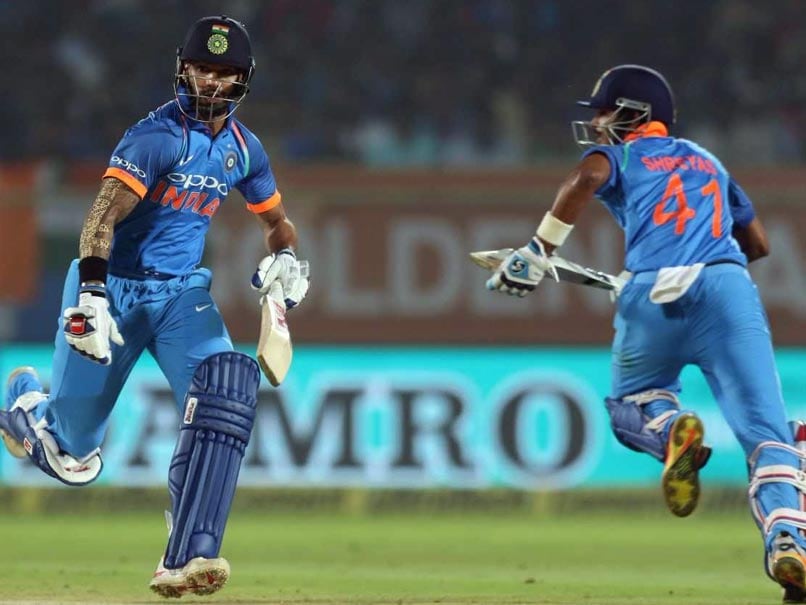 Highlights: India seal the ODI series with the win in Visakhapatnam
© BCCI
Hosts India wrapped up the 3-match ODI series in style after a convincing 8-wicket victory over Sri Lanka on Sunday in Visakhapatnam. Riding on Shreyas Iyer and Shikhar Dhawan fifties, India outclassed the Lankans to win the series 2-1. Sri Lanka were all out for 215 runs after put into bat by India. Sri Lanka were cruising to a big total but their middle-order yet again disappointed them. Upul Tharanga and Sadeera Samarawickrama put in a valiant partnership but it all went in vain. As soon as both departed, the other batsmen fell like a pack of cards. India's spinning duo Kuldeep Yadav and Yuzvendra Chahal shared 3 wickets each to derail Sri Lanka's chances in the match. (SCORECARD)
However, India will need to be wary. Sri Lanka will be determined to win their first ever bilateral series in India, having lost eight and drawn one. Things might not have started well for stand-in captain Rohit Sharma with the hosts losing by seven wickets in the opening ODI in Dharamsala. But a brilliant double century, his third in ODIs, would have got the Indian opener's confidence right up where it should be. In the absence of regular skipper Virat Kohli, Rohit will have the added pressure of shouldering the Indian batting line-up but if his performance in Mohali is anything to go by, India are in safe hands.
Highlights between India vs Sri Lanka 3rd ODI, straight from Visakhapatnam
19:58 IST- Thank you for joining us. Tune back when India take Sri Lanka in the three-match T20I series starting 20th December.
19:55 IST- And its over. India beat Sri Lanka to clinch the 3-match ODI series 2-1. 
India 219/2 in 32.1 overs beat Sri Lanka by 8 wickets
This is India's 8th consecutive bilateral series victory.
19:50 IST- HUNDRED for Shikhar Dhawan. This is his 12th ODI ton. Took only 84 runs to reach his century.
19:46 IST- 11th boundary for Dhawan. He is now in the nineties.
19:43 IST- Dhawan looks unstoppable. He is picking the gaps. Seems he wants his century before reaching the target. India need 24 more runs from 121 runs.
India 193/2 in 30 overs
19:37 IST- Dhawan wants to wrap things up quickly for India. A beautiful driven shot on the legside for the Indian left-hander. India is scoring at will. Poor display by Lanka. 
19:35 IST- Dhawan is now batting at 70 of the same number of balls. Gunaratne is bowling his 3rd over. Has been economical for the Lankans.
India 174/2 in 28 overs
19:28 IST- Dhawan sweeps it across to the mid on. India now 53 runs away from victory and series win. Dhawan has been consistent with the bat this series. He finishes the 27th over with a boundary.
India 163/2 in 27 overs
19:21 IST- NOT OUT! Dinesh Karthik adjudged LBW. Review taken. The original decision was OUT. The decision reversed in India's favour. There was an inside edge. 
India 159/2 in 25 overs
19:13 IST- OUT! Iyer plays an unwanted shot. Deceived by the short ball. He departs for 65, easy catch for Lakmal. 
India 149/2 in 22.4 overs 
19:07 IST- 17 runs off Asela Gunaratne's over. Two boundaries in that over. India now only need 68 more runs to win. Iyer and Dhawan have been impressive with the bat for the hosts.
India 149/1 in 22 overs
19:02 IST- India is 87 runs away from a win from 178 balls. They have 9 wickets in hand. Should be a cakewalk for them now. 
18:55 IST- SIX! What a way to bring his half-century. Take a bow Shikhar Dhawan. Took only 46 balls to reach the feat. This is his 24th ODI fifty.
India 122/1 in 19.3 overs
18:54 IST- 100-run partnership up for Dhawan and Iyer. 101 runs off 91 balls. India now needs 100 runs more to win the series decider against Sri Lanka.
18:52 IST- Sri Lanka skipper Thisara Perera takes the ball. The Lankans desperately need wickets in order to have any chance in this match. 
18:45 IST- India is cruising towards victory. Only a massive collapse can prevent them from a victory. They need 107 more runs to win from 194 balls
18:34 IST- Iyer and Dhawan have steadied the Indian innings. Both have looked impressive with the bat post Sharma's dismissal. Iyer hits a maximum. Second six of the inning. Fifty up for Iyer in 44 balls. Second consecutive fifty. Superb batting display by him. Back-to-back fifties for him. A boundary brings up 100 for India in the 16th over. 12 runs from the over.
India 103/1 in 16 overs
18:26 IST- Nuwan Pradeep is brought into the attack. 
18:22 IST- Review for LBW taken by Sri Lanka. The original decision was not out. Decision ruled in favour of Iyer. Umpire's decision stays. God decision by the third umpire. Iyer is not out. 
India 75/1 in 12 overs
18:21 IST- Last 20 balls, India has scored 40 runs
18:17 IST- 50-run partnership up between Dhawan and Iyer. 52 runs from 44 balls. Both of them are now rotating strikes and scoring at a faster rate. 12 runs from the 11th over. 
India 67/1 in 11 overs
18:13 IST- 50 up for India in the 10th over
18:09 IST- Sri Lanka have been economical right from the outset. Iyer and Dhawan need to forge a partnership after their skipper Rohit Sharma departed early. Iyer comes into this match after scoring an impressive 88 runs in the 2nd game at Mohali. Both the batsmen are running well between the wickets but Dhawan is getting the majority of runs. 13 runs from the over, an expensive one from Lakmal.
India 45/1 in 9 overs
18:02 IST- After 7.1 overs, SL were 45/1, India is 29/1 after the same number of overs
17:55 IST- FOUR! Excellent use of the feet, drives the ball straight to the long on boundary.
17:52 IST- Shreyas is playing with fire. Leaving balls which could have brushed his off stump. Lakmal has been terrific in his first three overs. One runs from the 5th over. India need 199 more runs to win off 270 balls
India 17/1 in 5 overs
17:48 IST- OUT! Rohit is clean-bowled by Akila. Misses the googly and departs for 7 runs. 
India 16/1 in 4 overs
17:47 IST- SIX! That's Rohit Sharma for you. A massive six over the bowler. Akila comes back with a good delivery
17:46 IST- FOUR! Lovely pull shot by the left-hander. The ball races away to the boundary. 
India 8/0 in 3 overs
17:40 IST- Rohit is off the mark with a single. Just 3 runs off the over. Akila Dananjaya is maintaining his line and length. Some good bowling display by him.
India 3/0 in 2 overs
17:38 IST- Suranga Lakmal starts with a maiden over. India are still to get off the mark.
17:32 IST- First ball, lovely outswinger from Lakmal to start the over with. The ball pitches outside off and moves away, Rohit watchfully lets it go.
17:30 IST- Welcome back to the chase. Rohit Sharma and Shikhar Dhawan are opening the batting for India. Suranga Lakmal is leading the bowling attack for the Lankans.
16:49 IST- All out! Sri Lanka score 215 runs in 44.5 overs. India needs 216 runs to win. Upul Tharanga scored the highest for the Lankans with 95 runs.
Sri Lanka 215 all out in 44.5 overs
16:46 IST- Chahal is bowling his final over. He has been terrific in this match. He slowed down the Lankan innings along with Kuldeep Yadav. He finishes his spell with 3 wickets for 46.
Sri Lanka 215/9 in 44 overs 
16:42 IST- Two runs from Bumrah's over. This has been a disappointing showing by the Sri Lankan middle-order but credit to India for their brilliant bowling.
Sri Lanka 215/9 in 43 overs
16:35 IST- Nuwan Pradeep is the last batsman for the visitors. From 160/2 to 211/9, that was a massive collapse for the Lankans. Pandya finishes his 10 overs with figures of 2/49
Sri Lanka 212/9 in 41 overs
16:31 IST- OUT! Sri Lanka lose their 9th wicket. Lakmal departs for one run.
Sri Lanka 211/9 in 40.1 overs
16:28 IST- OUT! Kuldeep brought back into the attack. He strikes again. Yadav takes his third wicket of the day. Akila Dananjaya departs for one.
Sri Lanka 211/8 in 40 overs
16:24 IST- Akila Dananjaya is the new batsman. 
16:20 IST- OUT! Sri Lanka loses their seventh wicket. Sachith Pathirana departs for 7. Sri Lanka in trouble. Simple catch by Chahal.
Sri Lanka 208/7 in 38.4 overs
16:18 IST- Chahal bowls his 9th over. Some good turn there. Maiden for him. 
Sri Lanka 204/6 in 38 overs
16:14 IST- Kumar is brought back into the attack. India look to bundle out the Lankans but the visitors look resilient. Run-out chance missed by Kumar. Gunaratne gets a new lease of life. Super stuff by Dinesh Karthik though. Decent over by Kumar, only 2 runs off it.
Sri Lanka 204/6 in 37 overs
16:05 IST- OUT! LBW. Chahal on fire. Sri Lanka takes a review. The original decision was out. Perera departs. Decision overturned. Umpire's call. Sachith Pathirana is the new batsman. 
Sri Lanka 202/6 in 36 overs
16:02 IST- Bumrah is back in action. 8 runs from the over. 
15:58 IST- Skipper Thisara Perera comes in as the new batsman. He has to play a captain's knock if he wants Lanka to reach a good total.
15:53 IST- OUT! Amazing delivery by Chahal. Beats Mathews on the outside edge. The offside bails are ripped off. He departs for 17 runs off 28 balls. The visitors have now lost half their team.
Sri Lanka 189/5 in 33.5 overs
15:50 IST- Sri Lanka are now struggling to get the boundaries. Wonderful comeback by the Indian bowlers especially Kuldeep Yadav. However, a welcome boundary after 27 deliveries by Mathews. 6 runs off Bumrah's over. Its time for the second drinks break.
Sri Lanka 187/4 in 33 overs
15:45 IST- Well fielded by Dhawan at the deep square leg. Pulled well by Gunaratne but gets only 2 runs. Five runs from the over.
Sri Lanka 181/4 in 32 overs
15:40 IST- Good over by Pandya. Angelo Mathews has to bat well to ensure Lanka post a competitive total.
Sri Lanka 176/4 in 31 overs
15:34 IST- Asela Gunaratne is the next batsman. Last 17 balls, Sri Lanka have scored 20 runs. Good over by Hardik Pandya.
Sri Lanka 170/4 in 29 overs
15:29 IST- OUT! Double strike for Yadav. Niroshan Dickwella departs for 8 runs. Shreyas Iyer takes a good catch at slip. Poor decision-making by the Lankan wicket-keeper batsman.
Sri Lanka 168/4 in 28 overs 
15:27 IST- Two new batsmen on the crease now.
15:22 IST- REVIEW! Stumping. The third umpire rules it in India's favour. Big moment in the game. Lighting stuff from Dhoni. Tharanga departs for 95 runs. A cruel end for him after a brilliant knock. Yadav finally strikes and deceives the left-hander.
Sri Lanka 160/3 in 27.1 overs
15:20 IST- SIX! Tharanga hits a maximum off Chahal's ball. Pulled onto the leg side. Executes it perfectly. He is now on 95 runs. 5 runs from the over.
Sri Lanka 160/2 in 27 overs
15:16 IST- FOUR! One bounce to the boundary. 150 runs up for Sri Lanka in the 26th over.
Sri Lanka 151/2 in 26 overs
15:13 IST- SIX! Tharanga hits a maximum straight over the bowler's head. He now has 1002 ODI runs in 2017 
Sri Lanka 145/2 in 25 overs
15:10 IST- Pandya has been expensive but he is trying with his variations but hasn't got the breakthrough yet. Lanka's run-rate has slightly decreased with some good bowling by them. Two experienced batsmen in the middle for the visitors. Tharanga is now on 80. Last 23 balls, Lanka have scored 16 runs for the loss of one wicket.
Sri Lanka 138/2 in 24 overs. 
15:06 IST- Angelo Mathews is the new batsman. A brilliant over by Chahal. A wicket maiden for the spinner.
Sri Lanka 136/2 in 23 overs. 
15:04 IST- OUT! Sadeera is out for 42 runs. Poor timing by the batsman, well bowled by Chahal and a simple catch for Shikhar Dhawan. The danger man Tharanga is still at the crease.
Sri Lanka 136/2 in 22.3 overs 
15:00 IST- Pandya returns. He is welcomed with a boundary. Back of length by Pandya and a brilliant shot towards point gives Sadeera a boundary. The running between the wickets has been wonderful. Pandya tried a short ball but was well left by Tharanga. 7 runs off Pandya's over.
Sri Lanka 136/1 in 22 overs
14:56 IST- There's an excellent array of shots played by these two, Tharanga and Sadeera. Sadeera has been lucky twice but moments like these decide the fate of the match. Chahal has been expensive in his first three overs. Tharanga finishes Chahal's over with a fine boundary.
Sri Lanka 129/1 in 21 overs
14:54 IST- DROPPED. Sadeera dropped on 29, Dinesh Karthik gives a lifeline to Sadeera in the 20th over. Appears the jump wasn't timed to perfection. Opportunity missed. Will this hurt India?
Sri Lanka 122/1 in 20 overs
14:50 IST- India has become more economical in the last five overs but they need wickets if they want to restrict the Lankans to a competitive total. Tharanga, however, has some other plans. He sends the ball to the side screens for a massive SIX off Chahal's ball. The first maximum of the match. 14 runs off the over. A 100-run partnership between these two comes up. A boundary to finish the over.
Sri Lanka 117/1 in 19 overs
14:46 IST- Yadav is getting some good turns but to no avail. India is knocking at the door but no returns in form of wickets yet. Good over by him, only 3 runs off it.
Sri Lanka 103/1 in 18 overs
14:41 IST- Yuzvendra Chahal brought into the attack. India need a breakthrough soon else the visitors are headed to a huge total. 100 up for Lanka. Sadeera is on 27 runs while Tharanga is on 59. Sri Lanka 100/1 in 17 overs
14:38 IST- FOUR! Controlled hit from Sadeera from the first ball. Glanced down the crease to the long off boundary for a four off the first ball. Spotted the googly and timed it impeccably. Sri Lanka have looked great with their batting today. Good over for the Lankans again, 8 runs off it. 
Sri Lanka 97/1 in 16 overs
14:34 IST- Bhuvi is bowling his 5th over. Sri Lanka's running between the wickets has been great. Quick between the wickets forcing the fielders to release the ball early. The Indian seamers have used more short balls than the previous matches but it hasn't reaped them any benefits as of now.
Sri Lanka 89/1 in 15 overs
14:30 IST- India in desperate need of a wicket now. Yadav has to create some magic here to get the breakthrough. Tharanga and now Sadeera look set at the crease. Tharanga's shot selection today has been immaculate. His quick-reading of the situation has been superb and his 10 boundaries are a testament to this.
Sri Lanka 84/1 in 14 overs
14:26 IST- Kumar is back for the hosts. Tharanga has batted well till now, needs to stay on the crease. Four for Sadeera off the fourth ball. Top edge, he was very fortunate to pick the spot. lady luck appears to be on Lanka's side. Eight runs from the over.
Sri Lanka 81/1 in 13 overs
14:23 IST- Decent first over by the chinaman. One run from it. Shouts of an LBW but India refuse to take it. Sri Lanka 73/1 in 12 overs
14:20 IST - Kuldeep Yadav is brought into the attack. One slip in place for Tharanga. Fifty up for Tharanga. 36th fifty for him in ODIs. He brings up his fifty on only 36 balls. Strike-rate of 138 for the left-hander.
14:15 IST- FOUR! Excellent placement by Sadeera. Good use of the feet. Poor length by Pandya. Pandya has been expensive in his last two overs.
Sri Lanka 72/1 in 11 overs
2:14 IST-  Tharanga on strike. 2 runs away from his fifty. He takes a single to reach 49. A good over by Bumrah. Only 3 runs off it.
Sri Lanka 68/1 in 10 overs
14:11 IST- Super over for Lankans. Five boundaries from five balls. 50-run partnership comes up between them with Tharanga scoring the majority of runs here. Smart batting by him off the last ball. Tharanga is now on 48 runs. Sri Lanka 65/1 in 9 overs

14:07 IST- 50 up for Sri Lanka in the 9th over.
14:07 IST- A good over by Bumrah. Maiden over. No room given to Sadeera Samarawickrama to play any shot. Tharanga, on the other side, has got 5 boundaries for his 28 runs. 
Sri Lanka 45/1 from 8 overs 
14:03 IST- Tharanga defends the last ball. After initial hiccups, Tharanga has taken the mantle after Gunathilaka's departure. Sri Lanka 45/1 from 7 overs 
14:00 IST- Bowling change. Hardik Pandya brought into the attack. Tharanga goes straight to the square of the wicket. Good timing by Tharanga as the ball races to the boundary.
13:58 IST- Last 9 balls, Sri Lanka have added 26 balls. Some impressive stats out there for the visitors. Lucky escape for Sadeera Samarawickrama, appears to have not carried to the slip fielder Shikhar Dhawan. Just to clear doubts, third umpire gives the decision in the batsman's favour who remains not out. Sri Lanka 41/6 in 6 overs 
13:56 IST- FOUR! Picked up on the leg side by Tharanga. Some good cricketing shots by the batsman. He seems to be brimming with confidence. Brilliant timing by him and it appears he has found his rhythm.
13:53 IST- Tharanga continues to keep the run-rate going for the Lankans. Two boundaries off Kumar's over. A couple of boundaries for him and finishes off with a quick single. Sri Lanka 30/1 in 5 overs
13:50 IST-  FOUR! One bounce to the boundary rope. Punches it to the covers for a four. Tharanga hits his first boundary.
13:48 IST- OUT! Gunathilaka departs for 13 runs. Bumrah strikes with his length delivery which outfoxes the left-hander who gives a simple catch to Rohit Sharma. Sri Lanka 19/1 in 4 overs
13:45 IST - FOUR off the last ball by Gunathilaka . Pulled it on the on side for a boundary. Sri Lanka 14/0 in 3 overs
13:44 IST- Tharanga opens his account with a quick single. 
13:42 IST- TRIVIA! This is the 7th ODI match at the ACA-VCA Stadium in Vizag. 
13:37 IST- Good sliding dive by Shreyas Iyer. Two runs saved by the fielder. Gunathilaka reaches 9 runs in no time. Good running between the wickets from the openers. They are trying to put early pressure on the hosts. Slow ball to end the over by Bumrah. Sri Lanka 9/0 in 2 overs
13:36 IST- Jasprit Bumrah comes into the attack. He gets some good bounce in his first three deliveries.
13:33 IST- FOUR. First runs off the bat. Short length and the ball races away to the mid off boundary. Boundary for Gunathilaka. Sri Lanka 5/0 in 1 over
13:32 IST - Kumar to Gunathilaka, a good line maintained by the pacer. No room for the batsman to play a shot. No runs from the first two deliveries.
13:30 IST - Sri Lanka openers Danushka Gunathilaka and Upul Tharanga are out there in the middle. Bhuvneshwar Kumar takes the ball for the hosts. The pitch looks good for batting and the Lankans will look to post a good total for India. 
13:28 IST - Time for the National Anthems. 
13:24 IST- Umpires walk out to the middle. The series is locked at 1-1. We are up for a cracker of a match at Visakhapatnam
13:20 IST - Redemption time for India to wrap up the series in this decider. India outclassed the visitors in the second ODI at Mohali. We are minutes away from play.
13:10 IST - India Playing XI: Rohit Sharma(c), Shikhar Dhawan, Shreyas Iyer, MS Dhoni(w), Hardik Pandya, Manish Pandey, Dinesh Karthik, Bhuvneshwar Kumar, Jasprit Bumrah, Kuldeep Yadav, Yuzvendra Chahal
Sri Lanka Playing XI: Thisara Perera(c), Danushka Gunathilaka, Upul Tharanga, Angelo Mathews, Sadeera Samarawickrama, Niroshan Dickwella(w), Asela Gunaratne, Sachith Pathirana, Akila Dananjaya, Suranga Lakmal, Nuwan Pradeep
13:06 IST - Kuldeep Yadav comes in for Washington Sundar for the hosts.
13:04 IST - Rohit Sharma has scored the second-most runs as an opener since 2015. If India win today, they will register 90 ODI wins against Sri Lanka
13:00 IST - Tails it is. India has won the toss. Rohit Sharma decides to bowl first. Keeping the dew factor in mind, he has decided to bowl first. Sri Lanka captain says it is a good toss to win.
12:50 IST - Sunil Gavaskar says the pitch will favour the batsmen. India skipper Rohit Sharma will look to bat first if the toss goes in his favour. Next up is the toss for the decider.
12:30 IST - Hello and welcome to the live match updates of the third and final ODI match between India and Sri Lanka from Visakhapatnam. The 3-match series is locked at 1-1 and we're moments away from the toss.
Spinners of both teams haven't had a great time in the ODIs and could be under pressure to keep the runs down in Visakhapatnam, where big scores have been the norm. While India are unlikely to tinker with the playing XI that won in Mohali, the visiting side may consider bringing the pacy Dushmantha Chameera in place of Pradeep.
The last ODI played here against New Zealand, saw India romp home to a big win.