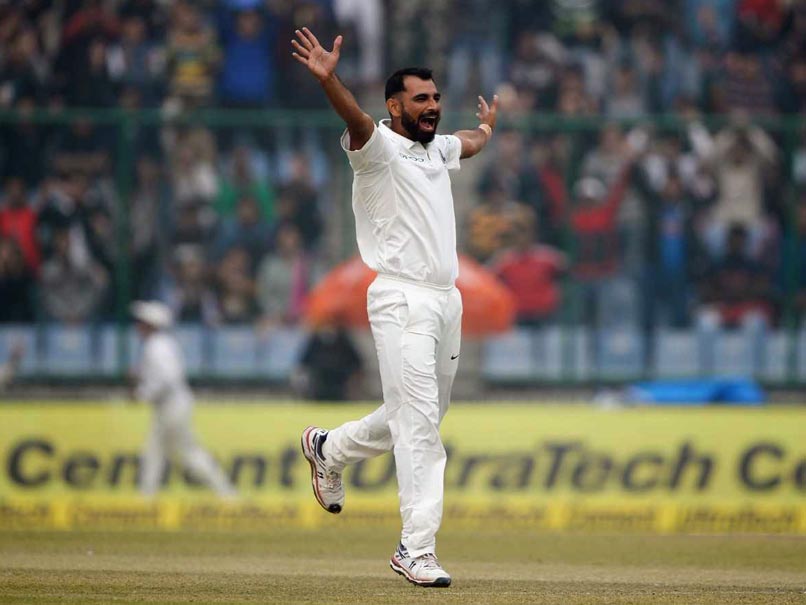 Mohammed Shami's comments came after Angelo Mathews termed the Delhi's pollution "worse".
© AFP
Mohammed Shami was categorical in dismissing a comment made by veteran Sri Lankan all-rounder Angelo Mathews, saying that the pollution level was not as high as was made out by Sri Lanka. Shami's comments came after Mathews termed the Delhi's pollution "worse", which had prompted the visitors to hold up proceedings in the ongoing third Test match at Feroz Shah Kotla Stadium. "It was pretty much the same as yesterday, I would say. Or even a bit worse! I am not really sure," Mathews had said after the match on Monday.
"Look, it's up to the match referee (David Boon) and also the umpires (Nigel Llong and Joel Wilson) to take a decision on that," Mathews said.
Shami's was quite direct in his response. "I was a bit under the weather even before the match started. I had cold.
"Yes, pollution is an aspect that we seriously need to think about. But what has been portrayed (by Sri Lanka), it wasn't to that extent also. Also it could be a factor that we are more used to (pollution) it and our ability to adjust is much more compared to them," Shami said.
But the speedster did mention that one needs to get to the root of the problem and solve it.
"I think we need to check what is the reason for this pollution and try to minimise it. Look we are used to suffering from all these problems," Shami replied with a smile.
Delhi's air quality continued to be in the "very poor" category, something which had led to play being stopped on three occasions on Sunday.
Sri Lankan players had taken the field wearing anti-pollution masks in the post-lunch session complaining of breathing problems on Day 2.
India bowled 85.3 overs on the day and not for once was play stopped due to players complaining about pollution.
The Indian team seemed irritated on Day 2 with their antics but Mathews said there was no bad blood.
"As I said, it was one of those unique occasions, where no one knew what to do. It didn't hamper the relation of the players at all. We play hard on the field, and off the field, we are great friends," Mathews said.