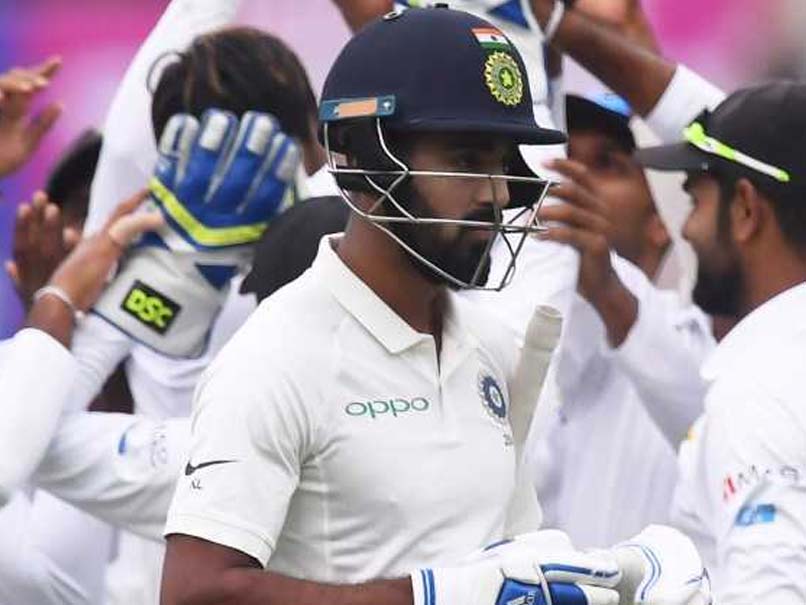 Suranga starred with the ball for Sri Lanka.
© AFP
India did not get off to a dream start in the first Test against Sri Lanka at Eden Gardens in Kolkata on Thursday. Sri Lankan pacer Suranga Lakmal went through India's top-order as the hosts finished the day at 17/3 in a rain-hit match. Talking about the tough playing conditions and the loss of three wickets, India's assistant coach Sanjay Bangar said that the team was happy to play on challenging wickets. He went on to add that a team doesn't really want to play in easy conditions. Recalling their Test win against New Zealand last year, Bangar said the current Indian side thrives on challenges.
"We are happy to play on wickets like this. A team doesn't really want to play on easy conditions. We challenge ourselves and most players are open to such challenges. We want to continue improving as a team," Bangar said.
"It was a similar wicket last year, after it was re-laid. We played the Test really well and applied ourselves. We are ready for the challenge."
Bangar rued that rain interruption did not help them to consolidate their innings after a bad start.
Only one hour of play was possible in two curtailed sessions and Sri Lanka made the most of it with Suranga Lakmal striking thrice without conceding a run in six overs.
"The conditions were pretty tough for batting and what didn't really help us was we did not get an extended passage for play wherein you had 15-20 overs bowled at a batsman in a particular fashion. It didn't allow our batsmen to get into a rhythm," felt Bangar.
He hoped they would bounce back as the match progresses.
"We have got all bases covered as the game goes into fourth and fifth day. There would be dents in the wicket because of the dampness. There will be variable bounce which may come into play. Both spinners are really vital to us. We have got swing and seam and the pace that is required."
Both the teams also agreed to make use of the floodlights to get maximum out of the day.
"It was similar to a day-night Test. It didn't seem to be a day Test. At times under such circumstances, playing with a red ball becomes pretty tough. It's more difficult to pick the red balls."
Bangar said it's about grinding out of the situation and respecting the condition.
 
"The amount of times you are going to get beaten plays on your mind. The best approach is to forget the previous ball and accept that you got beaten on a number of occasions. You may not really play elegantly but you will have to grind it out as those are equally important runs."
He, however, refused to blame the top three KL Rahul (0), Shikhar Dhawan (8) and Virat Kohli (0).
"You can't really fault them for shot selections. All credit to Lakmal who put the ball in right place and let the wicket did the rest. He used the conditions that suited him."
Dhawan got out while trying to break free as he attempted a drive only to drag the ball onto the stumps.
"He's a strokeplayer, he backs himself to play shots and whenever the shots come off it really looks great. At times they can change the course of the match in a matter of 15 overs.
"You want a player like Shikhar to play in his own fashion. Every batsman has individual style of play, we don't want to curtail their style of play."
At close, India's last two specialist batsmen --Cheteshwar Pujara (8) and Ajinkya Rahane (0) -- were at the crease.
Bangar said India have quality all-rounders in wicketkeeper Wriddhiman Saha, Ravindra Jadeja, Ravichandran Ashwin and Bhuvneshwar Kumar to make the difference towards the end of the innings.
"The quality of all-rounders gives a lot of depth in lower order batting and also bowling option to get 20 wickets in a Test. It has worked well in two and a half seasons and we have won mainly because of our composition," he said.
 
(With PTI inputs)