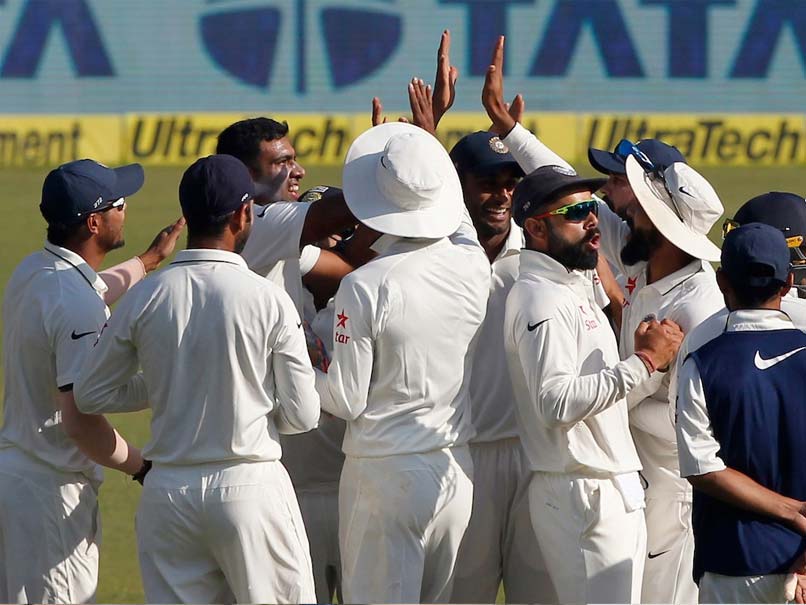 Virat Kohli and Ravichandran Ashwin were India's star performers vs England in the 4th Test.
© BCCI
Chennai:
Despite winning five straight series since taking over Indian cricket's reins from MS Dhoni, skipper Virat Kohli feels his side will have to deliver consistently for the next 7-8 years to leave a mark on the cricketing world.
The Indian cricket team is now unbeaten in 17 Tests, with Kohli having notched up 13 wins as captain. Kohli's men will become the first Indian team to go unbeaten in 18 matches by avoiding defeat in the fifth and final Test in Chennai.
Asked about the air of invincibility surrounding the team ahead of the fifth Test starting on Friday, Kohli replied in the negative.
"Not really, we still understand we have got to play a lot of cricket everywhere in the world. It's not only about this one period we are going through," said Kohli.
"It (the phase) looks really good because we have come out of transition and immediately started winning games. But I wouldn't take this as overconfidence.
"As I said, it's an ongoing process which needs to be sustained for the next five-seven or eight years for us to become a top quality side and leave a mark on world cricket; maybe known as one of the best teams to have assembled on the field."
The 28-year-old also told reporters that the focus of the players was on doing well in all three formats of the game.
"We want to do it across formats and make that mark for Indian cricket on the world stage. But it requires a lot of persistence and skill, lot of hard work on your fitness and those are the key factors which will decide where we go as a unit.
"We don't feel invincible to be honest, we respect every opposition, we admit every time we are put under pressure, and we know teams are going to put us under pressure. We appreciate that, we accept that and we try to find a way out of it.
"I think that's been the key for us and as I said it's a process that should go on for another seven-eight years," said the skipper, who has played an important role in the team's success.
Talking about the dead rubber beginning on Friday, Kohli said the match remains an important one for the hosts.
"I don't think we are looking at a collective series as 4-0. For us every game is separate from the other and the intensity and the motivation to win a Test match remains the same, whether we have won the series or haven't won the series, or it's drawn.
"We are not looking at a scoreline as such. We just want to continue what we have been doing. It takes a lot of hard work to win a Test match and to put a number to it, I think it would be unfair to the players and the series as well," Kohli added.
(With inputs from PTI)