Story Progress
Back to home
India vs Australia Live Score, Over 1 to 5 Latest Cricket Score, Updates
Live Updates of Today Match between India vs Australia from Wankhede Stadium, Mumbai. Check commentary and full scoreboard of the match.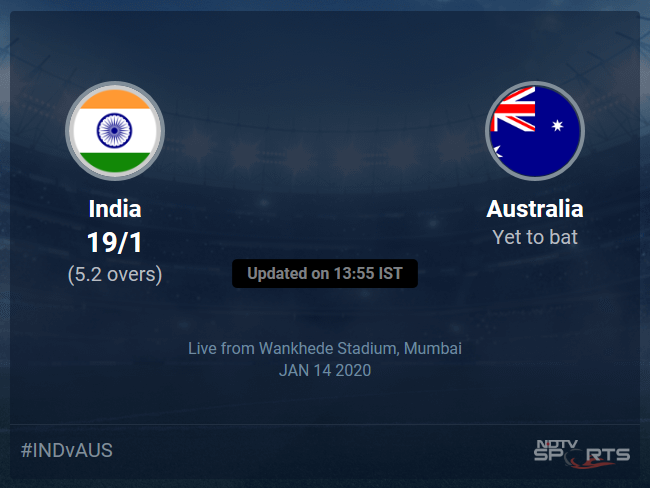 IND vs AUS Latest Score
A dedicated team of experts bring you live score, live cricket score, live match update on Sports.NDTV.com. After 5.2 overs, India are 19/1. The live updates of India vs Australia scorecard is also available. It is the perfect platform to follow your favourite teams in India vs Australia 2019/20. Keep a track on your favourite batsmen and bowlers through India vs Australia 2019/20 today match, ball by ball commentary, India vs Australia, India vs Australia live score, India vs Australia scorecard. Follow the excitement of the India vs Australia 2019/20 on Sports.NDTV.com as you can follow live match updates and live cricket score through our platform.
4.6 overs (4 Runs) FOUR! Rahul is off the mark, bad end to a very successful over. Starc steams in and bowls a pacy delivery but down the leg side, Rahul manages to flick it fine down the leg side and the outfield here in Mumbai is ultra quick so the ball dashes to the fence.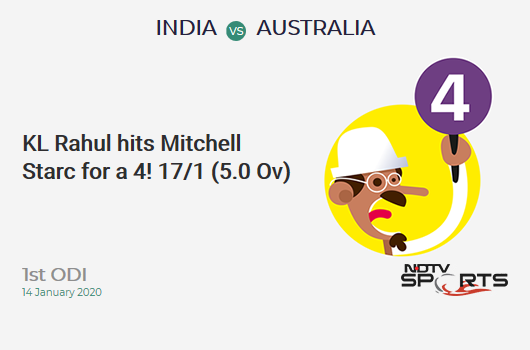 4.5 overs (0 Run) Outside off on a length, Rahul lets it carry to the keeper.
4.4 overs (0 Run) Full on the stumps, Rahul starts his innings with a solid front foot defense.
KL Rahul replaces Rohit Sharma out in the middle.
4.3 overs (0 Run) OUT! Caught! Stunned silence here in Wankhede as the local boy is walking back. A smart and gutsy delivery from Starc. It is full and outside off, cross-seam delivery. Rohit looks to drive it away from the body but he does so uppishly as the ball holds onto the pitch and he hits it from the lower half of his bat. The ball falls on its way to mid off. Warner there comes forward and takes a very good catch inches above the ground. Rohit cannot believe it. But he will have to walk back. Only the Aussie voice can be heard. Big and early wicket for the visitors.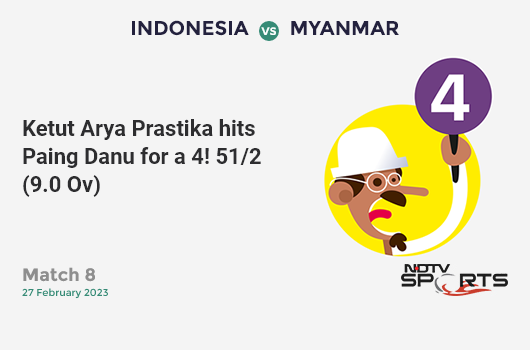 4.2 overs (0 Run) On the the stumps, RS blocks it with a dead bat.
4.1 overs (0 Run) Lucky to escape that. It is full down the leg side, closer to the pads. Rohit looks to flick but misses. The ball kisses his pad and goes to the left of Carey who does well to stop that.
3.6 overs (0 Run) This one swings back in but does so late on. It is on a length outside off, Dhawan is aware of his off pole and covers it and leaves it alone. Maiden from Cummins, a very good over as he was consistently good in this over with his lines and lengths.
3.5 overs (0 Run) Back of a length ball around off, Dhawan sways away from it.
3.4 overs (0 Run) Cummins comes closer to the off pole, Dhawan defends it with a dead bat.
3.3 overs (0 Run) Once again it is away from the off pole, this time Dhawan does not go after it.
3.2 overs (0 Run) Good ball and a good leave! It is a length delivery around off, it zips away a bit. Dhawan keeps his eyes on the ball and leaves it alone.
3.1 overs (0 Run) Swing and a miss. Fuller outside off, Dhawan looks to play his trademark slash on the off side but misses it. He would have been gutted had he edged that to the keeper.
2.6 overs (0 Run) Short ball, first one from the Aussies in the 18 legal balls so far. Rohit hops and defends it to get through the over. Better over from Starc.
2.5 overs (1 Run) Now bowls it on the pads, Dhawan looks to flick but misses. The ball rolls to the leg side off his thigh pad and they take a leg bye.
2.4 overs (0 Run) Good length delivery around off, Dhawan taps it towards backward point. Starc getting his line and length right now. Starting to hit the deck hard here.
2.3 overs (0 Run) Full and going away just a bit. Dhawan looks to defend it away from his body but it goes towards backward square leg off the inside edge of his bat.
2.2 overs (1 Run) Starc hits the deck hard but it is on the body, Rohit turns it to backward square leg and gets to the other end.
2.1 overs (0 Run) Full and targeting the off pole, Rohit defends it off his front foot.
1.6 overs (0 Run) Length ball away from the off pole, Dhawan resists himself from going for his favorite cut shot and leaves it alone. Good start by Cummins, just 3 off his first.
1.5 overs (1 Run) On the pads, RS turns it behind square on the leg side for a single.
1.5 overs (1 Run) WIDE! Cummins misses his line and sprays one down the leg side. Rohit looks to flick but misses.
1.4 overs (0 Run) Beauty from Cummins! That was not far away from getting rid of the dangerous Rohit. It is full and around off, it seems to be coming in with the angle but swings away off the deck. Rohit looks to defend but gets squared up and it was just whiskers away from finding his outside edge.
1.3 overs (0 Run) On the pads, Rohit glances it to mid-wicket.
1.2 overs (1 Run) Dhawan is off the mark! Fuller on off, Dhawan looks to defend but it goes off the outer half of his bat towards third man for a single.
1.1 overs (0 Run) Cummins starts with a good length ball on off, Dhawan looks to play it on the off side with a slant bat but the ball nips in a tad and finds the inside edge of Dhawan's bat. Luckily for the southpaw it goes onto hit the pad.
Pat Cummins to partner Mitchell Starc from the other end.
0.6 over (0 Run) Full around off, Rohit looks to defend but it goes off the inner half to the leg side. End of an eventful first over.
0.5 over (4 Runs) FOUR! Easily done! Overpitched on off, Rohit just uses the pace of the ball and drives it right of the meat of the bat through covers for the second boundary of the over. Rohit looks in the mood today here in his home ground.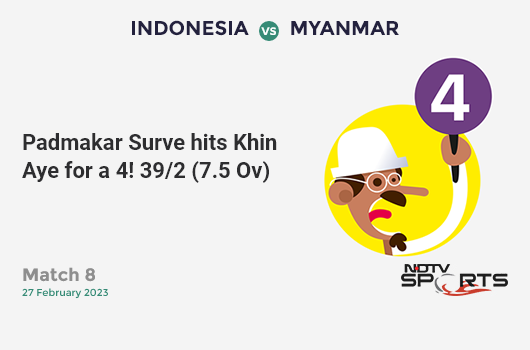 0.4 over (0 Run) Direct hit and it would have been curtains for Sharma. Good length ball outside off, Sharma drives it to the left of mid off. Watner there gets to the ball quickly. Rohit comes out for a quick single but Dhawan sends him back. Warner has a shy at the keeper's end but misses.
0.3 over (0 Run) Starc pulls his length back around off and it goes away with the angle. Rohit does not disturb that one.
0.2 over (0 Run) Starc goes full and closer to the off pole, Sharma pushes it towards mid off.
0.1 over (4 Runs) FOUR! India are off to a cracking start! Starc starts with a warmup delivery. It is full and wide outside off, Rohit needs no time to set himself. He sees it overpitched and he drives it with all his class through covers for a boundary. The idea from Starc is right as he is trying to swing it back in from there but the margin of error is just too small.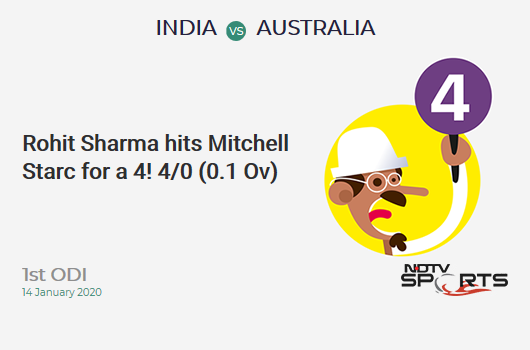 Done and dusted with the national anthems. The Australian players are walking out on the field and are taking their respective positions. To a huge reception from the home crowd, Shikhar Dhawan and Rohit Sharma stride out to open the innings for India. The latter will take the strike. Mitchell Starc to start the proceedings for the tourists with the first new ball. Two slips in place for Starc to begin with.
Both sets of players walk out to the middle for their respective national anthems. Fasten your seat belts as we are just moments away from the action to begin!
Pat Cummins is down for an interview. Says that the T20 World Cup will be a big challenge for him. Adds that he got a bit lucky in the Indian T20 League auction and that is another challenge for him. Further adds that his job as vice-captain is very easy with Aaron Finch as the skipper. Says that they are not too happy with their run in the ICC ODI World Cup in 2019, but is very happy with how things are right now. Mentions that having a clear game plan and disciplined bowling along with spin in the middle overs will be the key if they want to win against India.
INDIA Playing XI - Rohit Sharma, Shikhar Dhawan, KL Rahul, Virat Kohli (C), Shreyas Iyer, Rishabh Pant (WK), Ravindra Jadeja, Shardul Thakur, Kuldeep Yadav, Mohammed Shami, Jasprit Bumrah.
AUSTRALIA Playing XI - David Warner, Aaron Finch (C), Marnus Labuschagne (ODI DEBUT), Steven Smith, Ashton Turner, Alex Carey (WK), Ashton Agar, Pat Cummins, Mitchell Starc, Kane Richardson, Adam Zampa.
Virat Kohli, the Indian skipper, says they wanted to bowl first as well because of the dew factor that comes into play in Mumbai. Adds that however they are up for the challenge to bat first as well and put runs on the board. Further says that he is pretty happy batting first as it is a challenge for them and they will try to step up. Talking about the Australian team, Virat says that they are one of the best opponents that have come here and posed a great challenge against them. Recollects the last time when the Australians came from 2-0 down to win the series 3-2 in India. Informs that Shivam Dube, Manish Pandey, Navdeep Saini, Yuzvendra Chahal and Kedar Jadhav miss out on the playing XI.
Australian captain Aaron Finch, says that it is a good wicket and hopes the dew to come in and hence the decision. Tells they are feeling good and says the guys are very confident as they have played either Test or Big Bash. Finch says he is excited as he has all the pacers available. On his team, Finch informs that they are playing with two spinners. Adds D'Arcy Short, Handscomb and Hazlewood are the ones missing out.
TOSS - We are all in readiness for the flip of the coin. Indian skipper, Virat Kohli has the coin in hand. Up it goes, Australian skipper, Aaron Finch calls Tails and the coin comes down in the favour of the Aussies. AUSTRALIA OPT TO BOWL!
The Sri Lanka series is done and India now have a tougher assignment at home. Their first challenging series of 2020 sees them welcome 3-time World champions, Australia. The last time the tourists visited, they came here down and out but went back looking like their former self. Aaron Finch and co. will be looking to repeat the same and prove the world that they are the real deal. Virat Kohli, on the other hand, will be desperate to give it back to the Aussies and avenge for that series loss. A cracker of a contest awaits us in Mumbai. Who will take the lead in this small but dynamite of a series?
Topics mentioned in this article