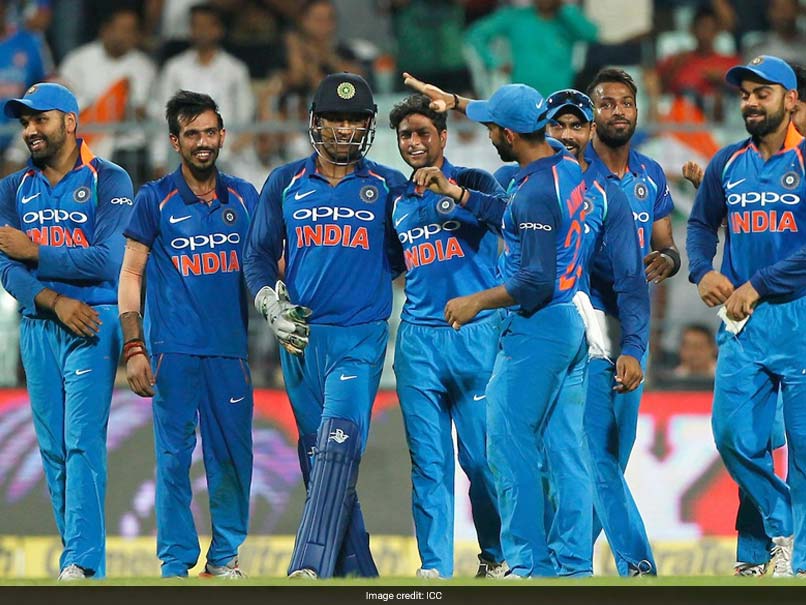 Kuldeep Yadav asked for MS Dhoni's advice before delivering the hat-trick ball.
© ICC/Twitter
Hat-trick man Kuldeep Yadav called his feat against Australia in the second ODI at Eden Gardens in Kolkata 'special' and said Mahendra Singh Dhoni's comments encouraged him before he delivered the delivery to achieve the milestone. Kuldeep revealed the conversation he had with Dhoni after sending Matthew Wade and Ashton Agar back to the pavilion, before snaring Pat Cummins, his third victim.
Kuldeep said he had asked Dhoni what delivery he should bowl next.
"I asked Mahi bhai, what should I bowl. He said 'tujhe jaisa bhi lagta hai, woh daal (bowl the way you want to)'. I was very happy that he backed me," Yadav said after the match.
The advice from the senior pro went in favour of the chinaman bowler.
Kuldeep's (3/54) feat in the 33rd over emulated Chetan Sharma (1987) and Kapil Dev (1991).
Kapil Dev was the only ODI bowler to have got a hat-trick at Eden so far, while Sharma was the first Indian cricketer to achieve the feat.
Kuldeep had earlier taken a hat-trick for India in the under-19 World Cup in 2014 against Scotland.
"This is very special for me. That really changed the game for us. It was a proud moment," Kuldeep said of his hat-trick against Australia.
He said that he was struggling with the ball in the first five overs.
"The first five overs I was struggling to bowl in a particular area, but later on I got the spot, and the rest is history."