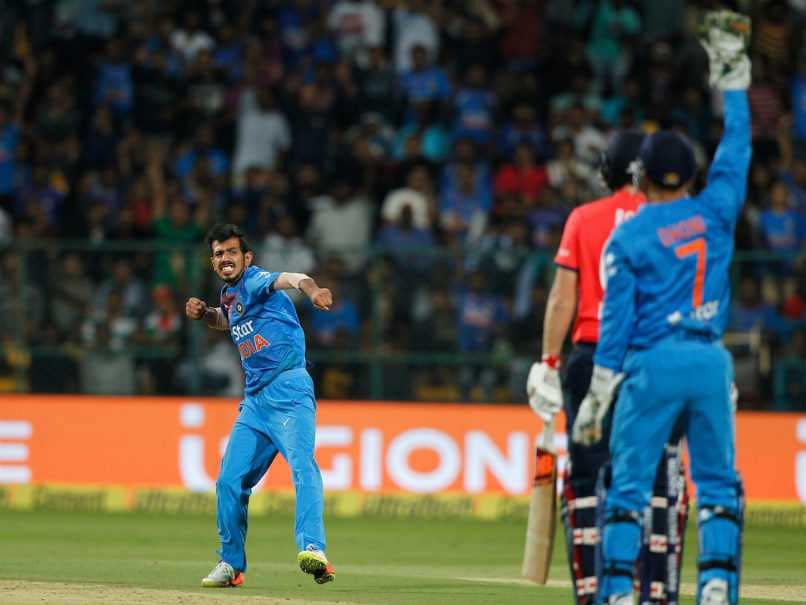 Yuzvendra Chahal is expected to play a key role in the 5-match ODI series
© AFP
Cricket may not be as intriguing a sport as chess, but it does require the same level of smartness and mind games to fox the opposition. India's young leg-spinner Yuzvendra Chahal has taken his skills from one into the other. His patience and hard work have earned him the distinction of being a vital cog in the India fold. The Haryana leg-spinner attributes his success to his first love - chess -- and to his cricket captain, Virat Kohli. "I am lucky to have played both chess and cricket. I have represented India in chess (at junior level). Chess is a mind game where you need patience," Chahal told NDTV.com in an exclusive interview.
"Cricket too needs mind games but it also needs excitement, energy and fitness. I have been lucky to manage both together," he added.
"Chess has helped me in increasing my patience. There are times when a bowler doesn't get a wicket and he panics. This doesn't happen with me. Chess has given me this advantage in cricket. I don't get panic when I don't get wickets.
"Even in this busy schedule when I have to do my practice, warm-ups, gym, net sessions, etc., I take out time for playing chess," the 27-year-old said.
Chahal came into the limelight after his fine show while playing for Royal Challengers Bangalore in the Indian Premier League. His leg-spinners and ability to trouble batsmen earned him a place in Team India.
"When you have the captain's support, you go a long way," he says. "Kohli bhai is not just a captain; he is a morale booster too. He has shown confidence in me and encouraged me both on and off field."
After pummelling Sri Lanka 9-0, India will be keen to continue their dominant show in the next assignment - the series with Australia.
"Australia are a tougher side than Sri Lanka. There will be nothing like if we manage to register an 8-0 victory. But, let's not get complacent," Chahal said.
Chahal, who claimed five wickets in five ODIs against Sri Lanka and returned with figures of 3 for 43 in the only T20I, believes that Australia will be a tough nut to crack in comparison to Sri Lanka.
"I have gained a lot of confidence from the Sri Lanka series. This was my second series after Zimbabwe. The biggest test is ahead now (Australia series). Australia are much bigger and stronger side than Sri Lanka. All I want to say that I am ready for this challenge.
"I will bowl the way I have been bowling. Yes, I have some plans and will execute those when I will hit the field," he said.
Asked about the area he will be targeting against Australia, the leg-spinner said: "Australian batsmen are totally opposite to the Sri Lankan players. Even when they are down, they will come forward and attack. My main target will be Australia's middle order. If I will able to trouble them, they will give me their wickets. Hope I will manage to restrict them.
"I am just waiting Kohli bhai to give me the ball, I will do the rest," a confident Chahal said.
Chahal has played against a couple of Australian cricketers in IPL and he believes that he will have an upper hand on the opposition.
"Some of the Australian players (in the current squad) have played in Indian Premier League. They know the conditions pretty well. I also know how they play and what troubles them. I have also played many IPL games against and with them. So, the experience will help to tackle them," Chahal said.
He believes overseas performance will always be considered ahead of playing at home.
"Obviously, overseas performances will always be considered above home series performances. You play in front of your own people. Your confidence level is high. You are aware of conditions. Defeating the opposition in their den has different feeling than winning at home.
"But victory is victory. The feeling is amazing. If I will get chance to play overseas (England, Australia, New Zealand or South Africa), you will see me grabbing the opportunity with both hands," he added.