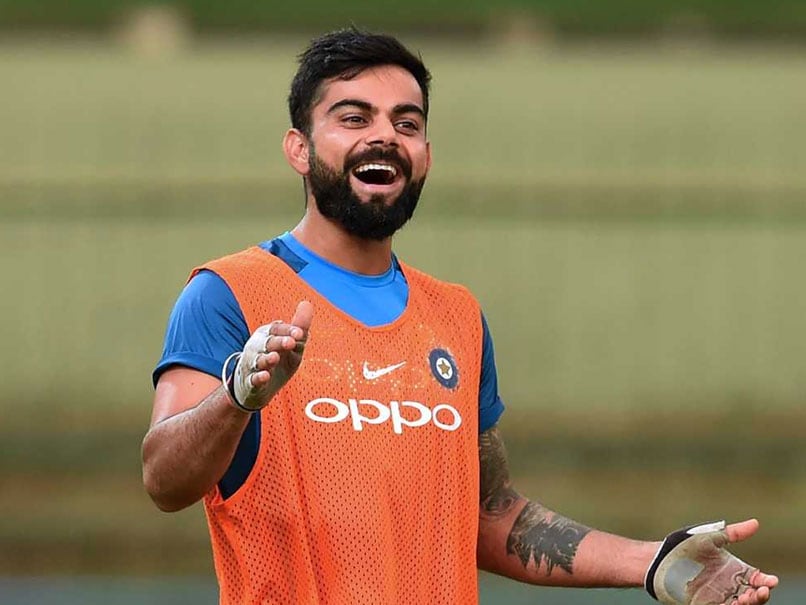 Gavaskar believes Virat Kohli will get more determined if the Aussies try to get under his skin.
© AFP
Legendary batsman Sunil Gavaskar feels former Australian bowler Jason Gillespie is right in advising Steve Smith's men against sledging Indian cricket captain Virat Kohli in the limited-overs series. Gavaskar believes Kohli will get more determined if the Aussies try to get under his skin. Gavaskar also compared the stylish right-hander to iconic Indian batsmen Sachin Tendulkar, Rahul Dravid and VVS Laxman when it came to dealing with Australia's mind games. "Very smart, very smart piece of advice. I think the Australians know that there are some players you don't sledge and try to get under their skin, because nothing gets under their skin," he said.
"Sachin Tendulkar for example, Rahul Dravid, VVS Laxman, you could say all kinds of things to them and all it did was made them more derermined. I think same is the case with Virat Kohli and MS Dhoni. And I think if you are going to say things to them, it is going to be like water over a duck's back. And all that they will do i dig in a little bit more and try that much harder," Gavaskar further added.
WATCH | Sledging @imVkohli will only make him more determined: Sunil Gavaskar to NDTV#INDvAUS pic.twitter.com/QzvPNvfaYg

— NDTV (@ndtv) September 16, 2017
Speaking to the media ahead of the 1st ODI in Chennai, Kohli said he wasn't looking to accumulate personal milestones.
"I don't play for the three-figure mark. For me winning is most important. I can be 98 or 99 not out but if the team wins then I am happy," said Kohli.
Don't play for three-figure mark, winning more important: @imVkohli pic.twitter.com/13Mx4dKcXv

— NDTV (@ndtv) September 16, 2017
The last ODI series between the two sides, India and Australia, was a run-fest and the upcoming series could turn out to be no different.
"The skill level of batsmen has changed because of T20 cricket," said Kohli indicating that it might turn out to be a high-scoring series.
Talking about their spin bowling strength, the 28-year-old made it clear that having two wrist spinners in the team can be an added advantage.
"Great advantage to have two wrist spinners (Chahal and Kuldeep) in the team," Kohli said.
The last Test series against Australia saw a lot of tensions on and off the field and Kohli stressed on why it is necessary to be competitive in each and every series.
Asked if it was more draining that resulted in players losing cool, he said,"I don't think so. You can say what you want, you can keep talking the whole time but if you don't deliver on the field it doesn't matter. All those things are to get that aspect of mind games which I think creates an excitement for the fans watching as well."
"I feel that intense competition should be there for the game to have that excitement and keep this game alive. I think it is very important to have that competitiveness in every series that you play," he added.
(With Inputs from PTI)