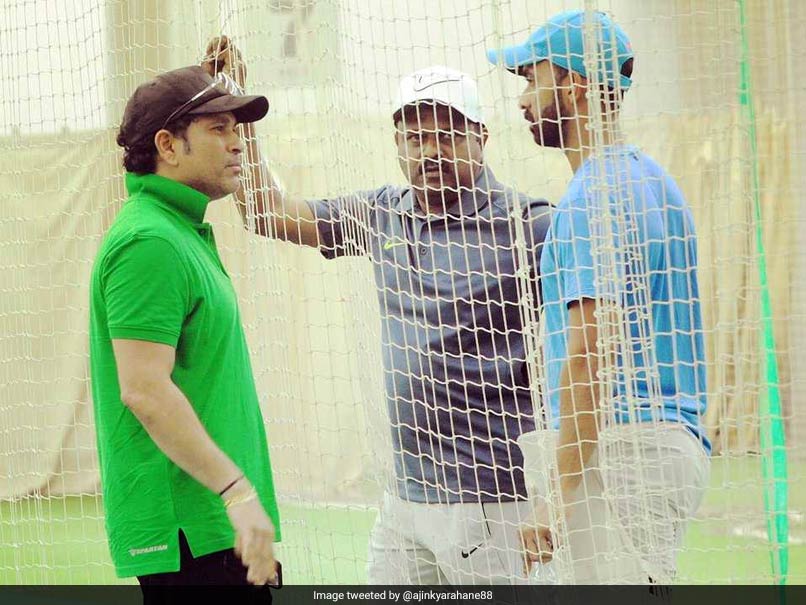 Sachin Tendulkar speaks to Ajinkya Rahane at a practice session.
© Twitter
India cricketer Ajinkya Rahane hasn't been Virat Kohli's first choice in the limited-overs game, but he got the chance to play for India against Australia in place of Shikhar Dhawan. In the two ODIs played so far in the series, the right handed batsman has scored 60 runs with an average of 30 and the strike rate of 75.94, which also includes a fifty. It's not easy for any batsman to come and score straightaway but Rahane insists that he doesn't want to think about the future as he will perform to the best of his abilities when given an opportunity.
Rahane, who was the 'Man of the Series' against West Indies in the ODIs, shared his picture with cricket legend Sachin Tendulkar and wrote "Had a great net session. Thank you so much for your time and inspiring words paaji @sachin_rt". For any cricketer, an interaction with Sachin Tendulkar on batting is priceless as Rahane's confidence was boosted when the maestro dropped in during one of his net sessions in Mumbai recently.
"For four days, I did nets at the Bandra Kurla Complex (BKC in Mumbai). When I met him (Tendulkar), he said, "back your game. You will get opportunities sometimes and sometimes you won't. What's in your hands is your preparation. You should have right mindset. He did not say anything about my technique but spoke only on the mental aspect," Rahane said at the pre-match press conference.
Tendulkar also took to Twitter and replied to Rahane's post, "It's always a pleasure to see you perform well for the country. My best wishes for the upcoming series!"
Tendulkar, who has enjoyed a lot of success against Australia, spoke about the length that their bowlers bowl at.
"He has played a lot against Australia and he mentioned what line and length they bowl. How to prepare for that. I have got confidence after talking to him," Rahane said.
Rahane also said that adjusting to a new position in batting order is completely a 'mental' aspect and it's not an issue with the Indian team. Rahane himself shuffles in the batting order in different formats. He plays in the middle order in the Test and opens in ODIs. Out of 81 ODIs so far, he has played 51 as opener.
"It's completely mental (adjustment). The good thing in this team is anyone can bat at anywhere. We have that flexibility. I have batted at top, numbers 3,4 and 5. It's important to handle that situation and utilize that situation. If you adjust in mind, you can adapt anywhere."