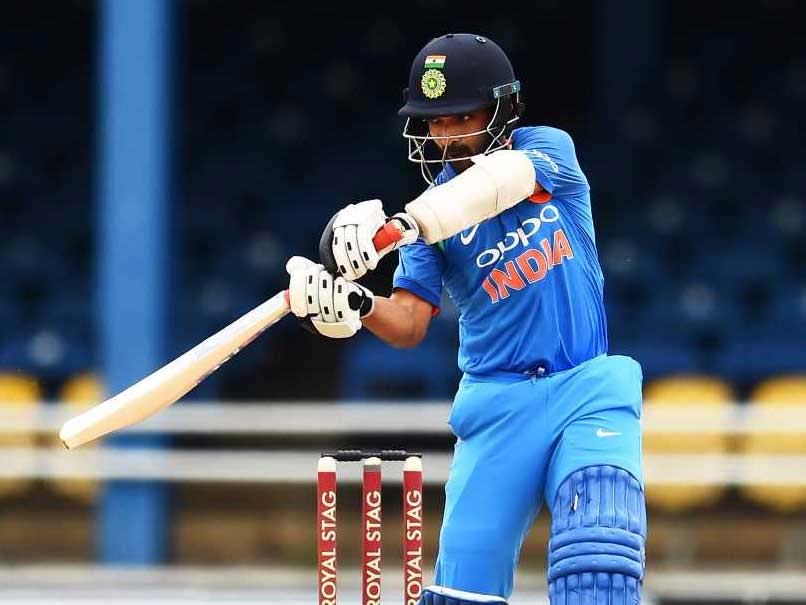 Ajinkya Rahane has scored 60 runs in the first two ODIs.
© AFP
Ajinkya Rahane filled the position of opener in the Indian team after Shikhar Dhawan was ruled out of the first three One-Day Internationals (ODIs) against Australia due to personal reasons. Rahane has adjusted to his role as a stopgap opener and insists that he doesn't want to think about the future as he will perform to the best of his abilities when given an opportunity. After getting 'Man of the Series' award in the West Indies, Rahane only got to play one game against Sri Lanka after Dhawan left to attend his ailing mother. The right-handed batsman, who has scored 60 runs in two matches, ahead of the third ODI said that he always thinks about living in the present.
"I don't think about the future. I do my best whenever I get my opportunities. That's what matters. I always think about staying in the present. When Shikhar comes back, we all don't know what's going to happen. For me, important thing is to give my all for the team," Rahane said before India's practice session on the eve of third ODI against Australia.
"So the best thing for me is to stick to my gameplan and if I get opportunities, try to do my best for team. Every time you can't think about hundreds, even if you get crucial 45-50, or 70 runs for your team, that is what matters. I always want to do that," Rahane said.
Rahane also said that adjusting to a new position in batting order is completely a "mental" aspect and it's not an issue with the Indian team.
He was asked about the challenges an opener faces when he is asked to bat in the middle-order. Rahane has had problems trying to force the pace in the middle overs when asked to bat in the middle order.
Rahane himself shuffles in the batting order in different formats. He plays in the middle order in the Test and opens in ODIs. Out of 81 ODIs so far, he has played 51 as opener.
"It's completely mental (adjustment). The good thing in this team is anyone can bat at anywhere. We have that flexibility. I have batted at top, numbers 3,4 and 5. It's important to handle that situation and utilize that situation. If you adjust in mind, you can adapt anywhere."
India spinners Kuldeep Yadav and Yuzvendra Chahal have been the centre of attention in this series after their exploits in the first two matches.
Rahane said what makes them special is they are choking the Australian batsmen as well as taking wickets.
"It's a good sign that they (Australians) are not able to pick them. They both are quality spinners, did well in domestic circuit. They are actually improving day by day. In ODI cricket, if you are taking wickets in middle overs and not giving runs at the same time, it's good to have them. They are not taking things for granted and that's a good sign."
Rahane also dismissed criticism that Manish Pandey and Kedar Jadhav have not done well in this series.
"They have just played 2 games. They did well in Sri Lanka. The team management is backing them. It's important to give confidence to your players. As a professional, you score sometimes, you fail sometimes."
(With PTI inputs)