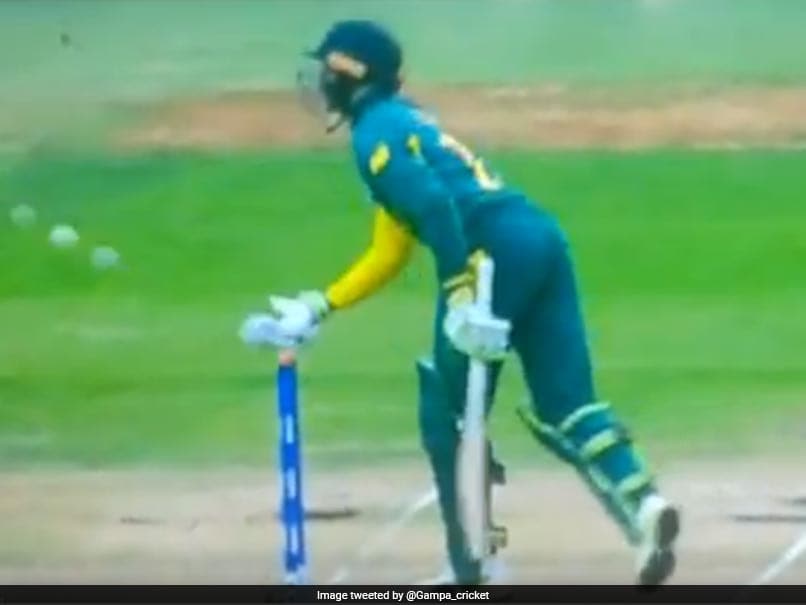 South African batsman Jiveshan Pillay was given obstructing the field on Wednesday.
© Twitter
The West Indies Under-19 cricket team yet again ignited a debate on the spirit of the game as South African opener Jiveshan Pillay was given out obstructing the field under controversial circumstances during their ICC Under-19 World Cup match on Wednesday. Pillay tried to drive the ball through the off-side but got a thick inside edge as the ball went tantalisingly close to the stumps. Once the ball was stationary, Pillay just picked it up and handed it over to the wicket-keeper Emmanuel Stewart. The West Indies skipper Stewart was not pleased with Pillay handing the ball over and spoke to the on-field umpires who went upstairs for the decision.
The South African batsman Jiveshan Pillay was given out for this in the Under 19 World Cup game against the West Indies #U19CWC pic.twitter.com/abLvn9NrCb

— Rudi (@RudiEdsall) January 17, 2018
Here is the incident of 'obstructing the field' that resulted in SAF batter Pillay given OUT #U19CWC pic.twitter.com/wK7vSSCNfi

— Gav Joshi (@Gampa_cricket) January 17, 2018
The third umpire Ranmore Martinesz went by the rule book and gave the batsman out. The incident happened in the 17th over when South Africa were 77 for 2. It was always going to be difficult for the third umpire to rule it in favour of the batsman once the on-field umpires decided to refer it upstairs.
The only possible way Pillay could have survived was if the West Indian skipper withdrew the appeal. Law 37.4 clearly states, "Either batsman is out Obstructing the field if, at any time while the ball is in play and, without the consent of a fielder, he/she uses the bat or any part of his/her person to return the ball to any fielder."
This is not the first time that the West Indian U-19 boys have put the spirit of the game under the microscope. Earlier, in the 2016 World Cup, their bowler Keemo Paul 'Mankaded' Zimbabwean batsman Richard Ngarava in a tight encounter. West Indies went on to win the 2016 U-19 World Cup.
Topics mentioned in this article
West Indies U19
South Africa U19
ICC Under-19 World Cup
Cricket