Story Progress
Back to home
Rahul Dravid's Message To Under-19 Team: Not Easy To Get Into The Senior Indian Side
The India Under-19 coach feels that the hard work for the boys has just begun.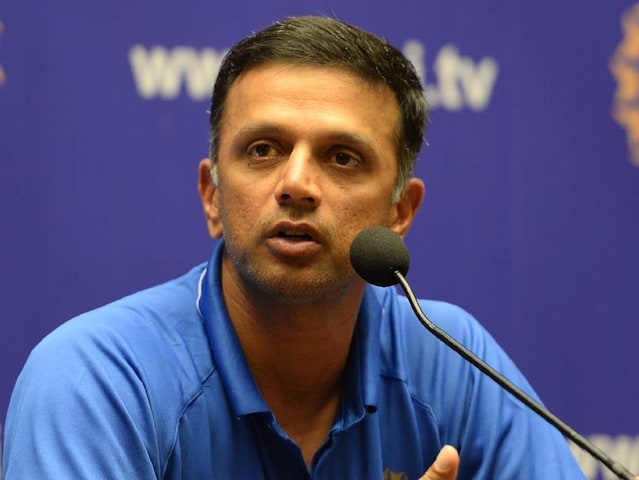 India's U19 cricket team coach Rahul Dravid speaks during a news conference
© AFP
Highlights
Rahul Dravid addressed the media in Mumbai on Monday

India won the U-19 World Cup for a record 4th time

India under-19 team beat Australia in the U-19 WC final
Rahul Dravid, India's under-19 coach, feels it won't be easy for the team to make it to the senior grade if they don't perform consistently. "The challenges and the hard work start from here. The hard work begins for them and for us as well, as to how we manage these boys over the next few years. Even if not a lot of them go on to play for India, it can happen. It's not easy to get into the Indian side", said Dravid at a felicitation function in Mumbai on Monday.
"It depends on the number of players who are performing -- that makes it difficult to break in at times. If they go on to have successful first-class careers, then from there on it becomes a stepping stone for international cricket," he added.
Dravid, the former India captain, emphasised that it was the process of getting the youngsters ready for the World Cup that was the most important part and that the real work for the boys will only start now.
"I think, just the whole preparation and planning that has gone into, I won't say necessarily this World Cup, but over the last 14-16 months is a good process that we put in place and like everything else you have to keep refining it, getting better at it and keep improving on that process," said Dravid.
As for the present, though, Dravid was pleased, especially because India went through the campaign undefeated. "I am really happy for these 15 boys who get to wear a World Cup medal and get to win it because it's been hard work, there have been sacrifices by a lot of them, and just the way that they played, the way they gelled as a unit, the quality of cricket that they played, the way they executed plans even under pressure," he pointed out.
"In games that we found pressure, there have always been players who stood up and delivered, these are the kind of things that give you a lot of satisfaction.
"My wish is for them to play at that (first-class) level even if they have a couple of tough years and they fail, I think they'll be better off for it than coming here and playing at the Under-19 level which they clearly are too good for. That's not my decision, that's my view", Dravid concluded.
India Under-19 beat Australia in the U-19 World Cup final on Saturday by 8 wickets.
Topics mentioned in this article