Story Progress
Back to home
Happy For Boys As They Get To Wear World Cup Winner's Medal: Rahul Dravid
India won the title for the record fourth time after beating Australia in the final.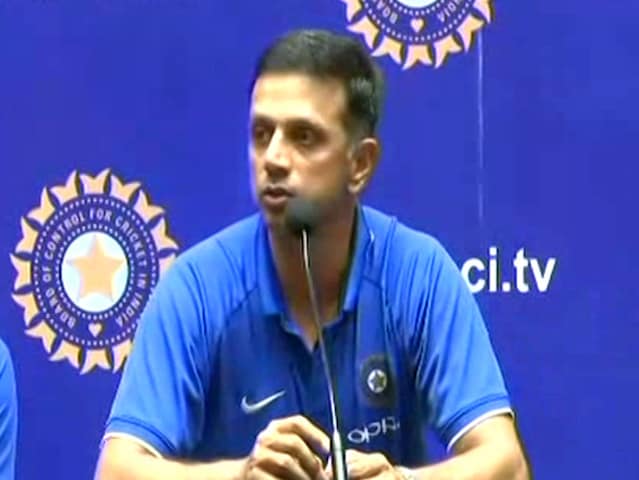 Former India captain Rahul Dravid is happy that the Under-19 boys got to wear World Cup winners' medals. Addressing a press conference as the Under-19 team returned to India, Dravid, who seemed to be visibly glad with India's performance said, "Happy for the 15 boys as they get to wear a World Cup winner's medal." Asked about his experience when he was playing U-19 cricket, Dravid said, "Can't compare generations. There was no U-19 World Cup when I was a junior cricketer. Facilities for young players today are better than what I had when I first played for India."
India beat Australia convincingly in the final of the World Cup and talking about their performance, the 45-year-old went on to say, "We didn't play our number one game in the final. We probably did that in the semi-final."
"Once the boys are good enough, they need to go and play men's cricket," added Dravid, speaking about the future of some of these U-19 players who had shown a lot of potential right throughout the tournament.
A India-Pakistan match is always a high pressure match and the Indian team handled it pretty well by putting up a brilliant show when they outplayed Pakistan in all departments of the game. Whether the Indian team had a plan in place for the all-important Pakistan match, Dravid revealed, "Process and planning is the same for every match, including the one against Pakistan. The boys handled the pressure well during the Pakistan match. I was happy to see that."
The performance of the Indian U-19 team was better than any other side in the tournament which had even impressed the Pakistani coach.
"Pakistan coach told me that the Indian team had set the benchmark at the tournament," said the former India captain and also went on to add, "As a coach you are dependent on the performance of the players."
The Indians were more than disciplined on the field but Dravid stated that he gave his boys enough space to enjoy their time off the field.
"We had loose curfews for the boys. That's fine, they are teenagers. I have been a teenager too," Dravid signed off.
Topics mentioned in this article