Story Progress
Back to home
Rahul Dravid, India U-19 Coach, Paid Rs 2.4 Crore As Professional Fees By BCCI
Paras Mhambrey, the bowing coach of the triumphant colts team, had received Rs 27 lakh as professional fees from the BCCI for the four-month period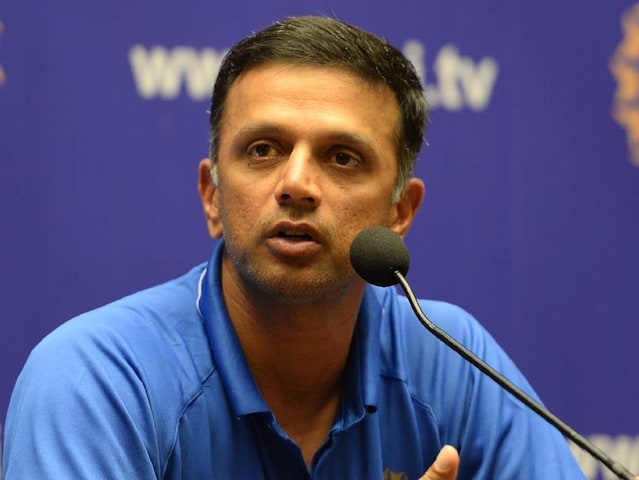 Rahul Dravid is the head coach of the India U-19 team
© PTI
Highlights
Paras Mhambrey, India U-19 bowling coach, had received Rs 27 lakh

The BCCI had also paid cricketer-turned commentator Sanjay Manjrekar

BCCI has also paid former Delhi cricketer Mithun Minhas Rs 75.60 lakh
Rahul Dravid, head coach of the India U-19 ICC World Cup-winning outfit, received Rs 2.43 crore as professional fees from the Board of Control for Cricket in India (BCCI) for the six-month period ended December 31, 2017. Paras Mhambrey, the bowling coach of the triumphant colts team, had received Rs 27 lakh as professional fees from the BCCI for the four-month period between August and November last, as per the details of the payments done by the BCCI for January 2018 put up on the Board's website.
Former left-arm pacer Ashish Nehra has been granted a one-time benefit of Rs 60 lakh by the Board which has also paid the tour, match and retainer fees of current India cricketers Ajinkya Rahane (Rs 1.47 crore), Hardik Pandya (1.27 crore), Kuldeep Yadav (Rs 1.08 crore), Wriddhiman Saha (Rs 57.81 lakh) and Abhinav Mukund (Rs 33.69 lakh) due to them for services rendered last year.
The BCCI has also paid former Delhi cricketer Mithun Minhas Rs 75.60 lakh for performing his job as the head coach of the J and K outfit for the last two seasons.
Former cricketer Gagan Khoda has received his professional fees amounting to Rs 54 lakh for the period February-November, 2017, although he is no longer on the national senior selectors' panel.
The BCCI had also paid cricketer-turned commentators Sanjay Manjrekar and Murali Karthik Rs 36.28 lakh and Rs 30.61 lakh as professional fees for the last home series between India and Sri Lanka.
Topics mentioned in this article