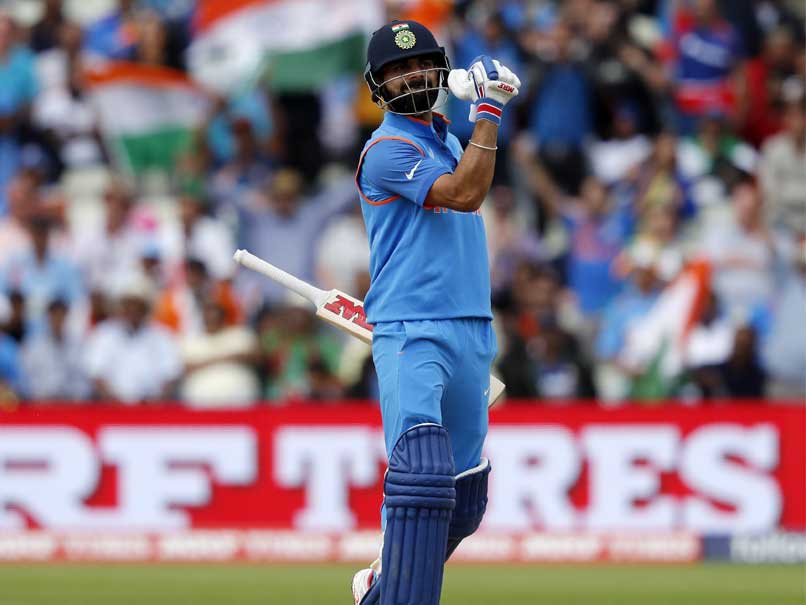 Virat Kohli praised Pakistan for their performance in the competition.
© AFP
'Don't fix it if it ain't broke', seems to be India captain Virat Kohli's mantra for the ICC Champions Trophy 2017 final against Pakistan, to be played the Kennington Oval in London on Sunday, June 18. While Pakistan's 'magnificent turnaround' has impressed Kohli, he says there is nothing that his side needs to be overly concerned about ahead of the title clash. As of now, everything seems to be where it should be in terms of Team India's scheme of things.
Speaking about what is expected to be a high-voltage second clash of the tournament between the two sides, Kohli was nonchalant.
"What we are going to try to do is repeat the similar sort of cricket that we have played so far, knowing the strengths and weaknesses they have. Obviously, we will have to plan a bit according to that, but I don't know if there's much that we need to change as a team," he said.
"I don't think we need to look too far away from what we are doing as a group, I think focus on our skills and our abilities and believe in ourselves on that particular day, and we will give ourselves a good chance to go out there and do some good things for the team," he added.
Asked if India made a statement to their rivals with the nine-wicket triumph over Bangladesh last night, Kohli dismissed the suggestion.
"There are no statements in this game, honestly. On the day you arrive, if you are not feeling well mentally, it doesn't matter whether you are 100 or whether you had a convincing victory.
"And there will be days, when you score a zero and you feel great on the day as you have won a game of cricket. That's how this game goes, and that's the beauty of this game," said Kohli when asked if Pakistan will be rattled by India's performance.
"No one is a winner beforehand, and you can't predict anything in this game. We have seen some really surprising results, and it's been amazing for the fans to watch and for the players to be a part of, as well. We just want to enjoy the finals and we deserve to be there," he added.
But he insisted that his team never takes anything for granted.
"We played some really good cricket. We are not going to take anything for granted for sure. It doesn't matter whether we win by nine wickets, we win by one wicket. We are just going to go there and try to do the same things again and again. Be bowling as a team, and hopefully the results will come."
He was all praise for Pakistan team's turnaround in the competition.
"Yeah, I am very impressed. The turnaround has been magnificent. Obviously, if you reach the finals, you have to play some good cricket, and credit to them, they have turned around things for themselves really well.
"They have beaten sides that looked really strong against them, but the belief just showed on the field the way they played together as a team, and you know, regardless of who you play in the finals, it's always going to be challenging because once you start thinking that it's a big game, then your mindset changes," the skipper observed.
(With PTI inputs)