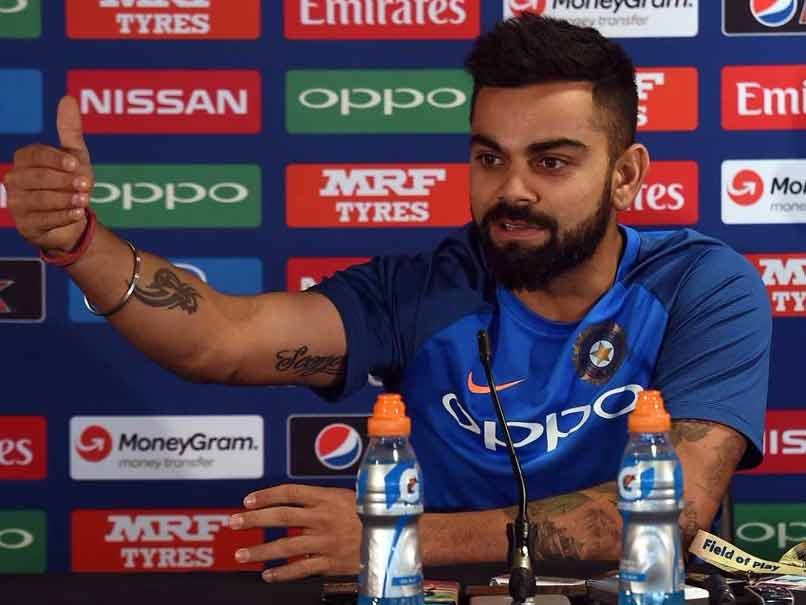 Virat Kohli said composure will be the key for both the teams.
© AFP
Having lost their previous matches, respectively, a Virat Kohli-led India and AB de Villiers' South Africa face a do-or-die battle in their quest for an ICC Champions Trophy 2017 semi-final spot when they meet at the Kennington Oval on Sunday. India suffered a seven-wicket defeat against Sri Lanka, while Pakistan stunned South Africa via the Duckworth-Lewis method. Going into the big clash, captain Kohli said composure will be the key for both the teams in the virtual quarterfinal clash.
"A lot of times, teams come in and they want to do something special and end up messing up the game in important situations. The team that can have the most composure, I would say, to sum it up, will have a better chance of winning of the game tomorrow. I think composure will be the biggest word for tomorrow," Virat Kohli said at the pre match press conference.
After losing their match against Sri Lanka, India might call upon star spinner Ravichandran Ashwin against South Africa, but Kohli decided to keep his cards close to the chest.
"Yeah, as I said there are all kind of possibilities. We definitely have looked at the last game and where we can make a bit of change. We have already discussed those things, and yeah, I am not going to reveal anything now, but everything is possible. You can have any sort of combination possible for us starting tomorrow."
When asked if it is the biggest test of his captaincy career, Kohli replied with a sarcastic smile: "Wasn't the first game (against Pakistan) the biggest?
"I mean, you guys said the first was the biggest yet. Against Pakistan, the biggest match of my career here (laughing). To me, every game is the same; you win some, you lose some. I never thought Pakistan was the biggest game of my captaincy career neither is this one."
On a personal note, he feels that the tougher the challenge, the better it is.
"As a cricketer, personally I crave for games like these. You want to be a part of those matches that are as important as this one and then if you perform in that and your team gets across the line, it's a different feeling. It improves you as a cricketer," he said at the pre-match press conference.
"Everyone looks forward to games like these and everyone is very excited," said Kohli, exuding a quiet confidence.
(With PTI Inputs)