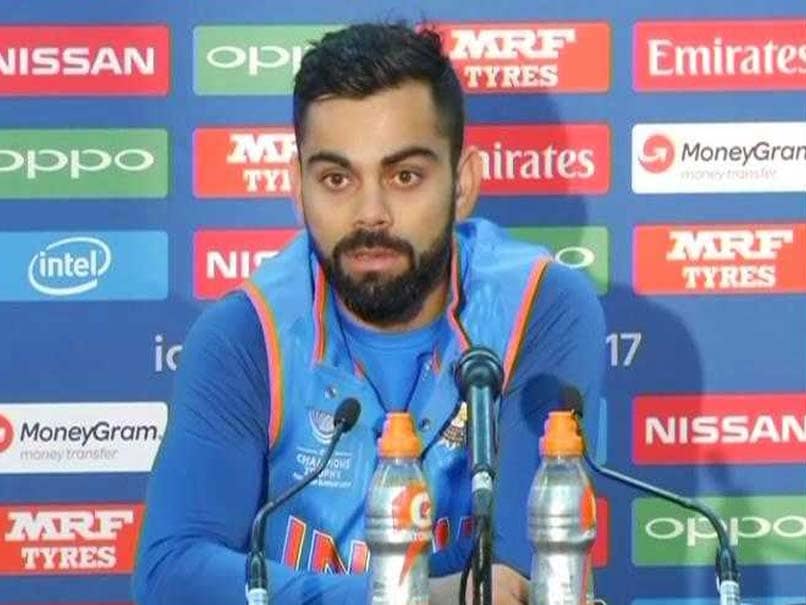 India lose to Sri Lanka by 7 wickets on Thursday
© NDTV
Indian skipper Virat Kohli is certainly not happy after a seven-wicket loss against Sri Lanka on Thursday and now wants batsmen to push hard for extra 20 runs when they take on South Africa in virtual quarter-finals on Sunday. Batting first, India set Sri Lanka a tough target of 322, which the islanders chased down easily with seven wickets in hand. "We are not invincible," said Kohli as he tried to make sense of the stunning loss despite posting, what he thought, was a winning total.
"From the batting point of view, I thought we paced it well. I thought we had enough on the board. In hindsight, when you look back, maybe you think of phases that we could have accelerated, but I don't see that as a major issue," Kohli said.
"May be, we will have to push harder now in the next few games to give us a 20-run cushion after a result like this. This is because we are playing on the same ground (Oval) as well (in the next match)," he added.
Asked as to how he will lift the team after the demoralising defeat, Kohli said he would treat it just like he would have treated a batting collapse.
"It is like a batting collapse. When you collapse as a batting unit, you don't sit down and think your life is over. You just move on and say it's a bad day. Forget about it.
"That's what. In a Test match, you have a lot to think about because the game goes on for five days," he said.
"But I think in shorter format, you have to forget it and move on. As for people's perception -- we can't sit here and think of what people perceive us to be or what people had expected of us as a team."
Kohli said that rather than criticising his colleagues, he would like to compliment the kind of batsmanship displayed by Sri Lanka on Thursday.
"I personally thought that we had enough on the board at the halfway stage. And I think our bowlers also bowled decently well. If the Lankan batsmen come out and play like that and everyone plays well, you have to give credit to the opposition as well. We are not invincible," Kohli said at the post-match media conference on Thursday night.
Defending champions India are now left in a do-or-die situation and will have to beat South Africa in the virtual quarter-final on Sunday to progress to the last four round.
"Yes, it's become very exciting. Virtually every game is a quarter-final now. In our group especially, all teams are on two points, and you have to win your next game to go through, which is, I think, an exciting position to be in for all teams," Kohli said.
"And for everyone involved in the tournament and the fans as well, I think, it's a great scenario where you literally have two quarter-finals now which is going to be even more competitive cricket. So we are pretty clear about the whole situation, and, it certainly has opened up the whole table for sure," the Indian skipper added.
(With PTI inputs)