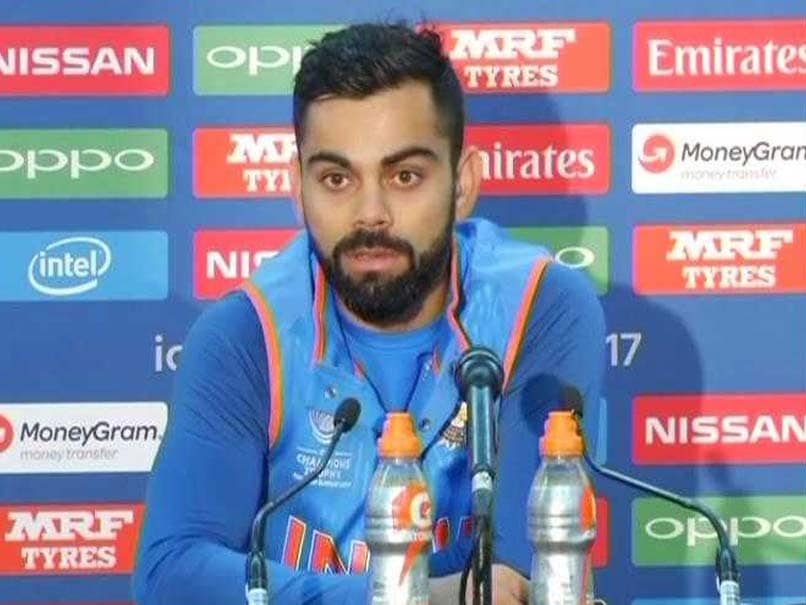 Virat Kohli explained why R Ashwin was not picked against Pakistan
© NDTV
India take on Sri Lanka in their second Group B ICC Champions Trophy encounter at the Kennington Oval in London on Thursday, a match that will give them a ticket to the semi-finals if they win. Team captain Virat Kohli was upbeat about the team's presence in the tournament but also took pains to explain why frontline spinner Ravichandran Ashwin was not in the playing XI.
"Ashwin is a high-class bowler, everyone knows that. And he is very professional as well. He understood the dynamic of the side that we picked in the last game and he was absolutely fine with it. He told me that I will support you in whatever you want to do and that's always been our equation," Kohli said ahead of Wednesday's match.
"We are excited to be in the tournament and playing against the top teams. Cricketers playing for India, anywhere in the world get a good environment to play," says Virat Kohli.
Responding to a question on where Sri Lanka stands as a team, Kohli said, "As I said, it is top eight teams in the world. Sri Lanka in ICC tournaments have done really well. If you see their record over the years, they have always been a side who reach the semis or reach closer to the semis and they have reached finals as well," he said adding,"So they have got talented players in their team, no doubt about that. They are a young team as well. They are going through a transition phase but they have the sort of players who can deliver match-winning performances on their day."
Kohli also had words of encouragement for fast bowler Mohd. Shami, who has been out in the wilderness for a while.
"Mohammad Shami hasn't played 50-over cricket for a long time. He is certainly an asset," the Indian skipper said.
India beat Pakistan by 124 runs by the Duckworth/Lewis System (DLS) in their first match at Edgbaston. Rohit Sharma had top scored with 91 while Kohli and Yuvraj Singh's fifties deflated the opponents. Beating Sri Lanka, will increase India's chances to make it to the Semi-finals in the eight-nation tournament. From Group 'A' England have already sealed their spot for the last four.
While there is little doubt that India should win if the match goes its length, the weather gods may intervene yet again, as they did during India's previous game, making the equation that much more testing.