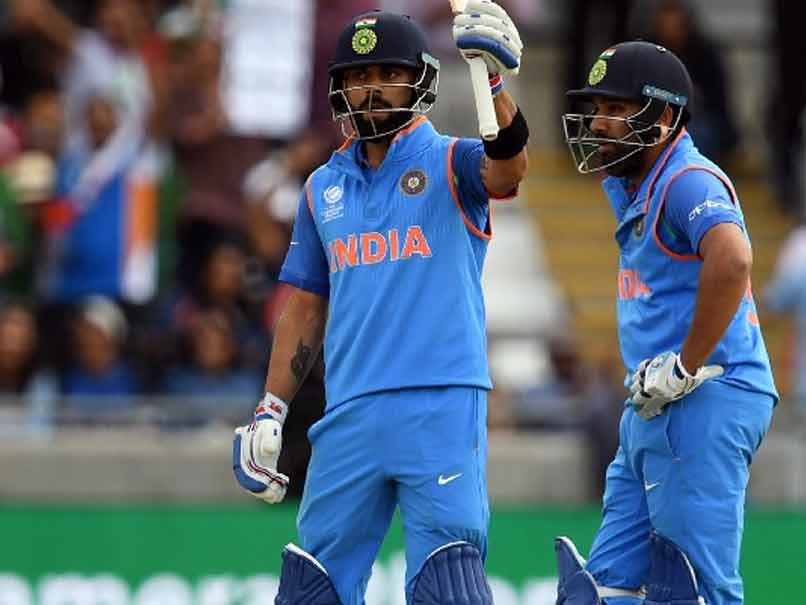 India captain Virat Kohli has played a stellar role in India's journey to the final of the ICC Champions Trophy 2017, where the Men In Blue face arch-rivals Pakistan. Lauding Kohli, South Africa batting star AB de Villiers labelled the Indian skipper as "the outstanding cricketer in the world". De Villiers also characterised Kohli, who struck an unbeaten 76 against South Africa and then smashed 96 not out off 78 balls against Bangladesh in the semis to help India enter the final of the mega tournament, as "being a consummate surgeon at the crease".
"He (Virat Kohli) has been blessed with wonderful natural talent but, as ever among high achievers, his talent is underpinned by a willingness to work hard," wrote De Villiers in his column for the BBC on Saturday.
"Beyond the golden talent and the iron determination, Virat has learned how to cope with the pressures of his exalted position," said De Villiers, who was dismissed for his first golden duck in ODI cricket in a loss to Pakistan in the tournament.
"If you drive into almost any city in India, you will see his face appear on every other billboard.
"Being the most marketable and possibly the most popular personality in a nation of 1.3bn people brings its own pressures: he simply cannot move without being begged for a 'selfie' and his every move, word and even gesture is relentlessly reported in print, electronic and social media.
"Twitter whirred when he stuck out his tongue to celebrate a wicket against Bangladesh.
"Virat has learned to live with these realities."
De Villiers, who plays with Kohli for the Royal Challengers Bangalore in the Indian Premier League, said the India skipper has mellowed down the years.
"Intense and serious in matches and at practice, he retains the invaluable ability to switch off from the game, relaxing, laughing and joking at every opportunity," said 33-year-old De Villiers.
"He enjoys calling people by playful nicknames and he can find humour in almost every situation."
Kohli moved to the top of the one-day International batting rankings this week with his three half-centuries in the tournament taking his total runs tally in the 50-over format to 8,008 at an average of 54.07.