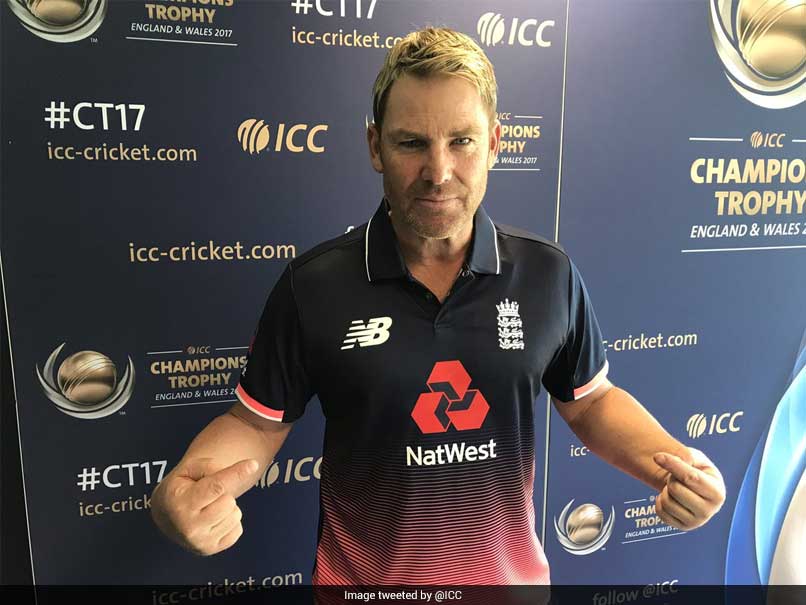 Shane Warne shows off his England jersey.
© ICC/Twitter
Losing a bet is never fun. For Shane Warne, it was even more painful when he lost one to Sourav Ganguly. As per the terms of the bet, if Australia beat England in the ICC Champions Trophy group stage match, Ganguly would have to treat the Australia bowling legend to dinner and wear the Aussie jersey for a day. The terms would be reversed if England won. So, guess who lost! On Thursday, Shane Warne finally donned the Three Lions jersey and uploaded a picture and video on social media as proof. A victorious Ganguly looked on in amusement and even praised the Australian's dressing style!
"Suits you... looks good, better than the gold and green," smiled Ganguly as Warne sportingly honoured the bet during India's semi-final match against Bangladesh at Edgbaston.
Just why is @ShaneWarne wearing an @englandcricket shirt?!@SGanguly99 is to blame! #BANvIND #CT17 pic.twitter.com/fcfV009kEs

— ICC (@ICC) June 15, 2017
While just betting on dinner would have been sufficient, wearing a rival jersey would hurt even more for these former cricketers. The bet came just before the start of the Champions Trophy and Warne was confident of Australia winning.
However, Ben Stokes and Eoin Morgan had other plans as they sent the bowlers from Down Under on a leather hunt. Rain also played spoilsport but the 40-run victory ensured Australia's ouster from the tournament as well.
England were shown the door in the first semi-final on Wednesday as they lost to Pakistan by eight wickets.