Story Progress
Back to home
Champions Trophy, India vs Bangladesh: Yuvraj, After 8622 Runs And 14 Tons, Set To Play 300th ODI
Standing on the cusp of his 300th One-day International, it still remains a difficult task to describe Yuvraj in a nutshell.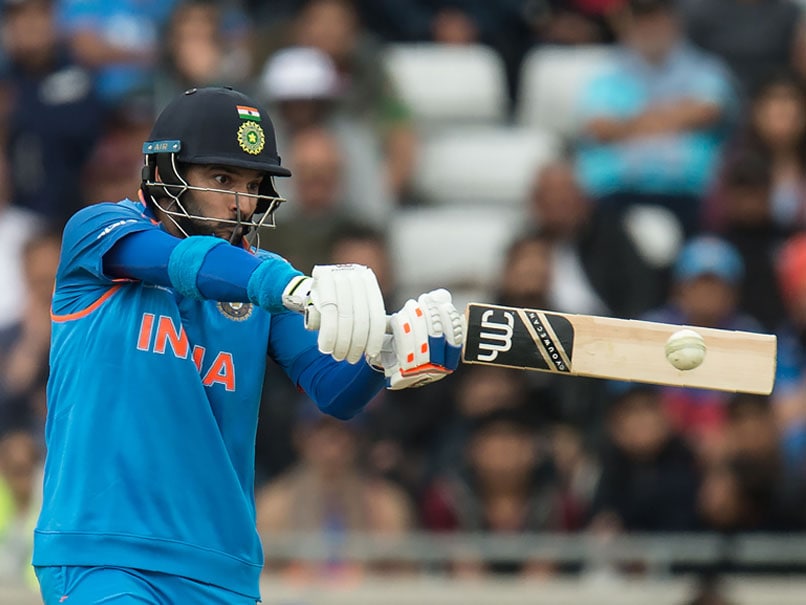 Yuvraj Singh scored a quickfire fifty against Pakistan.
© AFP
Highlights
Yuvraj Singh will play in his 300th ODI on Thursday

Yuvraj scored 53 runs to give Indian innings the momentum vs Pak

Yuvraj Singh was awarded 'Man of The Match' for his quick fifty vs Pak
He was a storehouse of talent at the onset, a rare blend of grace and power, but for the better part of his 17-year-career, Yuvraj Singh has been an enigma as well as a paradox in Indian cricket.
Standing on the cusp of his 300th One-day International, it still remains a difficult task to describe Yuvraj in a nutshell.
He is only the fifth Indian cricketer -- after Mohammed Azharuddin, Sachin Tendulkar, Sourav Ganguly and Rahul Dravid -- to achieve the rare milestone.
The 40 Test matches that he has played will not be able to tell the story of a cricketer, who, inarguably, will rank among India's greatest ever match-winners in limited overs cricket. And that list isn't too big.
Kapil Dev, Tendulkar and Mahendra Singh Dhoni are the names that immediately come to mind when one talks about match winners in the shorter versions. And that's the paradox.
At times, it seemed as if there were two Yuvrajs residing in one single player.
On one hand, there was a 'Yuvraj 1.0', who, as an 18- year- old, was not intimidated by Glenn McGrath, Brett Lee and Jason Gillespie at their peak in his first ODI innings.
That was the Yuvraj, who won India a Natwest Trophy final at the 'Home of Cricket' when all seemed lost. And remember in 2002, chasing 320 plus total was a departure from the set norm of what were considered impossible in 50-over cricket back then.
And that was the Yuvraj, who scored a classic 139 at Sydney against an attack comprising Lee, Gillespie and Andy Bichel.
But then there was also the 'Yuvraj 2.0', which could never crack the Test code. Some attribute it to a lack of temperament while others say that his best years coincided with Ganguly's second coming in Test cricket and only one could have played at that No. 5 slot. And Ganguly, at that point, was a better Test player.
He showed, occasionally, flashes of brilliance but whenever the white ball would change to red SG, kookaburra or dukes, there was nothing princely about Yuvraj's batting.
The self doubts crept in while facing the spinners, especially off-break bowlers like Sri Lankan great Muttiah Muralitharan, who got the ball to turn away from the left- handers.
There were a couple of Test centuries against Pakistan, but never could he cement his place.
It was white ball cricket where he found his mojo, and Yuvraj held his own with his immense contribution in India's two World Cup triumphs.
The six sixes off Stuart Broad during the inaugural World T20 in 2007 was the catalyst for Lalit Modi to sell the 'Great Indian Dream' to the world -- the IPL -- that was flush with cash.
Winning the tournament helped it gain impetus and those sixes sown the seeds of an alternate brand of cricket.
But, strangely, Yuvraj could never become a T20 legend as his IPL stats can't even remotely match that of Suresh Raina.
But till T20 cricket is there, Yuvraj will stay in everyone's collective consciousness. That's why Yuvraj will remain an enigma!
And then came the big one 2011 World Cup. Mahendra Singh Dhoni's six has a recall value -- being shown million times -- just like Kapil Dev's catch off Vivian Richards in the 1983 final.
But, perhaps, one of the biggest reasons for India's victory was the 15 wickets and 300 odd runs that Yuvraj took.
As he went about his task Yuvraj coughed blood, couldn't eat, and was totally unaware that he was suffering from a rare germ cell cancer.
"He has been an inspiration, a champion on and off the field and you respect him for that," skipper Virat Kohli recently said about the senior-most cricketer in the team.
The battle against germ cell cancer was the biggest he has fought in his life. It was tougher than a Lee yorker or a James Anderson outswinger.
The phases of life that he has gone through, anyone else would have been happy to survive, but Yuvraj wanted to play on.
He made a comeback and it was an emotionally overwhelming feeling. But after every high, there is a low, and Yuvraj's was the 2014 World T20 final against Sri Lanka in Dhaka. He scored 11 off 21 balls and India lost the match as he couldn't accelerate.
As it often happens in Indian cricket, his epitaph was written and no one would have even bet a penny that he would make a comeback at 33.
But then he had made a comeback in T20 Internationals in Australia. People thought that the only version he could play.
But he had conviction, did the hard yards in Ranji Trophy and earned an ODI recall.
The 150 against England at Cuttack meant he would be on the plane to England.
He won't be prolific like he used to be in his younger days. You won't find him standing at point like a crouching tiger. With Ravindra Jadeja around, Kohli will rarely turn up to him to roll in some of his effective 'pie chuckers'.
But he will be present somewhere around - like strikers in a game of football - who will not do anything for 85 minutes but will do the needful in the 88th or 89th.
Yuvraj has that calibre and that is why he made a comeback to ODIs after nearly four years. It's time to doff that hat as he steps in for his 300th outing.
There were cricketers. And there was one Yuvraj Singh.
Topics mentioned in this article