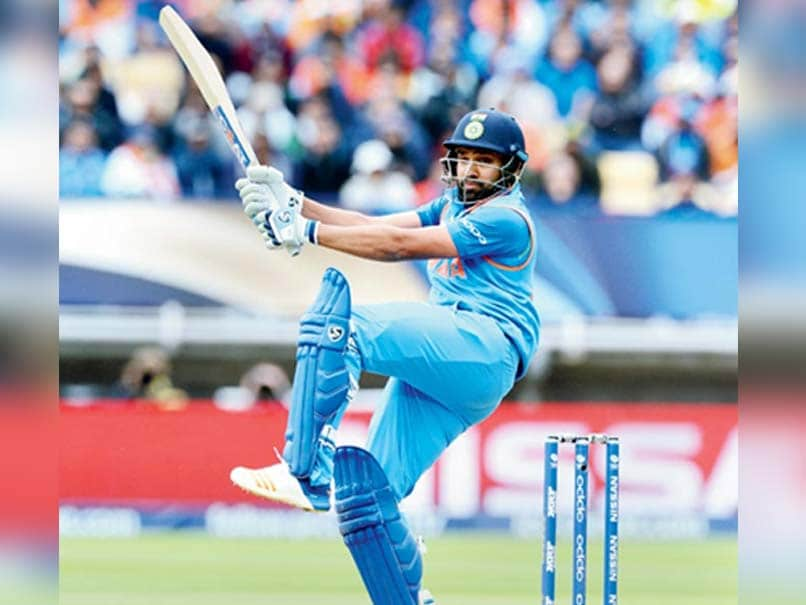 Rohit Sharma top scored for India with a 91-run knock.
© Mid-Day
The first tier of the Sunil Gavaskar Stand at Wankhede Stadium is generally the spot where Rohit Sharma dispatches those back-of-the-length balls wearing his beloved Mumbai Indians outfit. It is a signature shot for Rohit and often, an indicator of him being at the top of his game. But for one reason or the other, during those home matches this season for the Mumbai Indians, he had struggled to set the ball sailing into his favourite area.
But in the first match of India's Champions Trophy campaign - against Pakistan - Rohit rediscovered that magical touch and the minute leg spinner, Shadab Khan dropped one short, it was sent soaring at the back of the Hollies Stand. It brought up Rohit's half-century and set the platform for the middle order to thrive. The shots and the timing might all be natural, but it should not undermine the hard work Rohit has put in at the nets in the lead up to yesterday's big match.
A couple of days ago, Rohit and batting coach Sanjay Bangar worked tirelessly in getting his technique perfect. After a dozen throw downs, Bangar asked Rohit to stand up straighter by opening up his stance a touch, so that the body weight was right over his front foot.
For the next hour or two, he hit ball after ball, thrown at him, at different angles as he fine-tuned his technique. It was a classic example of practice makes perfect. Nobody had batted in the nets longer than Rohit.
Even as the result of the toss was conveyed to the dressing room, he didn't look disgruntled on batting first. He stuck around chatting with his teammates right until the time the national anthems had to be played. It was clear that the man was comfortable and in the zone.
Once he shrugged off those initial nerves, his innings was a replica of what he had been practicing over the past few days. The full ball was left alone with ease, the good length ball was punched through the covers with the lovely flow of the bat, short balls were pulled into the stands and apart from a small phase, the strike-rotation was immaculate.
Since becoming an opening batsman in ODI cricket, Rohit had scripted a plan for his himself - begin watchfully, anchor the innings and then explode at the end. Unfortunately for the India, the last objective was not exactly met but an innings of 91 off 119 balls was enough to ensure India posted a formidable total of 319 for three in 48 overs.
(Except for the headline, this story has not been edited by NDTV staff and is published from a syndicated feed.)