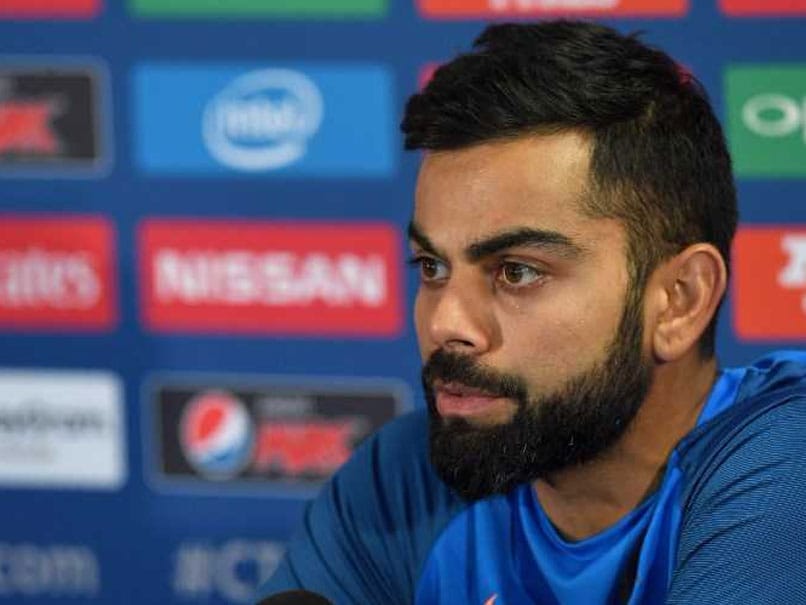 Virat Kohli addressed the media ahead of the all-important semi-final clash with Bangladesh
© AFP
India will be up against a spirited Bangladesh side on Thursday when they play the second semi-final of the ICC Champions Trophy. India so far have looked like the side to beat and barring a bad game against Sri Lanka where the bowlers failed to defend a big total, the defending champions have been right on the money. With all bases covered, India would look to seal their spot in the final but for that to happen they need to go past Bangladesh, who are a dangerous side, given the fact that they have chased down a good total against New Zealand.
Speaking to the media ahead of the all-important semi-final clash, India skipper Virat Kohli looked optimistic about India's chances and gave an indication that off-spinner Ravichandran Ashwin might retain his place in the playing XI after a good game against South Africa.
"We gave a lot of people chances in the practice games. Everyone has done well. I think Ashwin was brilliant in the last game. There is no need to change anything," said the Indian skipper.
India' middle order has not been tested so far in the tournament with the top-order scoring all the runs. Kohli reckoned, "Given an opportunity, everyone would like to finish games. Kedar (Jadhav) and Hardik (Pandya) are playing well in the lower middle-order."
Bangladesh have looked a very good side in the tournament and have the ability to surprise oppositions. Talking about whether or not India were taking Bangladesh lightly, Kohli was quick to reply, "Bangladesh have really improved as a team. They have taken huge strides in the last couple of years. You can never take any opposition lightly. Bangladesh are among the top 8 teams in the world. They have a lot of skilled cricketers. The other day they were outstanding when they chased the total down (vs New Zealand). They are a very competitive side.
"Our opposition can be anybody, we are not thinking about that," added the Indian skipper.
Kohli sounded hopeful of reaching the final of the tournament and further added, "We are happy to reach the semi-finals. Credit goes to the players. We are a good limited overs side, We have reached the semi-finals of the last 3 big tournaments, Hopefully, we will reach the final."
Whether there would be any added pressure on him or the team in the knock-out stage, Kohli was quick to rebut, "My thinking is always the same before big matches. My thinking does not change for any match. Once you are in a knockout stage, the team gets into a tough zone."